A Look Inside London's Historic Cabmen's Shelters
At one o'clock on a Thursday afternoon, Tracy Tucker reached deep into a large plastic bag for a piece of bread to make a sandwich. A landscape gardener stood at the window, making his regular stop at the historic cabmen's shelter at the Warwick Ave tube stop, which was originally built to provide food and drink for the horse and carriage drivers of London. As she put together his corned beef and tomato sandwich, they chatted about their lives. The conversation was lighthearted but genuine, moving from Tucker's son and his recent biking accident in the United States to the gardener's recent vacation and even visits to the shelter from Ringo Starr's daughter and her twins.
The shelters were established at a time when alcohol was a problem for cabbies. Drivers, exhausted from being exposed to all elements atop their horses and carriages, would stop at alehouses and inns where they could tie up their horses and keep them safe. With the horses tied up outside, the drivers were free to drink as they pleased. One night in 1875, a servant was sent out into a blizzard to fetch a cab, only to find all the drivers intoxicated. His captain, who needed a driver, was upset and wanted to do something about it. He helped to create the Cabmen's Shelter Fund, putting up sheds painted the same recognizable shade of green, Buckingham Paradise 1, all over the city. With the shelters, Tucker said, "drivers would have somewhere to go for themselves. They had shelter and hot food and stayed sober."
Throughout the 1960s and '70s, there were over 60 cabmen's shelters in use throughout the city of London. Unfortunately, today there are only 13 left. With companies like Uber, people are less likely to want to pay the steep prices of a black cab, which has led to few drivers stopping in at the shelters. As of right now, the Warwick Ave shelter is still getting enough business to stay open; however, Tucker definitely gets fewer people now than she used to, and worries that "some of the other shelters must be really suffering."
The shelters are all individually run, but are owned and regulated by the charity that created them: the Cabmen's Shelter Fund. Tucker explained that the little buildings now fall under English heritage law, meaning they are considered historic buildings. Even if the shelters stop serving food, they won't be taken down. She's grateful for this. "I don't want to go and work anywhere else," she said.  
Hopefully she'll never have to. Before working in the shelters, Tucker had a catering job that was making her miserable. She originally looked into the shelters because her husband is and was a cab driver. He asked her "Why don't you go for a cab shelter?"
Tucker wrote to the Cabmen's Shelter Fund asking about a job. She said, "I got a shelter and I've been doing this ever since."
She loves running the shelter herself. "I'm responsible for the whole shebang," she said. "I get in early and out early." She explained, "I do my job here fine and I work bloody hard I think, but it's all for me." Tucker likes her space and likes knowing that it is hers.
The distinctive green shelters are just large enough to fit a cramped kitchen on one end and a small dining area on the other. Passersby have to order through the window, as only the cabbies are allowed to sit inside. Regardless of that, here I was, sitting on one of the benches and looking at a wall covered in old photos of horse and carriage drivers, a clock shaped like a black cab and pictures of other shelters in London.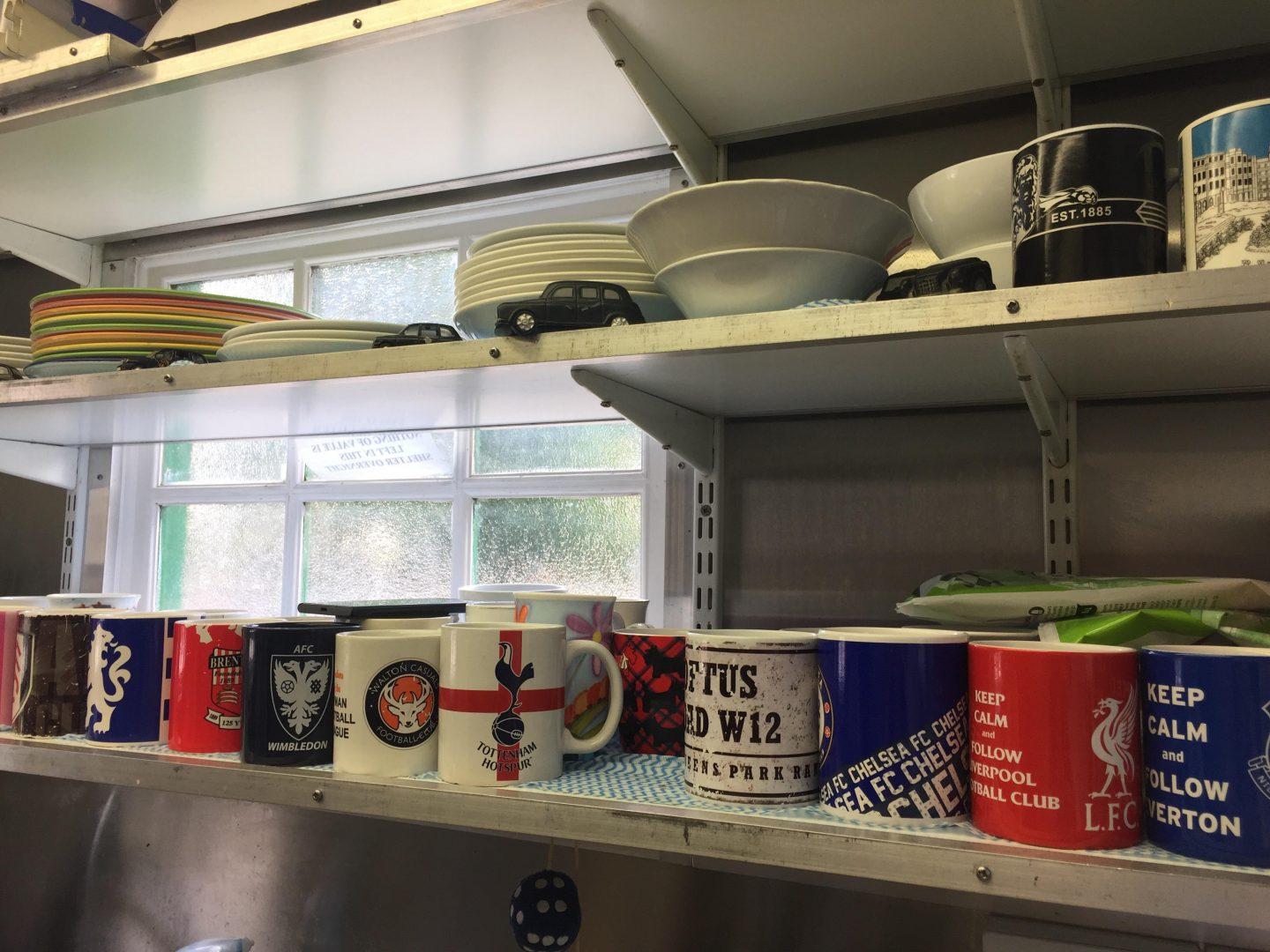 On one shelf sat around 20 mugs. These all belong to the "regulars" of the shelter. One mug has an image of popstar Paul Weller on it – belonging to a cabbie who is a big fan. Another the logo of the Liverpool Football Club. After offering me a cup of coffee, Tucker joked, "You can't have the football mug! It's not yours!"
I read a poster on the wall: "Today's menu. Take it or leave it." Tucker's menu consists of sandwiches (20p extra if you want it toasted) and hot drinks. She has been working in cabmen's shelters for 13 years, and has been at Warwick Avenue for the past two. Before that, she worked at the Kensington cabmen's shelter, where she used to serve food all day long. During our conversation, another gardener walked up to the window. He heard Tucker mention the Kensington shelter and said, "That does nice hot food, I've been to that one. They do nice hot dinners."
Tucker recalled a night at Kensington when "I had five Irish workmen all sitting on the ground eating shepherd's pie and having a great time." The shepherd's pie sparked a realization for the gardener at the window: he had met Tucker 10 years ago at the Kensington shelter, she had been the one to serve him the "nice hot dinner."
After spending just an hour chatting with her, it is hard to imagine a job more perfect for Tucker. She has conversations with every person who stops in at the window, rushing around the tiny shelter in her checkered apron, making food and chatting. Although only the cab drivers are allowed inside, Tucker explained that "we have the window as well and it's like another little community – life at the window." While some of the discussions through the small window of the Warwick Avenue cabmen's shelter are short ("How are you?" "Good.") others are filled with banter.
One man walked up just as she was shutting down for the afternoon and said, "I'll have a nice cup of tea." Her quick-witted response: "Nope. You can have a horrible cup of tea."  "I'll settle for that then."
Yet another gardener approached, nearly half an hour after Tucker had planned on closing her window for the day. "You've run out of bacon haven't you?" He asked, moments after she had wrapped up what bacon remained into a paper towel.
"No. I did cook you some a bit earlier – enough for one sandwich!" Tracy told him. She added, "When you said you was coming back I put bacon on 'cause I was running out and I kept some – you are very lucky."
Tucker put together the sandwich and poured a hot cup of tea for the man, who reached into his pocket and asked "What's the damage?"
"For you, four [pounds]."
One final customer came along and wanted to know if she had sausage for a sandwich.
"No, darling." Tracy said. She was out of sausage for the day. He setted for a corned beef and cheese sandwich instead.
These conversations were just the ones held through the window. The cabbies themselves are a community of their own. Tucker told me that "They've become like friends," and then, correcting herself immediately: "family." On an average day, the cabbies spend anywhere from 15 minutes to an hour inside the shelter, doing crossword puzzles, chatting, eating and laughing. "In here it's not like working at Starbucks," said Tucker, implying her conversation with the cabbies is open to whatever is on their minds. Tucker laughed to herself before explaining, "We probably say things we're not meant to say." The cab drivers and Tucker treat the shelter as a mini Vegas, and "what happens in the shelter stays in the shelter."