Charley: London Tailored Tours
In the midst of the hustle and bustle of the London streets, the founder of London Tailored Tours, Charley Harrison, and I chatted on the top of a red double-decker bus. We had just finished a two-hour walking tour of Shoreditch where Charley performed for our class as a tour guide on the London sidewalks.
Though she now owns her own business, Charley previously worked as a chef and a major bus tour operator for six years. While a Hop-on, Hop-off tour can be customized for the individual, Charley often felt disappointed that her clients got to see London, but not experience it. Her personal ideas were often ignored by management, which made it difficult for her to feel passionate about her job. She explained that some companies would force her to take clients to a ubiquitous chain and eat mediocre English food, which often left both her and her clients in undesirable and inauthentic situations.
At times London traffic can be an unavoidable nightmare. While acting as a tour guide on a bus, Charley was forced to smile and apologize to angry customers who wanted to arrive at their destinations quickly, a situation that is beyond human control. Some would rather her talk through traffic so they could learn more about the city, but others got more frustrated and angry.
Frustrated with the strict guidelines of working for a corporation, Charley began tailoring private tours for visitors based on their personal interests. "People understand when things are authentic, and most can read that. I feel more proud of my work when I'm passionate about it," she explained. So, in 2015, London Tailored Tours was born.
Charley's mission is to couple traditional sightseeing with local, cultural experiences in small groups that cater to visitors' specific interests. She strays from the mundane and often-times scripted dialogues of traditional bus tours, going off information she learned on other tours, her personal experience as a native Londoner and extensive internet research. With her 100 percent five-star rating on Trip Advisor, Charley is sure to give foreigners the best London experience around. Charley reported that the majority of her customers are American, some being Australian, likely due to her solely English speaking tour. Of these customers, many tend to be on the wealthier side. Of the nine tours listed on her website, prices range from £185 per group or £410 per group, with an additional £50 charge for groups of more than six people. However, if you can't find the tour you like, Charley is more than willing to accommodate your group by creating a custom experience.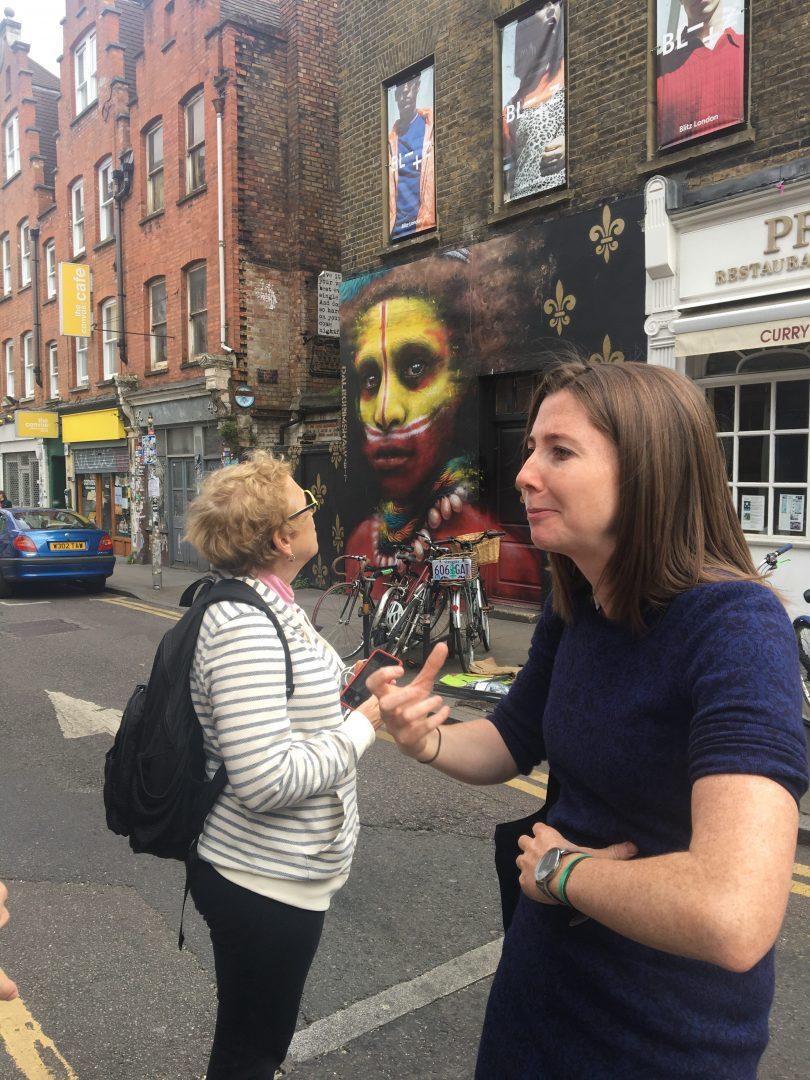 Charley's Borough Market tour is one of her favorites. "I get to eat a lot sometimes, and when people get together with food, they socialize, which makes it more of a dinner party that you're not even cooking for," she said, laughing. English food tends to get a bad reputation, so Charley loves that she can change her clients' minds by showing them the best that London has to offer. However, due to the recent terror attacks, the market was closed, so she was forced to temporarily cancel her tours. Additionally, some customers canceled tours on their own.
But her recent cancellations were not limited to her Borough Market Food Tour. She found that many of these cancellations tended to be her more expensive tours, perhaps, she says, because the tourists who booked them are wealthier and able to change their plans last minute. Also, some tourists still coming to England are bypassing London and choosing to tour places like Stonehenge and Bath. Charley believes that visitors who live further away may be more anxious about their trips to London due to increased media coverage and warnings. However, Londoners refused to let the events change their everyday lives. When asked about how the dynamic of bookings at the Borough Market may change due to recent events, Charley explained that she's been crafting an alternative way to promote her tours by showing support for businesses and visiting sites to ensure terrorists don't win. "I talked to a restaurant owner who told me that he had to throw out £6000 worth of food in his refrigerator because of how fresh they keep their food. But he decided that life must go on."
Just hours earlier, our class had been fortunate enough to go on a Shoreditch walking tour with Charley that commenced at the Liverpool Station, in front of the Kindertransport System statue. We introduced ourselves and admitted that our group knew little to nothing about the area.The tour we took with Charley was centered around the immigration history of Shoreditch. Charley's main focus for the afternoon was immigration. She explained the backstory on the Kindertransport System that took place between 1938 and 1940. The United Kingdom took in nearly 10,000 Jewish children from Nazi Germany and Austria in the months leading up to World War II as a rescue effort. Some children were placed with wealthy families and lived happily, while others had to close to nothing when they grew up struggled for a comfortable life. Many children were never reunited with their parents because their families were killed in the Holocaust. Years later, those same "children" returned to the statue at 80 years old to tell their personal stories. Charley recommended watching the documentary, "Into the Arms of Strangers," to further learn about the Kindertransport System.  
Many immigrants that came to the East End of London had to work very hard and brought the skills they had inherited with them. They strived to be the best in their industry and wanted to display their hard work for their communities to see. Unfortunately, there were so many immigrants coming at once that it was harder for them to find and pay for safe housing for everyone. Hostels were set up for women and men to stay temporarily with hopes to keep as many off the street as possible.
As we continued winding through the streets of Shoreditch, the smells of curry began to fill our noses. Restaurant owners attempted to lure in pedestrians, but while we shook our heads at nearly a dozen, they still continued to shout. This is a modern day example of immigration- the Bangladeshi community, much like immigrants of the past, are working hard to make their mark. Much like the past, they will prosper and a new community will begin to replace them. We saw a mosque that was once a church, then a synagogue. This only further explains how much of an effect different religious and ethnic groups have on this area.
The street art of Shoreditch has become a big industry. It is illegal, however, to make street art, but artists still find a way to do it. Many of the larger, more detailed art is often commissioned by a business nearby, as it would be nearly impossible to do a painting of this size in such a short period of time. Others, however, will find ways to secretly incorporate their work into the community in hopes of recognition, like a small figure on a stop sign.
Throughout the tour, Charley kept the mood light and always had an entertaining bit to share. While passing by bricked-in windows, we were informed that the government took unusual measures to find out how much money someone made. In the eighteenth century, it was considered too much of an imposition for the government to conduct an extensive search into your salary. To determine how rich someone was, they counted the number of windows in their building; the more windows someone had the more they had to pay in taxes. Of course, no one likes to pay taxes, so they bricked in their windows to trick the government. This is where the saying "daylight robbery" comes from, because essentially the government began taking people's daylight away. Ironically, If you purchase one of these apartments now, though the price is high, you'll still be in the dark due to preservation laws. You aren't permitted to make any changes because the bricks are part of history.
In order to "tailor" to her groups, Charley admits that she loves to learn more about her clients. "I like to ask questions so you're not telling people what they already know- so that you're not patronizing them. The most important thing about tour guiding is knowing your audience and being able to tailor your tour towards your group. There's no point in talking about Harry Potter if they've never read the book." She notes that while other guides often tell you about what they themselves are interested in, her focus is always on the client's interest.
There are certainly many challenging things about being a tour guide and dealing with very different types of people and their varying opinions. "The most difficult thing to deal with is when people have different political opinions. It's a difficult line to cross- finding the right way to deal with people because you're happy to have their business and want to continue being a great tour guide," she said.
Personally, I've always admired tour guides for their ability to curate to a group and deliver huge bits of information. I loved having the opportunity to speak to Charley Harrison to learn more about her industry goals. Her ambitions are inspiring; her vision to overcome frustrations with the world's leading open-top bus tour is her driving force. Since 2015, she's continued to grow her small business by adding additional London-native guides and outside excursions. She hopes to continue being the five-star guide she's always strived to be. Charley chuckled, "I heard that it isn't good to have all five stars because people think they're not true, but they are!"