Taking Initiative is the Key to the Fashion Industry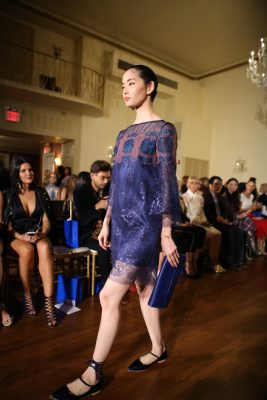 Whenever I post photos from fashion shows at New York Fashion Week (NYFW), I often get questions such as, "How do you get access to so many shows?" or "How much are the tickets?" The truth is, most fashion shows are not open to the public and do not require tickets. Your question for me should be, "How did you get the invitations?" Yes, how did I get invited to partake in an industry that is exclusive for the people already in it? Breaking in seems so impossible, as if you're being told, "you can't sit with us." What drove me into the industry was not relations or prestige, but my passion, hope and initiative.
I started out as an amateur street-style photographer. Last February, I stood in the bare cold in front of Skylight Clarkson Square, where they hold most of the shows for the bi-annual NYFW, with my Sony A7 camera to capture the passing runway attendees, who usually dress very chic and stylish. I was simply jealous of those who got the chance to see every brand's collection showcase, which stimulated my curiosity and passion to find out what really goes on inside these studios and on the catwalk.
I am a talkative person who likes taking initiative, so I started talking to other street-style photographers, some who have access to shows and some who seem to be nonchalant about the showcase. They provided me with useful insights of capturing photos and pitching them for magazines. By talking to industry insiders like  photographers, stylists and the press, I got to clearly see how Fashion Week runs and how each department is divided.
Back to the time I was a fashion newbie, I literally "broke" into the industry by sneaking into fashion shows. After strolling around at the front door, I told myself, I cannot just be out here every day, I have to be in there, because I was working with the mindset that I have to spread news about every aspect of NYFW. "Go big or go home," I told myself.
Breaking in takes great courage, skill and patience; with my camera and video recorder, I have used dozens of ways to break in, including pretending to be the press, using the name of a magazine editor, blending into the crowd, and going through backstage. However, a motto has encouraged me to do what I have done — "It's easier to ask for forgiveness than to ask for permission." I think it's true, and I think it falls under the umbrella of initiative. I have done almost everything with the risk of being kicked out by NYFW, but I follow my initial will — to spread fashion with my own voice and on my medium, and that has driven me to relentlessly break in no matter how many denials I get. So, as a result, I snuck into more than 15 runway shows at the end of my first Fashion Week season.
I created a blog and have been taking it seriously for about a year. I write about my lifestyle, my outfits and my experience in fashion. Breaking into the industry seems smoother in the past NYFW season as I gain more relationships with people inside it, such as a good friend of mine, Pedro Rodrigo Gonzalez, who invited me to runway shows. Breaking into this exclusive industry is not impossible, so long as you take the initiative by finding every chance to work for fashion, though these chances can be slight and are competitive. Looking back at all the articles I have published on my blog, I am able to say I built this up all by myself.