Fordham's Ever-growing International Student Body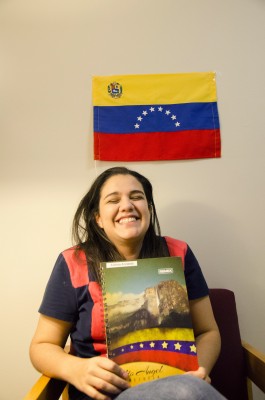 Nights before her trip to Japan during spring break, Yiwen Li, Fordham College at Lincoln Center (FCLC) '17, finished up her midterm paper for her Philosophical Ethics class. Rather than procrastinating until the last minute like she used to do for her first philosophy class, she started this paper early, and finished up the night before it was due.
Li is a sophomore international student from Nanjing, China. Like others who study abroad, Li has had to adapt to the new ways of living. She goes to the writing center and meets with her professors like other students do. But this new way of learning under the unfamiliar American education system didn't come easily.
In Li's high school in China, students receive an A with an average of 80. Coming to the United States, Li realized that the education system is very different.
"I screwed up the first semester at Fordham very badly," Li said. "After a semester, I realized that it's not highschool anymore. I need to work harder and I think I am making a really good progress."
According to Fordham University's Open Doors Report, the percentage of growth in the international student population from 2010 to 2015 was 161.8 percent, increasing from a total of 1,064 to 2,772 international students. Of the 2,772 students, 70 percent study at FCLC.  As more international students have made their way to Fordham in recent years, their academic performances have become a concerning issue among students, faculties, administrations and parents. Their adjustment to the new academic environment and how the administrations and faculties are helping have become topics of discussion.
Salvatore Longarino, director at the Office for International Services (OIS), expects an increasing trajectory of international population for the next academic year.
"It [the international population] will break over 3,000. There is no indication it will get lower," Longarino said.
In response to the increase, Patricia Peek, Ph.D., director of Undergraduate Admission, said that the increasing trend of international presence is not limited to Fordham, but also other institutions.  "For many years our focus was growth throughout the US. We have been building on the success of these national efforts in more recent years to expand internationally," said Peek. "This is not a trend specific to Fordham. Many institutions are also increasing their international presence."
According to the Office of Admission, there has been an increasing demand of international students to obtain their education in the U.S. Similarly, domestic students also seek a global experience in studying abroad and in the pursuit of fellowship. By accepting international students in the U.S., Fordham promotes interaction of both student bodies to enrich the campus community.  
In order to receive guidance and support once they are in the United States, all freshman international students are required to attend a week long orientation program called Global Transition run by the OIS in the beginning of their fall semester. Global Transition includes socialization, Jesuit tradition and cross-cultural communication sessions to address concerns on new culture, plagiarism and academic culture. An English exam called Fordham English Language Test (FELT) is also given to test the international student's English proficiency.
Mikako Tsukazawa, FCLC '16 and Global Transition Assistant, is an international student from Tokyo, Japan. She had not only attended Global Transition, but also helped coordinate the program for her fellow international students.
"That week allowed me to prepare and gave me time to get used to the new environment," Tsukazawa said. "When the New Student Orientation (NSO) came around, I already had a solid group of friends."
Besides being a Global Transition Assistant, Tsukazawa attends Asian Pacific American Coalition (APAC), Fordham retreats and other school events to get involved with native students on campus.
"I feel like I belong here more than before," Tsukazawa said. "I started joining clubs and then I got more involved. Now I feel like I am a part of Fordham."
Besides running Global Transition, OIS also invites tax experts and immigration attorney to inform students on taxes and green card. On health and insurance, OIS requires international students to sign up for an affordable insurance with school. OIS works with the organization, One-to-World Program, to create outreach activities and educational services to connect Americans with international students.
Though the number of students participating in these programs is low, they are run throughout the academic year to serve the student body. Longarino said, "our goal is having these opportunities open to them, whether they take it or not."
Li recalled an incident in the emergency room. She successfully filed the incident and the insurance covered most of the $5000 medical fee, while she only had to pay $300. On the other hand, Tsukazawa encountered troubles filing the insurance and wished that OIS was more approachable in terms of helping international students' needs.
"Fordham is trying to integrate more international students, and that's great, but I just don't think that facilities for them are set up yet," Tsukazawa said. "I think they need to expand and they need to hire more staff. They should have a go-to person in case international students have any questions."
According to Longarino, OIS now has only five staff members serving the needs of 2,772 international students at FCLC.
Li also thinks that more guidance and support specifically provided for international students are necessary.
"The school doesn't provide much information, especially on renting an apartment and grocery shopping," Li said. "I think there is a lot of things that Fordham needs to improve in this area especially when there are more and more internationals coming to the school."
The biggest academic barrier for international students is English language proficiency. Students need of ESL classes can sign up for free English lessons at Fordham's Institute of American Language and Culture.
On other academic assistances, Li and Tsukazawa are both not aware of specific help for international students. Even though the Writing Center and subject tutoring are available for student's needs, the services provided are utilized by both native and international students, treating the two types of students as if on the same academic level. Fordham has yet to set up an academic department to address the international student's needs.