BREAKING: Anti-Semitic Graffiti Found in McMahon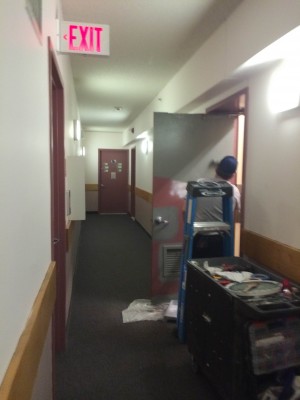 UPDATED: March 9, 3:45 p.m. Earlier today, a Fordham Lincoln Center resident reported a backwards swastika drawn in the garbage room of 10th floor in McMahon Residential Hall. The University has since painted over the anti-semitic symbol.
Around 12:30 p.m. today, NYPD were seen in the McMahon lobby. The Observer has received confirmation from a source within the University that the police are investigating the incident.
This is the third anti-semitic bias incident to occur on a Fordham campus this academic school year. In November, a swastika was found in Lowenstein at Lincoln Center, while in September a backwards swastika was found in Lalande Residence Hall at Rose Hill.
Doron Ben-Atar, Israeli-born professor of history and playwright, does not find the drawing of the swastika to be overwhelming problematic. "Fordham has been a very hospitable place for Jewish people," Ben-Atar said.
"We should not validate the provocateur by going crazy over this event," he continued. He called the incident "sophomoric."
He said, "There are much more pressing issues to be concerned about in America and the world."