Empowering Women To Take A Sustainable Stand
While many were gathering around the TV on Super Bowl Sunday, the Fordham College at Lincoln Center was privileged to host a panel-moderated event and fashion show in Pope Auditorium about sustainability in the fashion world and the impact that sustainability and eco-friendly fashion has on women's empowerment. The event was sponsored by the Fordham Institute for Women & Girls and headed by Fordham Social Work professor and the intellectually chic face and voice behind the blog, Accidental Icon, Lyn Kennedy Slater, PhD.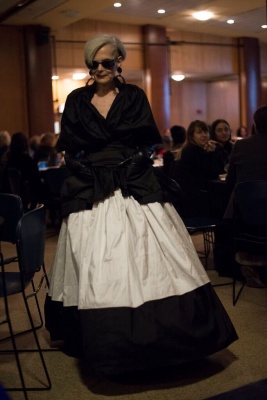 The highly acclaimed panel included Rebecca van Bergen, the founder of Nest – a nonprofit organization focused on giving artisans in developing countries the chance to grow their businesses; Chid Liberty, co-founder of Liberty & Justice and founder of Uniform – both Fair Trade apparel manufacturing companies based in Africa; Amy Hall, the Director of Social Consciousness at Eileen Fisher; and Debra Johnson, the Executive for Sustainable Design at the Pratt Institute and founder of the Brooklyn Fashion and Design Accelerator (BFDA).
The panel focused on the issues concerning today's fashion world, and its need to look towards more cruelty free and eco-friendly methods to both create and distribute products, why the fashion industry has become one of the largest polluting industries, and how we should begin to act to help remedy the overall problem of resource consumption and disregard for the environment. Veronique Lee, the Merchandising Manager and Founding Partner of modavanti.com, which she describes as a "sustainable fashion online retailer" that curates clothing where people can "shop their values and see what characteristics that product has," provided numerous statistics and facts about the growing idea of global chaos, the stake that women have in the economic market, and how the simple idea of paying it forward can help increase the conscious eye of consumers.
While most of these concepts like 'eco-friendly' or 'cruelty free' seem easy to define, sustainability is a term not often heard when associating fashion and discussion. Here is where many green-conscious designers and fashion lovers find the conversation lacking. The current problem is less about why people aren't shopping more sustainably. The fact that sustainability isn't being explained helps frame why people aren't doing just that: if they don't know what it is, then they don't know how to do it or why it's important. So, what is sustainability?
Sustainability, a growing theme kept in mind by up-and-coming designers and connoisseurs all across the fashion world, describes the need to remain ecologically balanced and sound. It also takes into consideration the labor that goes behind producing certain pieces, ensuring that workers are treated fairly, placed in excellent working conditions, and are paid fair wages. Along with this, it focuses on respecting the artisans that create these pieces, which help to promote the preservation of culture and traditions. And after production has been completed, the process should ultimately yield zero waste, which feeds into the concepts of recycling and upcycling garments and textiles.
Yet while this seems like an apt description, even the esteemed panelists couldn't think of a solid definition. This concept is meant to ultimately defeat the epidemic of fashion that focuses on quick production and marketability rather than ethicality, labor, and the environment. Amy Hall, director of social consciousness at Eileen Fisher, was able to succinctly put it into three bullet points: "products that have the lowest environmental impact, the greatest social impact, and enough of a financial reward for the artisans creating the products to live off of."
Another great description for sustainability can be found on Modavanti's website. Lee described their creation of a badge system, used to help customers find products that apply to their specific values and preferences. The eight badges on their website include: Artisan, Eco-Friendly, Fair Trade, Made in the USA, Organic, Recycled, Vegan and Zero Waste. You can find out more about these pillars of sustainable fashion on their website.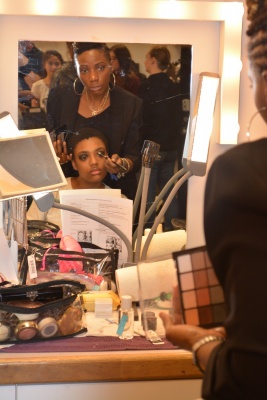 So, how does sustainability relate to women's empowerment? According to Lee's statistics on behalf of Modavanti, $20 trillion in consumer spending is by women. With further research, the Harvard Business Review estimates that that number could increase to at least $28 trillion in the next five years. With control of over two-thirds of the consumer economy in general, women possess a huge voice and stake in the nation's spending.
Imparting this knowledge to women across the globe is powerful. With these statistics, it's easy to see that women have an enormous influence on the consumer industry, and that their purchases are what sway the current between trends. With this information, the relationship between how the idea of sustainable fashion can be spread through the voice of empowered women is obvious. By educating people on the concepts and ideals behind sustainable fashion, thus encouraging consumers to shop with a more cruelty free and artisan-focused perspective, we'll be taking small steps closer to achieving the goal of a consciously styled life.
While this seems to be the ultimate goal in a perfect world, people still have their concerns and doubts about sustainable fashion. Nathalie Farfan, designer for luxury sustainable fashion brand Botanika, spoke adamantly about this point. "We hope that luxury fashion becomes sustainable fashion. When people think of sustainable fashion, there's this idea of like, 'you're a hippie, and you're wearing hemp all the time.' Sustainable fashion can still be luxurious and fabulous, and we're all about that," Farfan explains.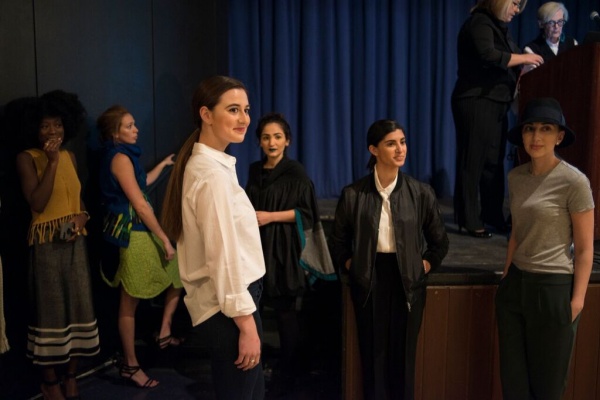 With the presence of numerous designers at the panel like Botanika, including Kirrin Finch, Blair Lauren Brown, Born Again Vintage, Kordal Knitwear, Uniform, Sofistafunk, and multiple brands curated by Modavanti, sustainable fashion made an impressive case for the idea of chic, luxurious fashion that is still environmentally conscious and cruelty free. Some of these pieces include button down shirts and contrast pocket shirts by Kirrin Finch manufactured from hemp linens, the use of silk and all natural fibers from Botanika, and the repurposing of extra fabrics to encourage zero waste policies by Born Again Vintage and Sofistafunk.
"There are lots of brands out there that are creative, and want to have beautiful fashion that has a positive impact," Lee stated. And along with her, multiple designers and curators share that same passion: the idea that fashion should be beautiful in all aspects of its creation. Combining the skills of ethically conscious couturiers, panelists directly involved in the challenge to promote sustainability in the fashion and business aspects of the world, student volunteers who worked with the same concerns to help promote the noble cause, and all with an undercurrent of empowering women through intuition, awareness, and influence, the goal remains the same: to promote a better lifestyle through luxury sustainability, knowledge and awareness of brand methods and missions, and the beauty of consciously crafted fashion.
Full disclosure: Editor-in-Chief Adriana Gallina and Features Co-Editor Alysha Kundanmal were volunteer models in the fashion show.