Getting to know BØRNS, The Winterfest Headliner
What should Fordham Lincoln Center expect out of Garrett Borns, better known by his stage name BØRNS, on Jan. 29?
"You never really know how a BØRNS show is going to go. Sometimes there's piñatas, exotic dancers…but most of the exotic dancers are in the audience so it's really up to you," Borns said jokingly.
Borns has a gentle speaking voice and long locks. Despite his talent and success, he somewhat shyly told me, "I'm bad at talking about myself, fun fact." But I didn't find it to be the case.
He has been compared to who many think are the greatest musical artists of all time, Michael Jackson and David Bowie.
"Those are two really big influences of mine. I grew up listening to them and still do to this day. They are two of the best artists that ever lived," Borns said. "[The comparison] is a huge compliment."
Borns spent some time living in New York before moving out to L.A.  When asked which city he found more inspiring and conducive to his work, he diplomatically responded: "Well,  I've lived in L.A. longer."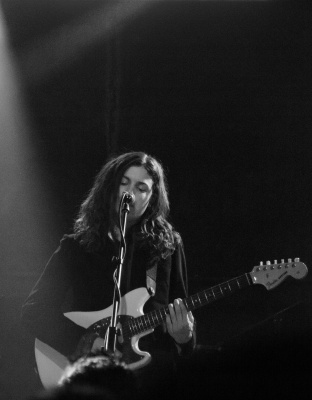 "I've had more time to kind of explore out here. And I feel like L.A. is probably more conducive to the work I'm doing right now. There's lots of space, lots of room to think. There's the ocean, the fruit trees," he said.
Borns doesn't have a favorite spot to write. "It's kind of wherever—I guess whenever inspiration strikes."
But he did end by saying, "I really do love New York though. I love the pace of it and the people there are really great."
BØRNS, a Coachella virgin, will be playing at the infamous two weekend long concert for the first time on April 15 and again on April 22. He will play alongside artists like Ellie Goulding, Edward Sharpe and the Magnetic Zeroes, Guns N' Roses among others.
"Well, I've never even been to Coachella—I'm not even sure what to expect. I've seen pictures and videos," Borns said.
He then flipped the script, asking if I've ever been to Coachella—I've only ever been to a couple of concerts in my life, many at Six Flags. Although I didn't admit my inexperience with concerts to him, I politely responded that I hadn't been either.
"Well, I'm really excited," he continued. "I know it's a really big honor to play there. It's a really amazing lineup of musicians and good acts. I'm definitely stoked."
When asked about the first musical gig he played, he said, "my first gig, oh gosh, I don't remember."
"To be honest, I can remember my first magic show more than my first musical gig," he said.
"There were about five or six kids," he recalled. Borns was no older than ten. "It was my first Grand Illusion Show and I was pretty nerve-racked," he said. He wore a silky vegas dealer shirt that had the suites of cards printed on it. "It was a very flashy shirt," he remembered.
He didn't think there was anything extraordinarily different that got him into magic.
"It's just like an early fascination of, ya' know, magic. There were some local magicians in my town that I grew up in and they had gigs performing in restaurants so I just worked on my repertoire and was like why don't I have a gig at a restaurant?"
Borns' magical forte was card tricks.
Magic was just one of the artistic endeavors he got into as a kid. He explored the visual arts, like painting, and later focused filmmaking.
"I just enjoy making things and creating things," he said.
For Borns, there was no turning point in the distinction of calling himself an aspiring artist versus simply calling himself an artist. He said, "I think I always knew I was going to support myself as an artist in some way or another."
BØRNS is headlining Winterfest at Fordham Lincoln Center on Friday, January 29 in Pope Auditorium. Doors will be open at 5 p.m. and close at 7 p.m.