Fordham Introduces Health and Wellness App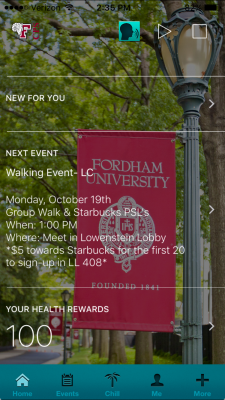 Fordham now offers a health and wellness app through the national wellness program Stressbusters. Stressbusters is used by many colleges across the country, including New York University, St. John's University and Harvard University. The app is customized based on each college and offers a variety of features. Counseling and Psychological Services (CPS) sponsors this program as a way to promote self care.
Produced by The Stress Coach Inc., this app provides a quick and accessible way to relax and deal with stress. The Stressbusters program was created by Jordan Friedman, otherwise known as the "Stress Coach." The program offers both the app and an outreach training program known as GROUND. The GROUND program consists of trained students that provide stress management tips and free five-minute backrubs. Fordham's Rose Hill campus offers the GROUND program, and CPS is hoping to get it running here at Lincoln Center.
Both the app and the GROUND program have been proven to reduce stress dramatically. According to the official website, www.thestresscoach.com, in a study of 1,100 participants, the Stressbusters program reduced stress scores by 40 percent. Stressbusters has trained more than 500,000 students and staff members through their programs in the past 20 years.
The Stressbusters app has many beneficial features, including a news feed of events happening on campus through CPS and other school programs and clubs, as well as videos ranging from breathing techniques to ways to cope with homesickness. The app also includes guided meditations and a music playlist designed to induce sleep. Stressbusters provides links to on-campus support. What is unique about this resource is that it is accessible 24/7; support is just a click away.
One of the features of the app—which is not yet developed, but coming soon—is a health rewards program. It is a point-based rewards program where students can earn points by creating surveys, finding videos relating to health and wellness and even by downloading the app itself. Prizes, which are yet to be determined, will be given after a certain number of points are earned. This is a fun way to get involved with the Stressbusters program.
The Stressbusters program also looks to build a connected community. Jill Lederman, Licensed Master Social Worker and the Community Training and Outreach Specialist in CPS, talked about how the app is a great way to inform students about what events are happening that promote mental health awareness and wellness. Lederman said that the app is "a great way for students to stay connected and know what resources are available to them." She also referred to this app as an evolving one: "We are open to getting student input and their voices on the app." Students will have a chance to promote their organizations' events through the app's news feed.
Jeffrey Ng, Psy.D., the director of CPS, said, "Self care is so important for our overall well-being, including how we function academically, and this is a way to make self care fun, cool and hip." Ng came across the program more than three years ago. After receiving a grant from the Substance Abuse and Mental Health Services Administration (SAMHSA), Ng and CPS brought the app to Fordham, hoping to provide a resource to help stress management skills and improve overall mental health on campus. Lederman refers to the app as a "cool way to self care."
Stressbusters is just one of the many resources offered at Fordham. Others include a variety of services, including counseling and therapy.
CPS encourages students to download the app and check out the Fordham Stressbusters website, www.fordhamstressbusters.com, to learn more about the programs. Students should contact CPS if they are interested in becoming a Stressbuster, or just want to gather more information about the program. Stressbusters is free and can be downloaded from Apple's App Store, Android's Play Store and its website.