Faces of London: Sarahbeth and John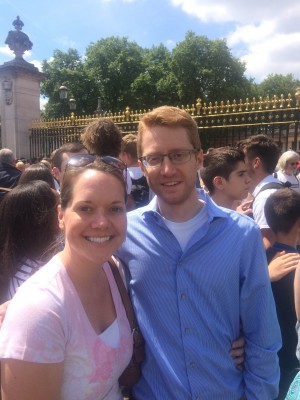 [quote_box_center]
On a beautiful Wednesday morning as I was watching the Changing of the Guard at Buckingham Palace, when I overheard two American voices. So, we started to chat.
Where are you from?
"Louisville, Kentucky, but we are moving here for John's job," Sarahbeth said.
Oh, what do you do?
"I work for Deloitte as an accountant," said John. "Deloitte allows you to transfer to different areas and I chose London. We plan on spending two years here. We don't know where we want to live just yet, but we have two months before I start.
Sarahbeth quickly added, "I spent a full semester here while in college and couldn't wait to come back. I love London."
[/quote_box_center]
Changing of the Guard
Tube Stop: Victoria Station: Circle and District Lines