Faces of London: Dave Pickering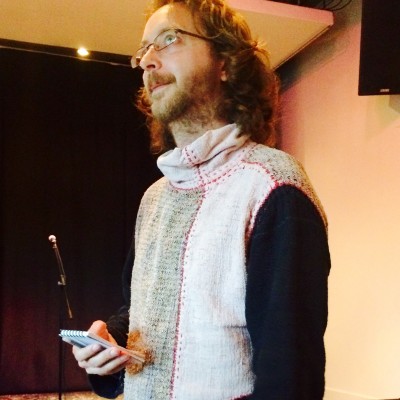 "Um, yeah," Dave Pickering responded to my asking to interview him at The Spark, London's most popular storytelling club. I had asked him if he was a regular at this event, to which he replied, "I am the host. I've been hosting here at the Hackney attic for the past two years, and I'd been sharing my own stories for three years before that. So that's five years in the true storytelling business."
Dave said that he would be sharing tonight, and then asked if I wanted to do the same. "That's really why I came over here, to ask if you wanted to sign up." I respectfully declined.
"Okay, well if that's all that you need then I should finish my round," Dave said, gesturing to the notepad he was carrying for sign-ups. "I'm sorry, but I'm not really sure what you want from me for this interview."
Before he left, I asked if I could have a picture to post with his interview. "Sure!" he said. "Is this okay? I usually like to look off in the distance all dramatic when I'm taking a selfie."
Hackney Picturehouse 270 Mare St.
London Fields, Overground Station
To find out future dates, locations, and themes for other Spark events,
visit  http://www.sparklondon.com.