American Expats: Sarah Goldsmith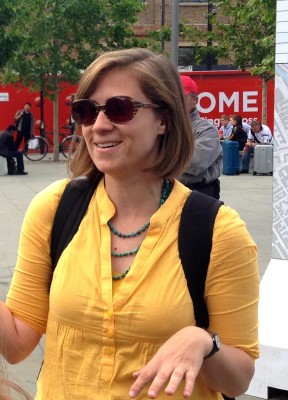 Sara Goldsmith is originally from Albuquerque, New Mexico. After graduating from Brown, she moved to New York City, where she studied at the Columbia University Graduate School of Architecture. She stayed in the city until 2008, when she and her partner moved to London. They had originally intended to stay in England for a shorter period of time, but have been here ever since. They currently reside in the borough of Islington, London. Sara now works as the senior editor at Laurence King Publishing Ltd. I met up with Sara the other day to talk about moving to London, "The Pastry of Dreams" and pub culture.
Fordham London: So why did you choose to come to London?
Sara Goldsmith: My partner and I had been looking to try something new and had been looking into moving out of the country. About eight years ago we were both at natural breaking points in our jobs. He had recently quit his job, and my job was at a natural break, so it made sense to leave at that time. He works in finance, so London is a good place for him to work. I work in publishing, and I'm not fluent in any other language other than English, so London was the best place outside the United States for me to do that.
Fordham: That's probably been nice, being able to work out of the country without a language barrier.
S.G.: Yeah, it has, but I sort of regret spending this much time out of the United States without having learned any new language.
Fordham: You said you're an English citizen now?
S.G.: Yes, the process is different now I think to become a citizen than when I initially came here. I think it's more difficult now. At the time, I applied for a five year work visa. When those five years were up, I was able to apply for indefinite leave. Once I was granted indefinite leave and lived on that for a year, I was able to apply for citizenship, which I was granted.
Fordham: Are there any places in the city that you have become particularly fond of and would recommend visiting?
S.G.: I would visit Hampstead Heath. It's my favorite place in the city, it's so beautiful there. Oh, and you need to go to La Patisserie des Reves. The name means "the pastry of dreams" in French. It's delicious.
Fordham: Is there one particular aspect of life in Europe that you prefer to life in the States?
S.G.: Definitely the ease of travel. For example, I went to Rome for the weekend three weeks ago. That's something you can't really do in the states. There are so many different cultures and places that are easier to reach. Also, this is such a cheesy and overused phrase, but there's a better work-life balance here.
Fordham: How so?
S.G.: Well, London is like New York City. You move here if you're ambitious, but the city is less intense. When I first came here, my employers were telling me how hard it would be to work late on a daily basis because people just don't do that here. It's even harder to come in for extra hours on Saturday, and on Sundays it's unheard of. Oh, and the Brits are almost in horror at the idea of Americans having less than four weeks of holiday a year.
Fordham: You say there's a lot better work-life balance here. There seem to be a lot of people at pubs in their suits right after getting off from work, would you say that's a big part of this "balance"?
S.G.: Pubs occupy a very different place in British culture than really anything does in America. People drink more here than in New York City. Like, a lot more. London is a city of neighborhoods, it's a lot more like a suburban lifestyle. You tend to stay in your neighborhood and are less likely to go across the city than you'd be in New York, so local pubs are large centers for fostering community. There have been times when I've needed someone to pick up something from me and I haven't been in my flat, so I've left it for them at the local pub. It's like having someplace that's not your home but that's useful to you in a similar way. I think the pubs are nice. They're what make the city so charming, in a way.