Crawling to Coffee
Coffee culture in New York is like an escape from the city within the city. Nothing is more satisfying than waking up, heading to Rex on 57th and 10th for a blueberry muffin and a cup of coffee, and then taking a seat to read your favorite book (or write an essay for a class in three hours as it usually goes).  The best part is that you don't have to be a coffee expert to enjoy a flat white, cold brew, Ethiopian pour-over or nonfat caramel Frappuccino with three pumps of sugar-free hazelnut.
I decided to embark on a mission to find London's coffee beat.  On Saturday morning, I planned my own little coffee crawl starting in Clerkenwell and ending somewhere in Shoreditch, trying a cup of coffee at each destination.  Yes, I had nine cups of coffee in one single day. No, I don't recommend that anyone try this.  It's absurd.  Just don't.
To make it fair, I planned to only drink a cup at each place with no buttery croissants or warm cookies to sway my opinion of each shop (also because I'm not trying to gain the London 15, if you know what I mean).

All of these coffee shops are walking distance from the Barbican and Liverpool Street Tube stops served by the Circle, Hammersmith & City, and Metropolitan lines.  For exact addresses, click on the links below!
Here are my five most memorable spots rated by stars based on overall experience!
[quote_box_center]
★★★★★ You have no choice, but to go.
★★★★ Definitely a must see, but you have a choice.
★★★ Average.
★★ It was okay.
★ Better not…
[/quote_box_center]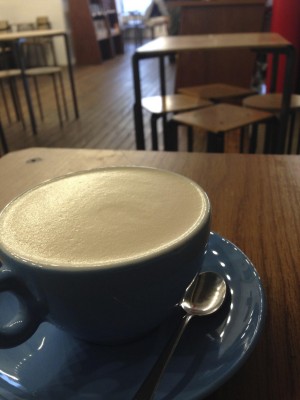 Wifi: Yes
Toilets: Yes
Coffee rating: ★★★★
On this quiet and cloudy morning I strolled into Prufrock. I ordered a soya latte (why the Brits add an 'a' to soy milk still puzzles me) for £3.30.  It's a great place to be productive—not too dark, not too loud, and the open space and acoustic indie soundtrack could inspire creativity. The food here looked amazing—a couple was enjoying some avocado toast for £6 while another family was indulging in a large croissant for £2, a homemade yoghurt parfait for £4 and some eggs on toast with varieties from £4 to £10.  The latte was smooth, creamy, and definitely had no need to add sugar.  "Dad! You can't have two coffees within an hour!" the little boy exclaimed towards his father as he shook his head and grabbed his moppy brown hair with both fists.  Yes you can little boy, I wanted to reply as I left the shop and headed towards my next destination, yes you can.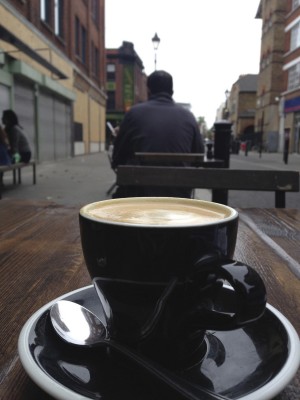 Wifi: No
Toilets: Probably…
Coffee Rating: ★★
Every single table was filled inside the restaurant, but from what I gathered, it was a dark and loud area filled with conversations, laughter and clinking silverware. There was a bar set up towards the front of the shop with various liquor bottles displayed for the customer's convenience. A short woman with bright lipstick and an overall/ skirt combo came up to me.  I told her I was just here for coffee and she seemed quite surprised I was by myself.  Looking around, I realized that this place is definitely the "go-to" place for Saturday morning brunch.  The people here were cool, casual and friendly–the London type that wears bright lipstick, colors their hair and gets uniquely artful tattoos.  I would definitely come back here with a group of friends for some orange-scented pancakes with blueberries and vanilla butter (£8).  My almond milk flat white arrived and it was good, but could have used some delicious brunch creation on the side to soak it up.  After I finished, I had to ask for the check, which was somewhat embarrassing since there was only one measly thing on it.  My bill was £3.38 with added service for sitting down.  Caravan was promising, but I just did it wrong.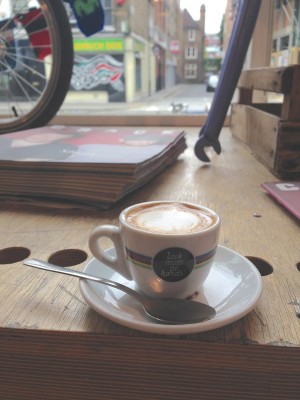 Wifi: None, but there were cool T-shirts
Toilet: Yes
Coffee rating: ★★
After getting lost for an hour and a half, I finally arrived at Look Mum No Hands! —A bike workshop and café hybrid.  Passing the bike rack and outdoor seating, I marched right up to the counter and ordered a £2.30 macchiato, which is a drink I'm not usually a fan of, but I felt as though I needed something different.  They offer a variety of large and small meals: the Big Breakfast which was sourdough toast, sausage, bacon, eggs, and mushrooms for £9.75 or toasted banana walnut bread with cinnamon butter for £3.75.  The café had great décor with little pink flags hanging from the ceiling and bike paraphernalia everywhere, but it was a little too crowded for my own taste.  My macchiato arrived quickly,  but I chugged it as fast as possible because I wanted to get the bitterness over with.  Overall, it was a pretty sweet idea, but I think the main focus was on the witty experience rather than the coffee.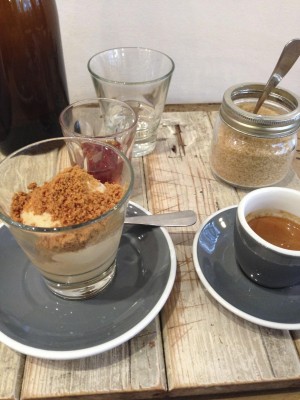 Wifi: Yes!
Toilets: Oh yeah
Coffee rating: ★★★★★
A few paces down the road and you'll reach Timberyard.  It was a cute little shop with menus written in chalk, a sofa for chatting and eating and a huge variety of tasty baked goods.  My eye caught a salted caramel something and without really knowing what it was, I paid £6 for it. A regular black coffee is £2.45, but I still tasted the coffee from the last place in my mouth. I sat down at a small wooden bar which served as the median between a casual lounge area and the back intense study session area.  "I Can't Help Myself (Sugar Pie Honey Bunch)" was playing in the background as my order arrived on this artisanal finished wood platter.  "Have you ever had one of these before?" my waiter asked as I glanced down overwhelmed at the five glasses he just set down in front of me.  Apparently I ordered a salted caramel affogato which is ice cream and espresso.  I was instructed to take a swig of cascara, which is supposed to cleanse my palate, then pour the espresso over the ice cream and consume it with a spoon.  It was the most magical pairing of hot and cold with sweet and bitter that I have ever tasted in my life.  Melodramatics aside, this place is a win-win whether it's to study or eat lunch with a friend.  If you can't make it down to Timberyard, just go try an affogato.  You're welcome.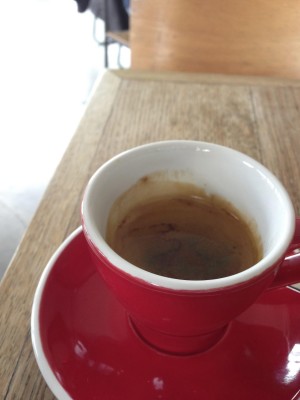 Wifi: Yes, but not good for homework
Toilets: Yes, upstairs
Coffee Rating: ★★
With a welcome sign that reads, "I like big cups and I cannot lie," I didn't know what to expect when entering the Shoreditch Grind.  By now I just wanted the cheapest thing on the menu, so I ordered a short black for £2.20.  There were two large bowls of colorful salads behind the glass separating the pies and the liquor.  A lady with a short bob, suspenders, and a tattoo came to drop off my coffee.  I smelled the beans and I took the smallest sip possible.  It was so bitter…I was so bitter.  I was at cup number five of the day.  I walked over to the sugar/ stirrer/ lid counter to pour myself a glass of water which to my surprise was infused with cucumber and mint. I situated myself at my seat once more to conquer this short black so that I can hurry up and finish this dumb crawl.  The flavor was bold and rich, and if I wasn't so grumpy, I'm 73 percent sure I would have enjoyed it.
£30, nine cups, and six hours later I conclude that the London coffee scene is different than New York's.  Here, coffee stands are on the same ground as cocktails in terms of casual social gatherings.  The reasoning behind it could be that the drinking age is only 18 so it makes liquor more casual, but it creates a very different emphasis on your soya matcha latte's.
Here are the other places I visited:
Department of Coffee and Social Affairs ★★★★★
Ozone ★★
Paper and Cup ★★★★