Pret-A-Portea
In the land of monarchies, I am the Queen of picky eaters. Due to a dairy intolerance, I rarely eat out and expected to take in the afternoon at The Berkeley Hotel in Knightsbridge quietly sipping tea. I, however, was pleasantly surprised when I was offered custom dairy-free tea sandwiches and pastries after expressing concerns about the menu. It was the royal treatment I dreamed of when I touched down at Heathrow last month.
The Berkeley Hotel is known for Pret-A-Portea, a unique afternoon tea experience, which features fashion inspired pastries. Each season, the pastry chef creates a collection of pastries inspired by runway collections. The fashion pastries looked so incredible, I found it impossible to not sneak a nibble of at least some of them. Some of my favorites included a glazed chocolate mousse Philip Treacy hat, blueberry sponge cake Anya Hindmarch purse, Alexander McQueen Cookie shoe and the Giambattista Valli sponge cake with spun sugar. My pastries were equally delicious and featured a dairy-free brownie, which was swoon worthy, little marshmallows, jelly dots and a meringue.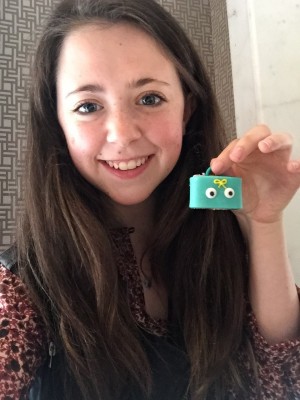 As the pastries were being polished off, the tea kept flowing. Initially, I played it safe with a peppermint tea, but as the afternoon continued, I decided to try something special. Pret-A-Portea features an array of unique teas, and my herbal infused blackcurrant and hibiscus tea did not disappoint. The flavor was completely unique and is my new favorite, even though the bright pink color of this tea alone would have been enough to win my heart.
After hours of tea in the most idyllic setting, I was given a take away box with two of the featured pastries. I had zero willpower though and ate both on the tube ride home. My experience at Pret-A-Portea was everything I had hoped for my first afternoon tea-a perfect afternoon for fashion and tea lovers alike.