Profile: Colin Stinton
Actor Colin Stinton has performed on stage in the West End, New York City and Chicago for playwright David Mamet, director Richard Eyre and director David Hare over the last 40 years.  He's even spent the past 30 years playing Americans on stage and on radio in London. Performing in these places has given him an unparalleled view of stage.
With all his stellar credentials, he is all too familiar with the pressures on actors, "One of the things actors get a little annoyed with is that [theater organizations] tend to swell [in size]," Stinton said, "whereas the amount of actors that they hire doesn't."
To prove his point, Stinton recounted a time he had rehearsed in "The Theater Upstairs" at the Royal Court Theater and noticed construction happening everyday they went up the stairs. One day he asked what was being built and someone responded, "That's going to be our new rehearsal room." Colin responded, "Oh great, the Royal Court will finally have a rehearsal room," adding "most theaters don't have the space for them."
"The play didn't run long enough to see the finished room, but a couple of years later I went back for a reading and said 'I'll peek in to see how the room turned out,' so I peeked into the room and it was now covered in desks and computers. It had become another space for audience development."
It's surprising that he feels this way about theater organizations, because he has continually gotten work throughout his career with Mamet, most known as the screenwriter for "The Verdict," and his Pulitzer prize winning play "Glengarry Glen Ross," Eyre, an English theater director most known for "Guys and Dolls," and "Hamlet," on the West End and Hare, an English director and playwright most known for "Licking Hitler," "Racing Demon," and "Via Dolorosa."
Stinton took a trip to Europe in 1975 and fell in love with the continent and London. He came back every few years until 1985, when he discovered that he could work there without having to get a visa because his grandparents were born and married here. He decided to try it out for a year and has been here ever since.
This goes against the normal movement of British actors as they are always trying to make the step to Broadway or Hollywood. "There is a proud theater tradition here, but once actors and actresses become successful they want to go to the states and be in movies or TV shows." For an American actor to decide to leave the glamour of Broadway and American television and films is unusual. Stinton, however, just loves the stage.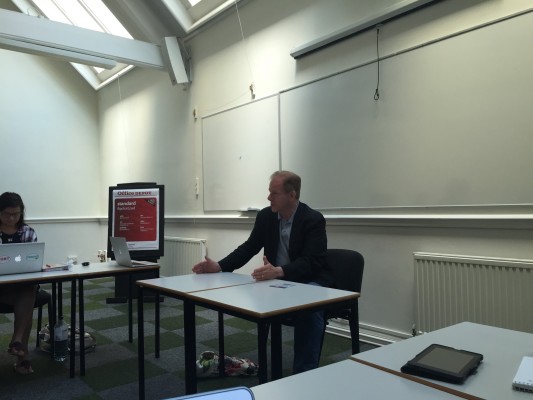 Stinton has also been able to continually get work as an actor. "Only 10 percent of us our employed, 90 percent are unemployed. A major part of the job is looking for a job, because we constantly are getting fired."
Even though Stinton gets stage work, he still finds ways to supplement his income. Although his grandkids find it amazing that he occasionally does voice-overs for video games, including 'Battlefield 3,' he stated, "I don't find it very satisfying." Video game voice-overs have become an increasingly popular career choice for actors over the past several years.
A surprising fact that Stinton revealed about himself was that even after spending the past 30 years in London, he still cannot do a British accent. He is still intrigued by the pronunciations of British words after all these years. "One of my favorite words is Holborn, a tube stop. It should be HOL-BORN, but British people don't say the 'r' because it comes after a vowel, the 'l' sometimes disappears, and they often won't say the 'h's' as well. So that word has become O-BN."
Not being able to do a British accent doesn't stop Stinton from accepting roles requiring them though. If you are visiting London in the fall and want to see him on stage, be sure to check out "Mr. Foote's Other Leg" by Ian Kelly at the Hampstead Theater, Eton Avenue, Swiss Cottage stop, Jubilee Line. Stinton will be playing Benjamin Franklin and Charles Macklin, an Irish actor from the 18th century (who had to get rid of his Irish accent).
Rehearsal does not begin until August, but he is already trying to figure out how to do both Franklin's and Macklin's accents. "I've already starting trying to learn the British character, because it's going to be a problem. I've also tried to start learning what Ben Franklin might sound like."