'Tis the Season To Cram for Finals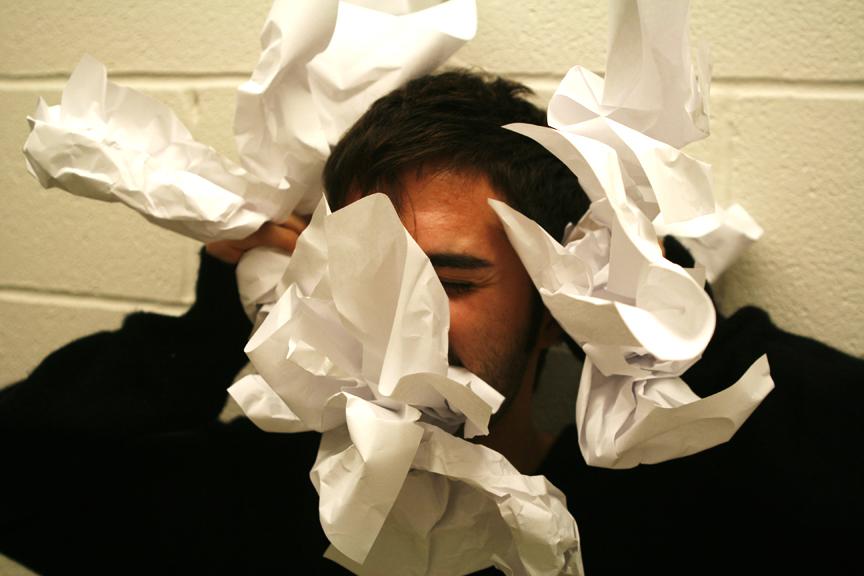 Published: December 11, 2008
Have you ever noticed that, right about now, the library is suddenly more crowded than you've ever seen it? For college students, December is the month for stuffing your brain with what you did not learn this semester—before doom, also known as finals, descends. Fordham College at Lincoln Center (FCLC) is cheerfully decorated right now, but there is not much cheer in the study lounges, as students sit down and realize how much they need to learn in the few short weeks remaining in the semester—and if you haven't kept up with your reading, that can mean three months' worth of material. Catching up can be a daunting, if not terrifying, task. When asked about cramming, all Elyse McFadden, FCLC '09, had to say was, "Don't do it." But if it's  already too late and you've saved your studying for the last week of school, here are five cramming suggestions FCLC students shared:
1. Start As Early As Possible
The best way to study for finals is to be on top of things from the get-go. Just because you haven't done every reading all semester, that doesn't mean you have to leave your studying to the night before the test.
"Try and study the week before, even if it's just a little bit per day," said Francis Pastorelle, FCLC '10.
"When it comes to finals, spread out your cramming on different nights," said Brian O'Connell, FCLC '11. "Buckle down and get into it."
To avoid completely numbing your brain, Samuel Wong, FCLC '09, suggests varying your subjects when you study for long periods of time.
"Spreading out studying is much more effective, according to memory research," said Dr. Mark Mattson, assistant professsor and associate chair of psychology at FCLC. "You can reduce interference by studying for one course for an hour or so, then switching to another course."
2. Repeat, repeat, repeat
If you need to learn a lot of information in a short amount of time, repetition is key. Dates, terms, names and so on are not going to stick unless you make them.
"Take good notes, and read them over and over," said Greg Afinogenov, FCLC '09.
Juliet Ben-Ami, FCLC '11, recommends flash cards for memorization: "I haven't gotten less than an 'A' on a test [when I've used them]," she said.
According to Mattson, quizzing yourself is also very helpful: "Recently, there are a number of studies that show that testing leads to better memory. This suggests that using study guide questions or on-line quizzes…will be helpful. It's not about learning the answers to these questions: it's about practicing retrieval of the information and getting more accurate feedback about how prepared you are."
3. Ask yourself: When is my mind alert?
When are you used to cracking down? You may not be on the same schedule as everyone else. If it's 2 a.m. and you're nodding off on your philosophy notes, try and study when the sun is up. If you know you're going to hit the snooze on your alarm for an hour in the morning, then use the night hours for cramming. Be aware of when you get your best work done, and you will be the least distracted.
For Wong, studying is best accomplished at night, after 10 o'clock. "I got used to it," Wong said. Ben-Ami and Camille Avena, FCLC '11, recommend mornings for studying.
"Studying earlier in the day works best for me," said Bonnie Torre, FCLC '11. "Usually I do it between my morning and afternoon classes. Then I can review it later on at night, too."
4. Find A Study Snack
Everyone worries about weight gain in college, but finals week is designated for more pressing concerns. Find out which snacks will keep you awake and happy—"snack bars, oatmeal bars…anything to keep the sugar level up," Wong said.
Avena recommends Little Debbie Brownies—"they're delicious."
For the health-conscious, grapes are an excellent cramming food, according to Ben-Ami. "They're excellent, all water…you can just keep grabbing them."
But what do you drink when you study? Rock Star is a favorite for Roger Quiles, FCLC '10. "A protein shake with Red Bull keeps you awake twice as long," he said.
"I recommend the 'Juiced' varieties of Rock Star, i.e. pomegranate, the orange one too," Pastorelle said. "They're the least likely to make you vomit. Although, honestly, I find stomach aches to be helpful. You can't fall asleep if your stomach feels like slow death." A word to the wise: choose your study beverages with care.
5. Know Your Limits
Finals week can be extremely intimidating, but it is not the time to panic. Even if you are cramming, be aware of what works and what doesn't for you personally. If nights without sleep are in your future, be careful. "If you're going to pull an all-nighter, don't tell yourself you're going to nap. Don't lay down. Don't sit on your bed," O'Connell said.
Marc Valentin, FCLC '11, recommends periodic showers to stay awake while studying. But sleep, as it turns out, is helpful when it comes to retaining information.
"Sleep on it," advised Avena. "If you feel like don't know the information, go to bed."
"Don't overdo it," O'Connell said. "If you truly feel there's nothing else you're going to get out of [studying], it's time to stop."
Every student's methods will be slightly different when it comes to finals. Do what's best for you—find a snack, find a playlist, find a sleep schedule. Then stick to those things. Don't get distracted. Try not to be intimidated.
"Stay positive…always keep the end in mind," Valentin said. Take a deep breath. Don't despair—you have three weeks of winter break to completely empty your overstuffed brain coming right up.