BSA Creates Social Awareness Tumblr
"My skin is not a fetish! My hair is not a trend! Black is BEAUTIFUL!" reads one of Black Student Alliance's (BSA) posts from their "I, Too, Am Fordham" Tumblr page launched early last week.
The page is a collection of 16 pictures of students holding up handwritten statements. The statements describe black/African-American students' experiences.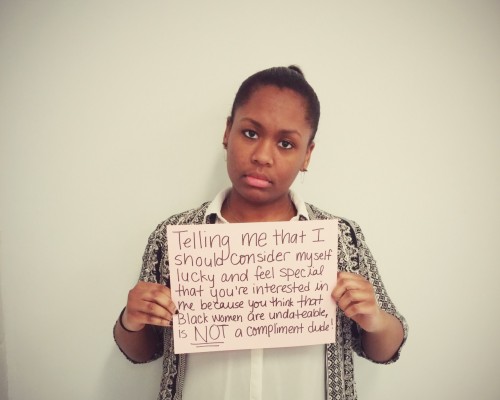 Jodi Hines, President of BSA and FCLC '15, explained the group's reason behind launching the Tumblr in an email interview.
"We decided to create the campaign to raise awareness about black/African-American students at FCLC. We also thought that it would serve as a conversation-starter that would go beyond the typical dialogues that focus on race that we have seen, since each participant shared an honest message and or experience," Hines wrote.
Harvard students launched "I, Too, Am Harvard" in March 2014. "The idea arrived from Harvard University's campaign, 'I, Too, Am Harvard,' which is also on Tumblr, as well as on BuzzFeed. Other universities and colleges have done very similar campaigns. In fact, a year or two ago, several students of color here at FCLC did a collection about microaggressions and released it on BuzzFeed. So, the concept is not really original, but what we have created is essentially BSA's version of that concept," Hines said.
"The first time I realized I was black I was 14. That was the day I learned my innocence has NOTHING to do with my verdict," reads another post from "I, Too, Am Fordham."
In regards to the strength of the messages and experiences from the Tumblr Hines said: "Some of the messages have shock-value but are nonetheless 100 percent real and authentic. Many of the pictures will make a person stop and think, 'wow, someone actually said that to that person?' which is essentially what would spark questions and conversation."
The Tumblr page has "gotten several shares and likes online for it. We have also had faculty members express how great they think the campaign is. We hope to continue to spread it, as we will post posters of each picture around Lowenstein soon. We also hope to continue to add pictures of more students who want to participate as the semester continues."
Here are some photos featured on the page.