FCLC Guys Dish on Ladies' Trends
What They Really Think: The Opposite Sex Takes on Styles Flaunted by Fordham Fashionistas
Published: November 13, 2008
Fashion: It is an expression of self, an extension of your personality. But it is often employed by many girls for another purpose: to attract the opposite sex. If looking good weren't a driving factor in women's clothing consumption, apparel sales wouldn't continue to soar despite the current economic recession. A study done by Elle magazine revealed that 57 percent of women ages 18-55 spent more than $2,000 on clothing and 40 percent spent more than $750 on shoes and accessories. That's almost three months' rent in the Fordham College at Lincoln Center (FCLC) dorms! The important question is: Are their efforts appreciated by the men they seek to impress? We spoke to FCLC men to uncover their true feelings on some of the hottest fall and winter trends.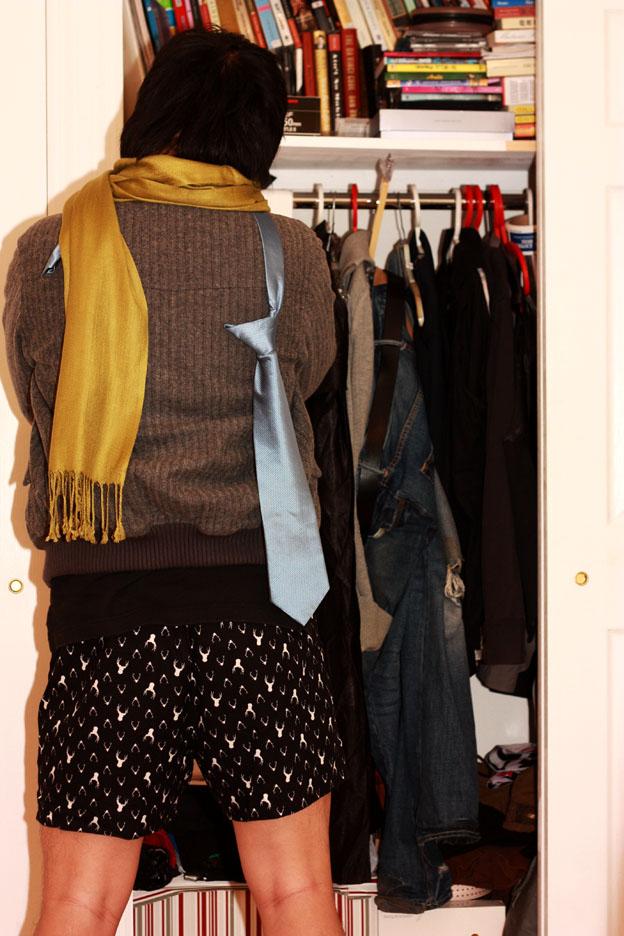 High-waisted pants graced every fall runway, but is there a place for them on campus? It seems unanimous that men simply don't understand the appeal of wearing pants pulled up above the belly button.
Dom Chiarenza, FCLC '10, said "high-waisted pants seem out of style. It would be a turn-off if I saw a girl wearing them."
Anthony Going, FCLC '10, agreed, "High-waisted pants aren't doing it for me. I don't find them attractive at all," he said. "I feel like pants should sit at the waist, not halfway up the stomach, which is where [those] seem to sit."
Chris Castro, FCLC '11, said, "They look kind of like something my grandma would wear, and it gives a bit of a wannabe '70s retro vibe, except it looks more like everything that was wrong with '70s fashion." If you love the look, don't fret. There are still some guys on campus that will appreciate your effort.
Pete Slusarski, FCLC '09, said when it comes to high-waisted pants, "the formula is simple: hot curves and confidence equals turning heads. That kind of power will keep my attention on a date or in class."
Gladiator sandals became popular in the summer months as they transformed the simple flip-flop into a display of metallic hardware and warrior-style, knee-high straps. While celebrities and many female followers took to this trend almost immediately, men on campus aren't as easily convinced.
Going equates them to "some type of medical sandals meant to fix a broken ankle."
Chiarenza said, "They stopped wearing them 2,000 years ago for a reason."
While Slusarski acknowledged that girls sporting these shoes have "some edge," he also threw in the word "cankles," which is pretty high on the list of every girl's worst nightmare. The verdict? Any informed fashionista will appreciate the strength and innovation of a pair of gladiator heels, so wear them out to dinner with the girls; but when it comes to class and dates, they are best kept in the closet.
Believe it or not, there are some trends that both men and the fashion world love. While celebrities like Rihanna and Mary-Kate Olsen can be seen sporting leather leggings everywhere, FCLC students have taken to using them as a staple with a pair of fringe boots and a sweater for class. On campus, this style is met with male approval.
Chiarenza loves leggings, claiming "girls with nice bodies pull them off well," yet he questions how practical they are during colder months.
"Don't girls get cold in them in this weather?" he asked. But substituting leather leggings for pants also doesn't sit well with the male population.
"They are sexy if worn correctly, like with a skirt or under a dress. Definitely not if they're worn with a top only, meaning they can't replace a pair of pants," said Going. "[They would] be a huge turn-on on a date and definitely catch my eye in class."
Slusarski linked leather leggings with a "bad girl" vibe, while Castro said, "A girl like that looks like an artist of some sort; she is someone with something to say and has a creative medium to say it." Toning this style down with a floral print dress or a chunky knit sweater is appropriate for class, and you can also dress it up with heels for a date.
From over a dress to around a cardigan, slung low around the hips or tight around the waist, everyone seems to be embracing the belted look. The good news is that you and your friends aren't the only ones who like it. Chiarenza thinks "belted outfits are cute; I actually really like that style on a girl. It's different, it's bold and most of the time, it works." He even labels it as one of his favorites.
Going also feels that this look is "very sexy" as "these outfits definitely accentuate a girl's curves and add a little something extra to the outfit."
While Slusarski insinuated that a girl sporting this trend may be uptight and unfriendly, Castro said it makes "the girl come off as really down-to-earth and chill, like someone I could bring to hang out with my guy friends." Running late one morning? Throw a skinny belt over your sweater for a quick and simple way to catch the eye of the cutie in your class.
The final trend that FCLC guys reviewed was menswear, which can include anything from a blazer, to a vest, to a trouser pant. Mixed feelings were expressed over these articles of clothing.
Chiarenza said that a "girl doesn't have to show boobs to be sexy" and felt that "menswear actually can be pulled off well, showing a bit of class," but Going admitted he was torn on this trend.
"[Blazers] don't really compliment a girl's body and seem to add just another layer without accomplishing much for the outfit," but a vest, Going added, "looks really sexy. It shows off the girl's curves and adds to the outfit."
Slusarski sees this trend as creative and fashionable, but also a bit masculine for his tastes. Castro said that while some of his friends consider it "tomboy-ish," he "finds it really attractive, mostly because these girls look a bit more interesting than most people you'd meet on the street. I feel like if we were to go on a date, I'd be a little more inclined to listen to what she has to say, since the style suggests she may be more of a free-thinking individual." Since men are torn on the topic of menswear, we leave wearing this style to your own discretion.
It turns out men aren't just plain girl-crazy; they actually do observe a girl and her style and make assumptions on her personality based on her appearance. Wear what you love with your best accessory—confidence.