Most Social Moments from the State of the Union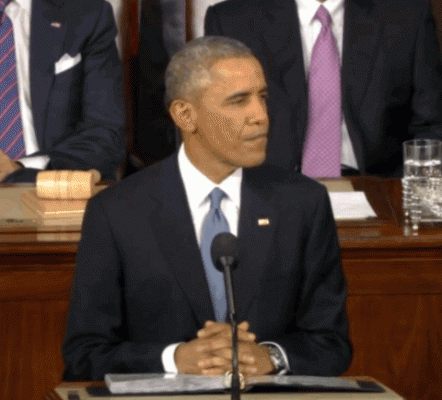 On Tuesday, Jan. 20th, President Barack Obama addressed the nation in the annual State of the Union address. He briefly reflected on his past years in office from economic reform to healthcare reform to ending the combat mission in Afghanistan. But, he focused mainly on the future of this nation which generated over 2.6 million tweets according to an official release by Twitter.
President Barack Obama delivers the State of The Union address on Tuesday, Jan. 20, 2015, in the House Chamber of the U.S. Capitol in Washington, D.C. Photo courtesy of Olivier Douliery/Abaca Press/TNS
Here are some of the most tweeted about moments.
A higher minimum wage: President Obama challenged anyone in Congress who refuses to raise minimum wage to try to "work full-time and support a family on less than $15,000 a year." He also called for a closing of the income inequality gap between men and women. "Really, it's 2015. It's time," he said of Congressing passing a law to bridge the gap.
Upgrading community college: One of the President's major ideas is to make two year community college free for students who earn a C+ or higher and remain on track to graduate on time.
The President himself described this as a "bold plan." Christina Greer, assistant professor of political science, questions if the measure can even pass given the Republican majority in Congress. As for this plan affecting private institutions, like Fordham University, she's unsure. "People, more and more, can't afford these private institutions," she said. Greer continued to describe our middle class as very large, but "one paycheck away from stability."
The average cost per year of a private four year university is $42,419, according to a 2013-2014 College Board report. This plan could lead to more students transferring to four year colleges after community college.
Reminding everyone he has no more campaigns to run: President Obama was met with great applause from Republicans after stating he had no more campaigning ahead of him. "I know, because I won both of them," the President said, which Democrats then greatly applauded.