Seniors Exhibit Work in Fordham Galleries (Lipani Gallery)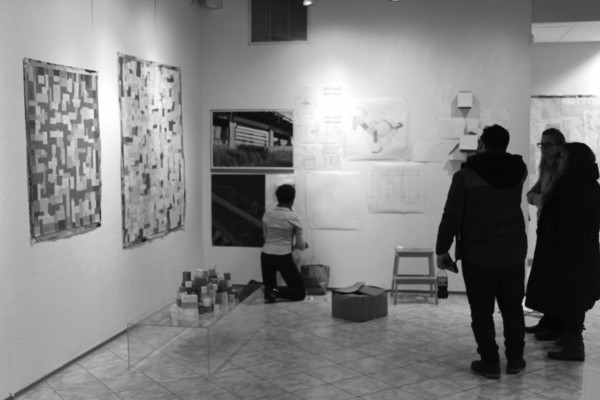 When you think of "art," do neon lights and feminism come to mind? On Dec. 10 at Fordham College at Lincoln Center's (FCLC) Lipani Gallery, the Senior Highlights Exhibition, will present abstract and thought-provoking pieces of art to convey their views of social and physical change.
 Kathryn Doheny, FCLC '15, will be presenting illustrations that mix themes of feminism with puns. "I focus on calling out stereotypes that men and women place on women, even in our socially evolving world," Doheny said.  Although her art piece does not have an official  name or title yet she is considering titling her piece as "fe-men-ist." She explains that she had initially begun her pieces with illustrations of famous female celebrities. "I began [my work] with illustrations of famous female celebrities in the Adobe program Illustrator and then used cut paper to give texture to the forms."
The puns that are included in each piece are written in neon lights. "The neon-esque lights are reminiscent of the grimy city night life," Doheny said. Doheny has devised puns and decided which notable figures would be portrayed in each illustration and the puns to connect each figures' characters. "Working toward clarity has been the hardest part of my process, along with deciding which notable figures I should use–and what puns to connect with them," he said.
Qinrui Hua, FCLC '15, will be showing photographs of Fordham students in their dormitories. The photograph prints will be black-and-white darkroom prints on fiber paper. Hua's initial objective was to do visual research on people. "Essentially, it started off as a visual study of me through my [subjects]. However, after developing this idea for 11 months, many intentions have been changed," Hua said.
Hua visually studied and researched fellow Fordham students for the subjectivity of his photography.  "I would go to a Fordham student's room and talk with them casually for an hour and half, using a medium format Rolleiflex film camera and take 36 pictures." Hua explained that there were many challenges to overcome in the course of tackling this project and that the most prominent challenge was being less subjective in photography. "I am not trying to express any of my opinions or suggest any deep ideas. I just throw a frame of that moment," Hua said.
Alexander Jahani, FCLC '15, another student participating in the exhibition, will be presenting two abstract paintings. The size of one of the larger paintings will be 6 feet by 5 feet. Instead of painting his abstract upright, he will be lying down to finish his pieces. "I'm stripping the canvases off of the stretcher bars and setting them down on the floor. It means I have to crawl around the paintings as if they really are maps laid out on the floor — which is a nice change in perspective from standing up and working on a canvas against a wall," Jahani said.
Tochi Mgbenwelu, FCLC '15, is an architect who, like Jahani, did the unexpected; Mgbenwelu did not create a physical art piece. "I opened myself up to the idea of change and understanding that architecture is not confined to the four walls of a building but also its surrounding environment," Mgbenwelu said. Mgbenwelu had individuals with opposing fears live amongst one another. At the Lipani Gallery, he will be showing a final model including photographs, plans, sections, elevations and circulation descriptions.
Another studio art major, C. Sarah Strafford, FCRH '15, will be presenting a stop motion animated film. She built a small set with handmade clay humanoid figures that appear to interact with abstract objects. "My sets are these patterned surreal spaces that have a lot to do with color theory and pattern. My figures are these purposely crude female figures interacting with these odd patterned spaces and objects," Stafford said.
"For me, color theory is very important, so I spend a lot of time deciding and designing what colors I want interacting – then I buy a lot of different patterned paper that I want to use for my sets and set pieces. From there, I start making my figures and building my set and once that's done I do some film tests to see what everything looks like captured on camera. In between, I sketch a lot storyboards to figure out the movements."
Drue Thomas', FCLC '15, work is a series of hand drawn quotes that includes roots in the traditional pointed pen calligraphy styles as well as interpretive designs. "My inspiration was a pretty ridiculous conversation I had with a friend of mine a few months back over G-Chat. I always said that [the conversations] needed to be made into a book or something so I thought this would be a pretty cool way to interpret something so insignificant at the time," Thomas said.
Thomas explained that she had always loved handwritten typography since she was young because of her mother's influence. "My mom did a lot of calligraphy and handwritten designs for work when I was younger," Thomas said.
Many artists have muses and inspirations to provoke or invoke the creators' inner thoughts or ideas waiting to be expressed. Jahani explained that Casey Ruble, visual arts professor and artist-in-residence at FCLC,  introduced him to a different form of abstract paintings. "I'm very inspired by just the idea of information and data, and right now, it's causing me to put together these block-map paintings," Jahani said.
Doheny's inspiration for her art piece was slightly altered during the course of orchestrating her work. "My initial inspiration was Rene Magritte and his originality in exploring the visual pun. But, great feminist artists such as Lilith Adler and Cindy Sherman also helped define my thesis," Doheny said. "These women [Adler and Sherman] brought a sense of humor into examining how society treats women and still maintained a critical undertone," Doheny said.
"I think the most rewarding moment is when people see my work and they smile because they get it. Not everyone is going to love your work but when they do, it's pretty great," Thomas said.