BSA Hosts 'Die-In' to Protest Police Brutality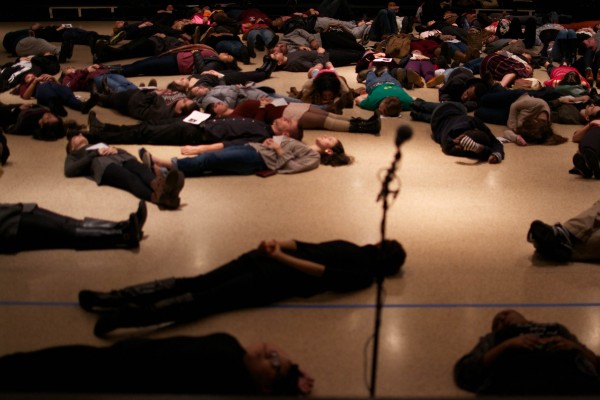 On Tuesday, Dec. 9, over 100 students participated in a "Die-In" to commemorate victims of police brutality, held in Pope Auditorium at Fordham College at Lincoln Center (FCLC). At 11:21 a.m., the students engaged in four and a half minutes of silence to represent the number of hours Michael Brown's body lay in the streets of Ferguson after being shot by Officer Darren Wilson.  
The time, 11:21 a.m., signified Nov. 21, the day St. Louis District Attorney Robert McCulloch announced that the Wilson would not be indicted for the homicide of Brown. 
President of the Black Student Alliance (BSA), Jodiann Hines, FCLC '15 spearheaded the event, along with BSA editorial board members, Georgina Owolabi, vice president, FCLC '16, Zann Ballsun-Simms, press relations and FCLC '16, Courtney Romans, secretary and FCLC '17, and Maia Bedford and artistic liaison FCLC '15. The event began with the recitation of four poems. 
"The justice system is not a failed system. The 'just-us' system was not made to protect us, just them," read a line from the final poem. By "us," the poem referred to minorities.
 Introducing the moment of silence, Hines said, "For me, being an older sister to a … black male, is so hard."  She continued to speak about her 19-year-old brother and her worries when he is not safely in their house. "People don't like him because of the color of his skin, it's ridiculous," she said to the crowd. As she wiped tears from her eyes, the crowd applauded her.
Hines urged everyone as they rose, "As cliché  it sounds, be the change you want to see in the world. Point out racism, sexism, all these things when you see [them]."
"Don't just sit there when you see it because it doesn't affect you. Everything affects everybody because we are all human and we all live in this world," she said to the crowd.
After the event ended, Hines requested that everyone leave Pope in silence and reflect on what they had all done.
Assistant Dean For Juniors and Transfers Milton J. Bravo attended the event. "That means it really had spread … if it's getting to the higher ups," Hines said. She was happy to see so many students and faculty present. Dorothy Wenzel, Ph.D, director of the Office of Student Leadership and Community Development (OSLCD) and Christina Frankovic, assistant director of programming, were also in attendance.