Additional Security Hired for New Building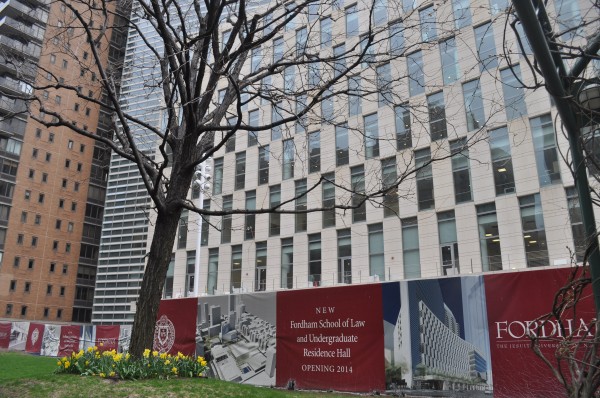 With the opening of the new law school and residence hall in the fall of 2014, Fordham College at Lincoln Center (FCLC) will be equipped with new security employees, ID swipe machines and protocols to ensure safety for students. Director of Security, Robert Dineen discusses these new additions and changes to the security system at FCLC.
Observer: Where will there be checkpoint stations of security in the new residence hall and law building?
Robert Dineen: There will be two security guard stations at the new law school and residence hall building. One guard station, which is on 150 W. 62nd Street, is located inside the main entrance to the building.  The second guard station is located on the south side of the building at the second floor plaza level entrance.  At the law plaza entrance, there will be one security guard covering this post.
Observer: Have you hired many new security members to ensure safety of these new facilities and the current Lowenstein building?
R.B.: We will be hiring at least fifteen security guards to ensure 24/7/365 safety of these new facilities. Additionally, we hired five new security duty supervisors to cover the expanded LC campus.
Observer: How many security members will there be at each station?
R.B.: There will be at least one at each security guard station.
Observer: Is security at Fordham thinking of returning back to the ID scanning machines?
R.B.: By the start of the fall 2014 semester, all the back end IT work needed for the new ID card readers will be in place and working.  Members of the university community will be able to swipe their ID cards to enter into all of our buildings here at FCLC. In fact, the new building will have turnstile ID card reader access at the 62nd Street main entrance, the law plaza level entrance and at each dorm elevator access control point.
Observer: Where can students talk to security in case of emergency in the new law school and residence hall?
R.B.: Students can always call (212) 636-6076 or (212) 636-6975, which is the new law desk, any time day or night and ask to speak to a security duty supervisor. At the FCLC campus, security provides two security duty supervisors every shift. A student can also reach security by using the emergency phones located on every other floor in the stairwells of the new residence hall. And, [students] will have a blue light emergency phone tower on 62nd Street [available for them] near the main entrance to the building.
Observer: Are there any protocols in case of emergency in the new buildings?
R.B.: Fordham is fully prepared to deal with any crisis through our extensive Emergency Management Plan. Our coordinated response can be found at www.fordham.edu under resources, safety and security link. Also, the new building will have a state of the art fire command system monitored by a member of the security department who is an FDNY certified Fire Safety Director.