When in Rome: Fordham's Summer Programs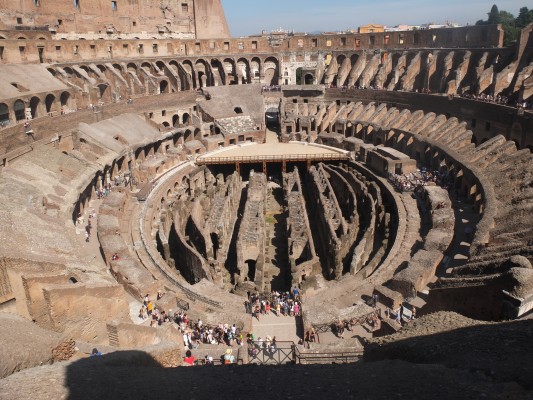 This summer, three classes of Fordham students are studying abroad in Rome. After a brief hiatus, the classes will be held for the sixth year. Students of all Fordham campuses, grade levels and Italian mastery are taking advantage of this summer experience in a cultural city.
Performing Italian
Students proficient in both theater and the Italian language are traveling to Italy for Performing Italian. The class will concentrate on the production of Dario Fo's play "Non tutti i Ladri Vengono Per Nuocere" ("Not All Thieves Come to Harm You"), which was performed just last fall at Fordham College at Lincoln Center (FCLC). But, this production will be performed in Italian, with the help of Professor Joseph Perricone, head of the Italian Language Department and resident director for the study abroad programs in Rome. Sherri Eldin, an MFA student from Brown University and FCLC alum, is directing the performance.
"Because this class is a full immersion into the language, students who take this course walk away with a greater mastery of the language, more vocabulary, more everyday expressions, and the ability to fully function in Rome. They get a broader and more complete of the picture of the mosaic of the city," Perricone said.
The class combines advanced understanding of Italian language and grammar with theatrical training, normally taken by actors in the Theatre Program and non-actors looking for an exciting opportunity. Performing Italian has been a popular course for students to complete the exit-level foreign language core requirement.
"I'm going because I want to immerse myself in the Italian language and culture, and putting on a theater production all in Italian will be very cool," Billy Pickett, FCLC '17, said. "It is a challenging experience, but in the end it is completely rewarding to see students be able to master the language and enjoy performing" Perricone said.
Documentary Photography in Italy
A small group of students will have the unique opportunity to devote an entire summer to photographing Rome. "Documentary Photography in Italy", taught by Artist-in-Residence Stephan Apicella-Hitchcock and Associate Professor Joseph Lawton, focuses on combining mastery of digital photography skills with unique insight into Italian lifestyle, culture and people.
"In Rome, life takes place in public. The urban planning of Rome and nature of Italian life revolves around communal gathering. People walk, eat out late and are constantly outdoors. The culture allows for a great environment for documentary photographs," Hitchcock said.
The class helps students attach their own voices to a place that has already been photographed prolifically. Through long walks around Rome, studying famous photographers, watching Italian cinema, critiquing student work and on-site experimenting, students develop an ability to produce photographs from a personal perspective. A quick glance through the published photography books, with the photos taken by students from previous trips shows how students have created an individual eye for frequently taken scenes and locations.
Hitchcock added that the syllabus is constructed in a way that allows for students to have extended weekends. Many students take advantage of these small breaks and travel to other cities in Italy, further exploring the opportunity for documentary photographing.
"This is a course for people who are interested in people, and there is no better place to photograph life in the streets than Rome," Lawton said, adding, "The class does require a tolerance for walking and frequent cups of espresso."
Art and Architecture of Rome
"Rome is the ultimate classroom. There is no better place to learn about art history," Jo Anna Isaak said, professor of the course and John L Marion chair in art history. "There is really no way to separate art history and architecture in Rome." Isaak has taught this course many times before.
The course will explore famous Roman landmarks, paintings, sculptures, museums, and galleries. The Roman Forum, Circus Maximus, The Coliseum, San Clemente, and St. Peter's Basilica are a few  attractions the course will cover. Students will view Rome through a historical and artistic lens while still enjoying the daily life of the historical city.
Students will learn about and view artwork from the Medieval to the Modern era by visiting a multitude of different venues and locations. Trips to the opera, theater, film festivals and neighboring Italian cities are included in the itinerary.
Emily Stone, FCLC '16, decided to take this course after taking Intro to Art History. "I thought it would be good way to experience and learn more about what I was learning in person," Stone said. "This is my very first time abroad! I'm excited to expand my worldview and gain a better perspective of the city and art I've been studying.
Arrivederci, studenti!