Students Discuss Double Majoring in Dance and Theology at Senior Showcase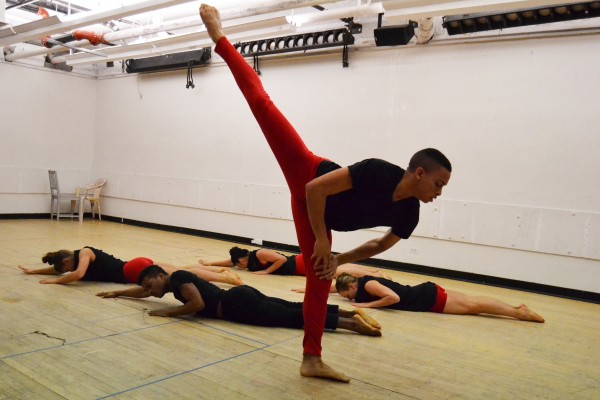 Can a discipline like theology be incorporated in the arts? On Thursday, April 10, three BFA dancer students discussed the relationship between their dance and theology majors at the Fordham College at Lincoln Center's (FCLC) Arts and Research Showcase, in a program titled "A Conversation on Dance and Theology." The theology department and FCLC Research sponsored the discussion.
Anne Souder, FCLC '14, Winnie Berger, FCLC '14, and Miranda Borkan, FCLC '14, conducted the presentation and performances, which portrayed their experience as double majors at Fordham's dance and theology departments.
Karina Hogan, associate chair of theology, helped coordinate the showcase. "I started thinking about this event last spring, when I knew that there were going to be three graduating seniors who are both dance and theology majors. I just thought that we got to do something with this amazing coincidence: that there are three students who have strong passions about dance and theology."
Through discussion and a choreographed performance by BFA dancers, Souder presented how dancing and spirituality are inseparable.
"From my studies at Fordham, I found a way to incorporate spiritual exercise into dance," Souder said. "My passion for dance and studies of theology could not be separated; last semester, I learned about St. Ignatius. [The course showed me] how spiritual exercises could not be separated from physical movement."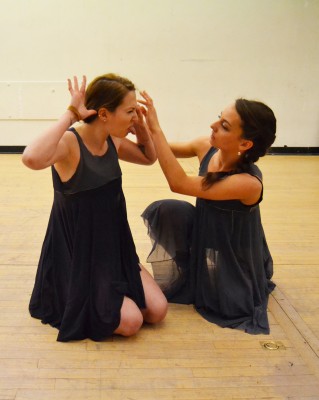 According to Souder, dancers can find ways to hone their skills through spiritual exercises and practices. "Taking a spiritual approach to dance can affect [dancers'] relationship with one another. When I took on this project, I realized how spiritual exercises could help you reevaluate yourself and enhance the way [we] move as dancers."
"Working on perfecting technique and skills as a dancer is the same as when you approach spirituality; you much continuously practice [spirituality], hone it and develop it," Souder said.
Berger took a different approach when presenting her relationship with dance and spirituality. Rather than focusing on spiritual methods of dance, Berger focused on how she came to understand the importance of religion in people's lives and how it motivates people through theology.
"When you come to college, new doors open, and you ask questions you never thought of asking. The theology department helped me open these doors and ask questions, realizing that there are more things beyond myself. [Theology], pairing with dance, works perfectly, especially at the Ailey school," Berger said.
"[In dance], you are constantly thinking about your movements and why you're doing it. Being able to bring my theology and new way of thinking has really helped me explore; when you're dancing you are exploring and searching what this piece means to you personally," she said.
Afterwards, Berger presented and performed her independent study at the showcase; the dance she choreographed and performed was a tribute to her sister who was diagnosed with autism. "I question my relationship with her and what she thinks of me. It is hard for her to say what is on her mind," she said. "That was really hard for me.  I am dedicating this piece to her."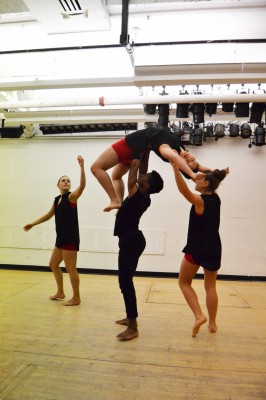 Similar to Berger, Borkan also gained much interest in theology from her classes at Fordham. "I recently took a class with Professor Dunning called Theology of Sexuality and Gender. I was flabbergasted; I never tried to put those two conversations of in my mind," she said.
"Talking about [theology] was not enough for me. I knew that getting something on stage [through dance] would get people to listen," Borkan said.
For her presentation, Borkan described her experience of how the song, "Same Love" by Macklemore & Ryan Lewis affected her experience as a dancer and theology student.
"When I heard that song, I started crying; I wanted to focus on the song and choreograph it for my senior project," Borkan said. "I was so affected by the song because of the theology class I took at Fordham. I realized that spirituality and religion is so much deeper than the Bible and God; it is about finding a voice and trusting that voice. I choreographed 'Same Love' because it represents people who are trying to find a voice."
According to Hogan, theology and classes at Fordham helped these three students combine dance and spirituality. "Without the academic side and classes [the three students] have taken at Fordham, they wouldn't have been able to arrive at the spiritual synthesis that they managed to achieve in their piece."