Photographer Gary Metz's Work on Display at FCLC's Butler Gallery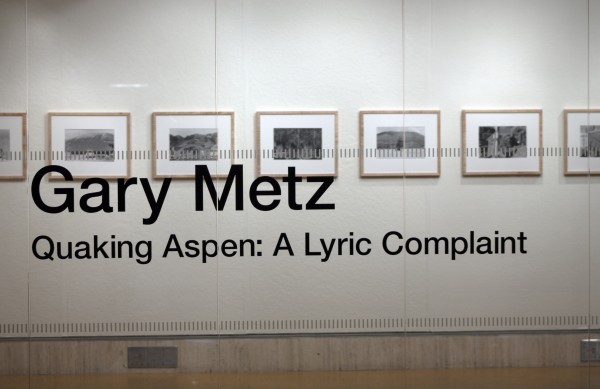 Fordham College at Lincoln Center's (FCLC) Ildiko Butler Gallery will host "Quaking Aspen: A Lyric Complaint." Featuring the work of photographer Gary Metz, the exhibit will remain on display through March 20.
Twenty-one black and white photographs were compiled by co-curators Stephan Apicella-Hitchcock, FCLC Gallery Coordinator, and Joseph Lawton, director of the visual arts department, who are both former students of Metz. The exhibition features a fraction of the 700 images that are part of Metz's Aspen, Colorado project. These photos and thousands more were found in Metz's dark room after his death.
Metz refused to conform to traditional landscape photography, which focuses on the purity of nature and depicts minimal human influence. Instead, Metz's work reflects the New Topographics movement of the mid-1970s, a time when landscape photography was being challenged. "It came out of the art world, not the media, not what was in the magazines," Lawton said.
"New Topographics raised the questions of what is American landscape and what is beautiful," Lawton said. "This photography says, 'Wake up, look around; there's more interesting things than just Niagara Falls."
Apicella-Hitchcock and Lawton attribute their time spent with Metz to the way they think, practice and teach photography today. This exhibition is a way for former students to pay homage to Metz. "Gary went out into the world with his camera and made first-hand observations," Apicella-Hitchcock said
"Gary's work is not dogmatic or pushy," Apicella-Hitchcock said. Instead, he describes this collection as "quirky, humorous and formally elegant." Rather than show humans affecting nature and simply implying detrimental effects, Metz allows viewers to reach their own conclusions through his objective photography. He compares Metz's piece more to poetry than prose, as it alludes to topics, rather than direct points.
"It's a very sober presentation of the facts. This is the best way to honor what you see in front of you because the world is so much more interesting than any clever way you could go about photographing it," Apicella-Hitchcock said.
Metz's exhibit will be traveling for more than two years, making stops in galleries like the Rhode Island School of Design, Speos Paris London Photographic Institute, Syracuse University and the Southeast Museum of Photography.