Freshmen Reflect on their College Transition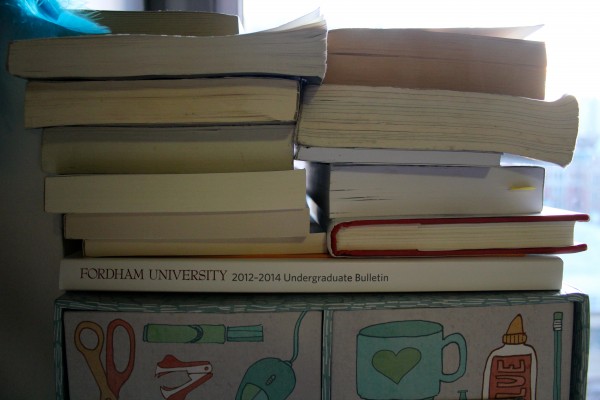 While all students are in the middle of their first semester of the academic year, freshmen at Fordham College at Lincoln Center (FCLC) are also experiencing their first semester of college and first time adventures in the big city. Freshmen commuters and residents reflect on how they are handling this transitional period.
Jason Toledano, FCLC '17, is a freshman resident from East Meadow, N.Y. Toledano feels slightly homesick, but not so much that it ruins his time living in Manhattan since he enjoys the urban setting. "I love living in Manhattan. People in Manhattan are very accepting of other's differences; there are no cultural taboos in Manhattan, " Toledano said. "And I am also surprised how liberal the school is in terms of religion." Toledano recalls that during orientation a school official said that the university supports all faith practices and not just its own Catholic tradition.
In a diverse city like New York, it requires time for newcomers to find a group of people who have the same interests. Fordham has been giving students chances to reveal their talents and meet other peers as early as the first day of Freshmen Orientation. "The best moment in college so far would be the Open Mic during the first night. The event spoke to how gifted people really are in the school," Toledano said. "It seems that everyone in the school that I met has a different talent that defines them as a person."
Toledano expressed one hardship he is having in college now: getting three assignments per class each week. But his trick for catching up with the college material is creating a to-do list every week and he also has Post-It notes and notebooks to keep him on track. He said, "I have to be my own mom now."
Michelle Quinn, FCLC '17, is a freshman resident from Sayreville, N.J. Quinn is full of Fordham spirit and loves the small community feeling that FCLC exhibits.
Quinn spoke highly of her family in terms of financial support and love. She's grateful that she can often go back home on weekends and have a strong family for backup. "Teachers can give you encouragement," Quinn said. "But, support is something you can only get from your friends and family."
Israel Munoz, FCLC '17, is a freshman resident from Chicago, Ill. He was not expecting the true chaos of New York. Munoz said, "There's only two hours of quiet time in New York, which is three or four in the morning. In other hours, New York is full of hustle and bustle."
According to Munoz, his first impression of the FCLC campus was that the environment feels like a high school. "FCLC is not a large campus, so it makes the transition easier," Munoz said. "But, we don't get the same traditional campus or a large campus you would get with a different type of college."
On the other hand, while residents are enjoying their four-minute walks from their rooms to classes, commuters are spending hours on mass transit to make it to class. Commuters often have to plan ahead before making a trip to school and they seem to find their everyday trips exhausting and expensive.
Sonata Brokeviciute, FCLC '17, is a commuter from Queens, N.Y. Like others, Brokeviciute often has to plan ahead for train delays because they are the reason why she's late to her classes. She now has to live with a completely different lifestyle, which now depends on the subway schedule.
Brokeviciute finds her relationship with the residents in school disappointing. "I feel like we are missing a relationship with the residents," Brukeviciute said. "I wish something can help us more on building the relationship."
For some, it is extremely challenging to leave high school friends behind and form a completely new bond with college peers. Gabriella York, FCLC '17, is a freshman commuter from Merrick, N.Y. At the beginning of the semester, York found it hard to make friends because, unlike the residents, she is not on campus all the time. She even finds it uneasy to maintain a strong relationship with other commuters because they all live in different places, and the only chance for them to meet is when they have classes together.
Elana Tee, FCLC '17, is a commuter from Eastchester, N.Y. Like other commuters, Tee oftentimes feels disappointed when schoolwork and commuting occupy her time, and as a result, she doesn't have spare time to explore the city. "Going to school early and leaving school to go home during late afternoon is taking away my chances of exploring different stores and restaurants in the city," Tee said. It is sometimes hard for commuters to stay for the evening events.
According to Jenifer Campbell, director of residential life, the office of residential life at has not only resident assistants (RA), but also resident freshmen mentors (RFM) available for students to help them adapt to the transition between high school and college.
"Sometimes students connect with different individuals. They may connect with the Residential Hall Association (RHA), or they may connect with a member of the RA staff, or they may connect with a Commuter Freshmen Mentor (CFM)," Campbell said. "My theory is that as long as there is a connection and that they have someone they can utilize as a resource, that's the important thing."
"From the past assessment and data, students have been appreciative of these services that are offered, and they look to these RAs and RFMs as resources that are available to them" Campbell said. "Overall, students get a good experience from the feedback we have gotten from the past."