Fordham Wide Receiver Samuel Ajala is Making all the Right Plays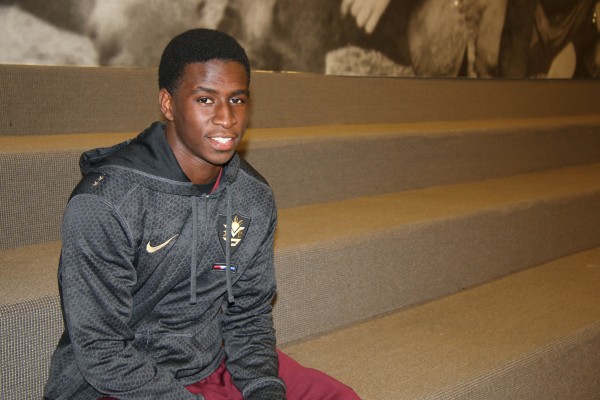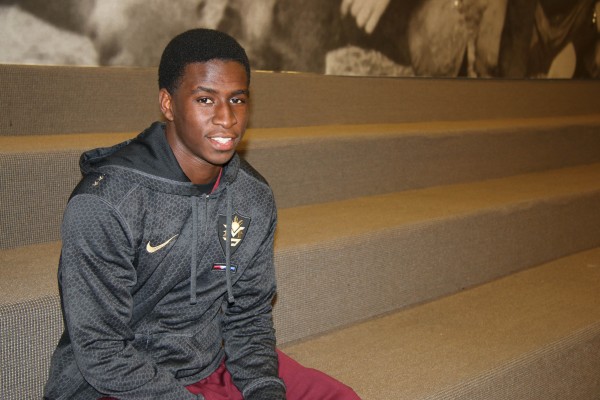 With an 8-0 record this season, Fordham's football team is bound to have their share of breakout stars. Wide receiver Samuel Ajala, Fordham College at Rose Hill (FCRH) '15, is among them. During Fordham's most recent game, on Oct. 19, Ajala helped tremendously in the team's 53-32 win over Yale University. He scored four touchdowns and had 282 receiving yards, setting a new school record of most receiving yards in a single game.
Before the game against Yale, Ajala was approached by Andrew Breiner, the quarterback coach and pass game coordinator, who told him if he didn't have 200 receiving yards this week it would be Ajala's own fault. "I kind of took it as a joke, but then I was like, well, if he's saying that, hopefully I can do it. And then we just went out there and everything was clicking," he said.
Ajala's ten passes for 282 yards broke a school record of 246 yards set by Javarus Dudley, former Ram Wide Receiver, in 2003. Ajala's 282 receiving yards is the most for a player in the National Collegiate Athletic Association Football Championship Subdivision (NCAA FCS) this season, and he is fourth best among all NCAA Division I players. With his four touchdown catches, Ajala also tied a school record for the most receiving touchdowns in a game, the third to do so, following Dudley in 2003 and Jason Caldwell in 2009.
After the win, Ajala was named Fordham Athlete of the Week and Offensive Player of the Week by the Patriot League. He was also named College Sports Madness National Offensive Player of the Week and College Football Performance Awards national Wide Receiver Performer of the Week. He found out about some of the awards via Twitter, and he's grateful for the recognition. "It feels good because a lot of people from back home are finding out. Just to make all of them proud," he said. "A lot of my coaches from back home are realizing it and seeing it, so it feels good."
Ajala is from the small city of DeSoto, Texas. Growing up, he was always drawn to basketball and football. But, there came a time when he had to decide between the two. "My dad gave me the option. He wouldn't let me play both. He wanted me to do [well] in school and have my grades be where he wanted them to be," Ajala said. By his freshman year in high school, he decided that football was where his heart was. He gave up basketball for good in order to focus on getting better at football.
During high school, Ajala excelled as a player. Right now, his former team at DeSoto High School is ranked number two in the nation, according to MaxPreps.com. And while Ajala attended the school, the team was also victorious. "We sent 13 players in my class, to all play Division I football," he said.  "So it's like we're a powerhouse high school."
One rule that Ajala has taken away from high school football is to work as hard as possible. While they are off on Mondays, the Rams practice on Sundays, Tuesdays, Wednesdays and Thursdays. They usually start meetings at 1:30 p.m. with the general team meeting, and then there is a discussion of special teams. Following the special teams meeting, the players will then break into smaller groups for position meetings. Finally, they head to practice. Fridays are reserved for a walkthrough and to prepare for Saturday's upcoming games.
With a busy practice schedule, Ajala found that it was best to keep things light-hearted with his teammates. "I'm practicing hard and taking everything serious. But in the end, I just have fun when I'm doing it. So although I'm working to get better, I'm also just out there like I'm playing with my friends," he said.
For Ajala, constant contact with the quarterback, Michael Nebrich, FCRH '15, is also imperative to their wide receiver/quarterback relationship. "We just make sure we're always on the same page. We do a lot of talking, even when we're just lifting weights and not on the field," he said. Communication is the key to having everything run smoothly on game day, he noted.
And everything has been running smoothly for Ajala during the team's undefeated season. His favorite personal play was against the Temple University Owls on Sept. 14. It was a touchdown catch to tie with just seconds left in the game. "That was the first time we beat a Division IA school in our school's history. We were like, 'we've got to win this," Ajala said. "Right before the play, I just said something to God and went up, and the play just happened like that."
Ajala is having a phenomenal year so far. He hopes to make it to the NFL. But if that doesn't happen, he has a backup plan in marketing. And he's had some experience in the marketing field. In high school, he had his own candy business. During his freshman year, he ran up his text messaging bill on his phone. So, his dad took away his text messaging. "I had to pay him back, so I started selling Snickers every day until I had enough to pay him back," he said. "After that, people kept wanting candy, so I just branched out. Everybody told me I was good at doing that because I brought in a lot of money."
He might end up in the NFL or he might end up in marketing. But for now, Ajala is a mainstay on the Fordham Rams. He will continue to practice hard, and he will continue to listen to "No Quitter Go Getter" by Lil Wayne before every single game. Then, he will go out onto the field and continue to dominate football games.