College Republicans and ASILI to Co-Host Event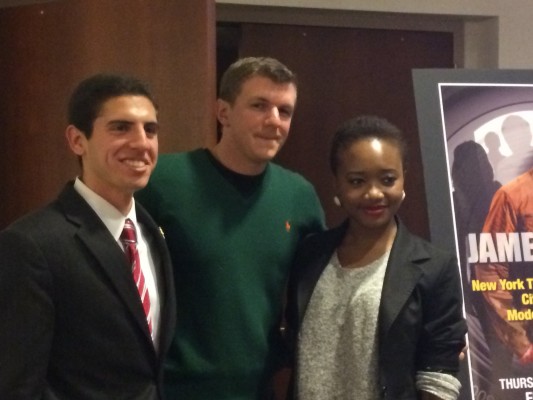 Luke Zaro, Fordham College at Rose Hill (FCRH) '16 and president of the College Republicans, and Tochi Mgbenwelu, FCRH '15 and president of ASILI, the black student alliance group at Fordham, announced a co-sponsored event to discuss race and politics, to be held on Nov. 5.
The two made their announcement about the event, officially called "An Interactive Discourse on Dismantling the Barriers Between Race and Politics," before beginning a College Republican-hosted event on Oct. 24 in Flom Auditorium, where noted conservative journalist James O'Keefe discussed his investigations into government corruption, media bias in America and his book.
"It actually originated from a discussion with a friend about affirmative action," said Zaro. "[A friend] introduced me to Tochi, who is the president of ASILI. And we started talking about my beliefs as a conservative, how that affects my beliefs on different policies, including things like affirmative action.  We started talking more and more and started recognizing certain misconceptions about the conservative movement or about the black community and we thought ' why not co-host an event?' Not a debate; that word actually never came up. To have a dialogue with the two groups and see it as a joint operation."
Mgbenwelu also noted that there was a series of "misconceptions" about the relationship between race and politics, citing the very O'Keefe event as an example. Many people approached her, as president of ASILI, to write a letter condemning the appearance of O'Keefe.
While not an American citizen and thus not able to partake in American politics, Mgbenwelu noted that there seems to be a perceived issue with being a member of the black community and a Republican. "It looks like you are going against 'your brothers' or turning your back on the community."
While the event does not have a location at the time of publication, Zaro says he hopes to hold the event in McGinley Ballroom and both club leaders look forward to the opportunity to dispel the perceptions of the influence of race on politics.