Has Political Satire Gone Too Far?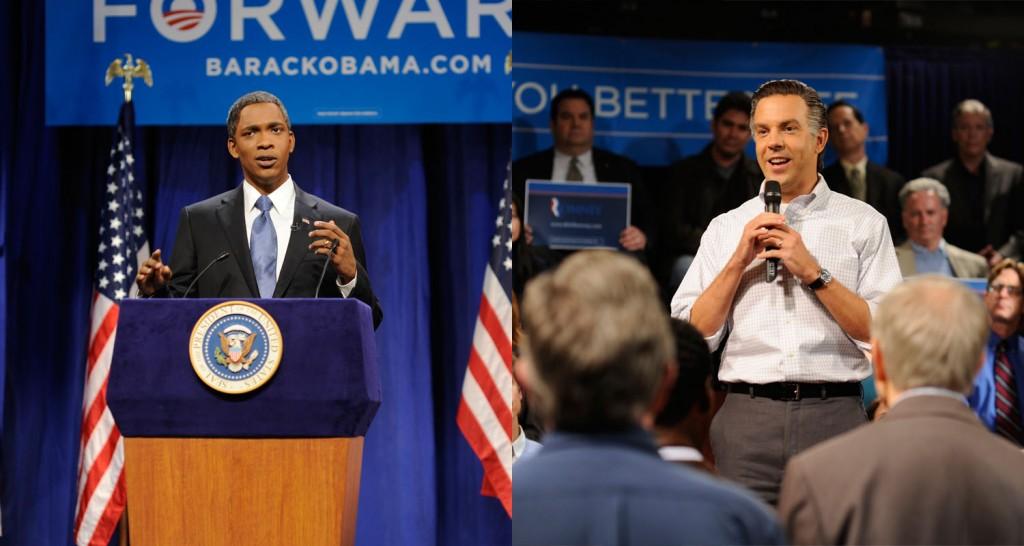 Everyone's a comedian in an election year; it's every satirist's favorite season. It's just too easy. The lies, the gaffes, the grandstanding, the obvious pandering, the general public distaste for the political protest all reach a fever pitch when election season comes around. What effect does this have on the public? On the candidates and, in the end, the election? Recently, "Saturday Night Live" featured a cold open of Jay Pharaoh (finally!) as President Obama talking about being aloof, overconfident and not too concerned about the major issues of the country. But that's okay, Obama argued, because his campaign has a "secret weapon:" Mitt Romney, portrayed by Jason Sudeikis. The sketch pitches Romney as being his own worst enemy, so gaffe prone that all he has to do is open his mouth and he'll hand the election to Obama. Jon Stewart, Stephen Colbert, the cast of "Saturday Night Live," W. Kamau Bell, Andy Borowitz, Bill Maher and countless others dedicate their lives to mocking the political process. I contend that not only do they have the right idea, but also that the youth of America should be paying attention to them. Jon Stewart of "The Daily Show with Jon Stewart" has been very popular for a while. Most of the time, the news is real, and the Daily Show's research team has brought important issues to the forefront where other media outlets have ignored them. So what if their tone is sarcastic and their viewpoints not entirely subjective?
Exposing young people to the corruption, lies and the general ridiculousness of politics is fine, and if "Saturday Night Live" and the rest disillusions the youth of America to the exceptionalism of American politics, that's fine as well. It's just a matter of what happens next. If young voters are turned cynical and tune out, that will be a big problem. But I don't think that will happen. Seeing what's wrong can inspire people to work to fix the problems they see, and if they arrive there from humor, I don't see anything wrong with that.
Voters are misinformed; they don't pay attention, and they tend to believe whatever Fox News or MSNBC tells them is true. It's not that the general public is not intelligent; it is just the way that these skits are presented that may misinform viewers. A lot of young voters get their information from such satire, and that's not a bad thing. If they are not consuming any other form of news, then at least they are staying somewhat involved during the election season. Traditional news sources like CNN, Fox and MSNBC do not always fully engage younger generations, since their prime audience tends to be older. However, the laws passed today have lasting effects for tomorrow, so the young must be engaged, they must pay attention, and they must know what's at stake so that they can take charge of the future of the country that will soon be theirs.
"Saturday Night Live" makes headlines when it delves into politics, not just because that's where it's at its funniest, but because it takes away the overly serious veneer of politics and exposes the frequently bizarre things that happen during election season. Remember Sarah Palin? Remember how the ridiculous things she said were used, mostly verbatim, in the sketches "Saturday Night Live?" The general public, for the most part, does not regularly watch CBS interviews or watch Charlie Gibson. But they'll sure watch Tina Fey repeating those things on "Saturday Night Live" where it's okay to laugh. The sketch show is sometimes credited for ruining Palin's legitimacy as a vice presidential candidate, but I'd argue that the show merely exposed her. Political satire is not only a good thing, it's necessary. The freedom of speech grants Americans something not available to a huge portion of the world–we're allowed to poke fun and prod and needle our government. A lot of other countries can't. People are dying around the world for our under-appreciated ability to call Mitt Romney a robot and Obama an overconfident, professorial politico. The most we can do is exercise that right as much as we like; what else is going to get us through election season?
I say have at 'em, Colbert.