From the Playing Field to the Campaign Trail
An Athletic History of the 2008 Presidential Candidates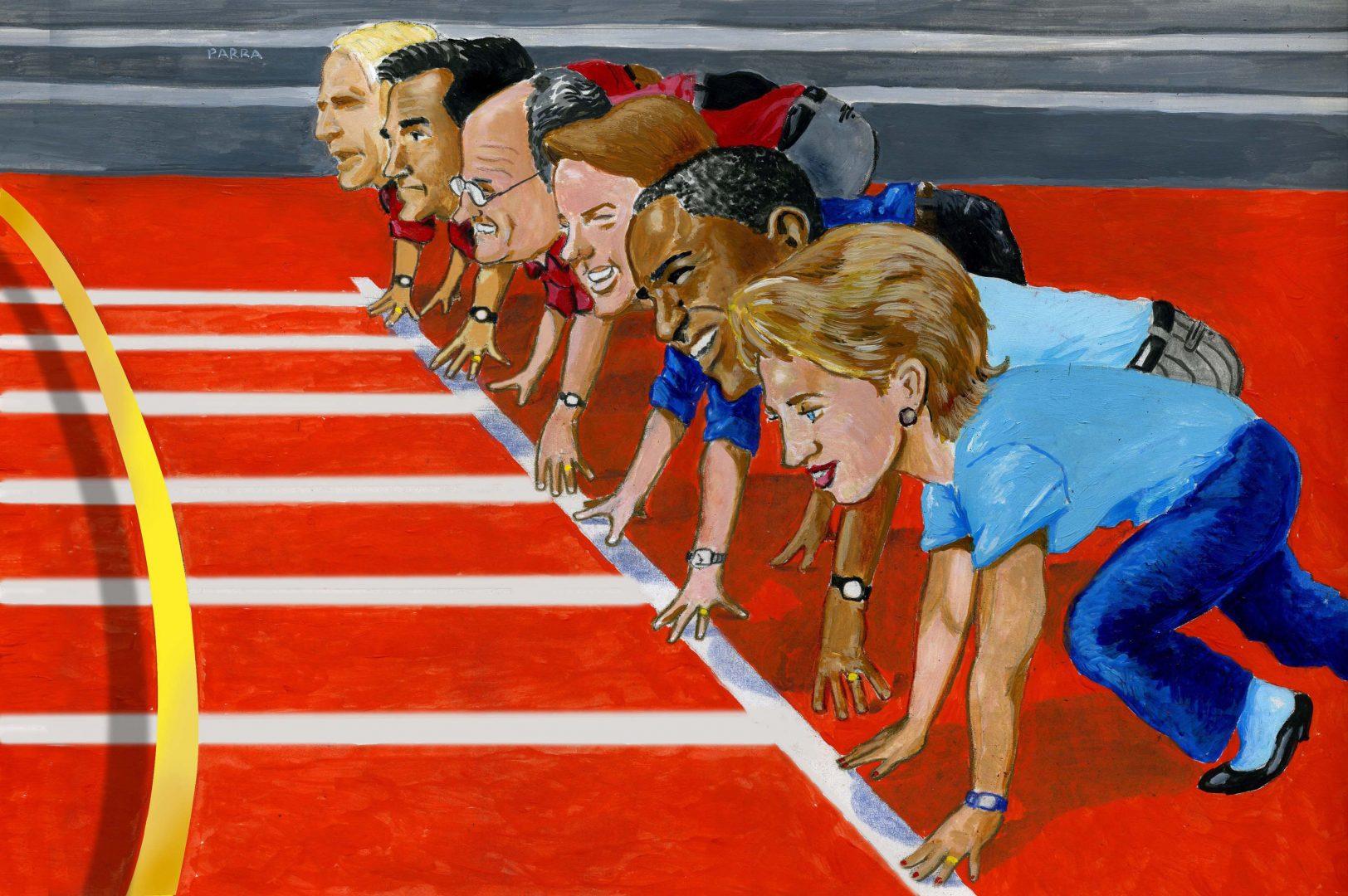 Published: January 31, 2008
There are many factors to consider when deciding which presidential nominee to endorse: Democrat or Republican? Man or woman? Football or basketball? Though it may not be at the forefront of a candidate's qualifications, athletic ability serves as just one more indicator of a presidential nominee's attributes. Judge for yourself; below you'll find the noteworthy (and in some cases, not so noteworthy) athletic backgrounds of some of this year's presidential nominees.
Varsity
John McCain
Despite being knocked out in the 2000 Republican primaries, John McCain has shown resilience by becoming a front-runner in this year's presidential race. However, bouncing back isn't something new for McCain, both in politics and in sports. When he attended the Naval Academy, McCain was a boxer. According to Newsweek, though McCain weighed in at a scrawny 127 pounds, he fought as a lightweight boxer for three years, throwing blow after blow until his opponent dropped to the canvas. In addition to his boxing experience, McCain's sports background goes back to high school, where he earned two Varsity letters on the wrestling team.
John Edwards
When it comes to the dirty, mud-slinging atmosphere of politics, John Edwards has had experience from an early age. Before his days of locking horns against Democratic candidates Hillary Clinton and Barack Obama, Edwards was knocking skulls and making plays on his high school's football team. According to Q-Notes, Edwards protected his All-American looks under a helmet and sported the number 21 on his way to becoming a football star. However, much like the 2004 election, Edwards fell just short of achieving his football goal: obtaining an athletic scholarship from his school of choice, Clemson University.
Junior Varsity
Barack Obama
Persistence is a character trait that Barack Obama will need to be in great possession of to continue running for the Democratic presidential bid; but it seems that is a trait Obama has possessed since his days as a less-than-stellar member of the Punahou High School basketball team, ABC News reports. In 1979, "Barry" Obama, as he was known then, helped Punahou High become state champions, a feat that has yet to be duplicated. But Obama, nicknamed "Barry O'bomber" by his teammates for his jump shot, had to fight hard for his minutes on the court, according to Coach Chris McLauchlin. McLauchlin remembers that though Obama was not the best member of the team, he worked the hardest. Tack that on as another trait that will serve Obama well in this far-from-over political race.
Mitt Romney
A life in sports is a tradition that apparently alternates generations in the Romney family. Mitt's father's cousin, for whom he is named, played quarterback for the Chicago Bears in the 1920s, and his eldest son, Tagg Romney, is an executive for the Los Angeles Dodgers, reports the Washington Bureau of Cox Newspapers. Despite his lack of athleticism, Mitt did manage to grace the cover of a sports page when, in 1999, he took over the management of the Winter Olympics in Salt Lake City, Utah. As part of his image overhaul of the event, Romney participated in a televised skeleton run, an event similar to the luge except that the rider travels down the chute face first and at a speed of 80 miles per hour. Romney's penchant for taking risks seems to extend beyond politics to his athletics.
Benchswarmers
Hillary Clinton
In her history-making attempt to become the country's first female president, Hillary Clinton will need to appeal to male voters hesitant to put a woman in the White House. One attempt at doing so has been Clinton's declarations about her athletic past. At a Women for Hillary event where tennis legend Billie Jean King also made an appearance, Clinton noted that she "played softball,…pickup basketball, [and]…tennis," according to the New York Times. Clinton further mentioned that she had also once won a trophy in an Arkansas mixed-doubles tournament. Though there are numerous categories in which Clinton can claim having had superior experience than Edwards and Obama, it is clear that sports is not one of them.
Rudy Giuliani
Rudy Giuliani may be the face of the quintessential New York City sports fan, having proudly been seen at every major New York Yankees game over the last decade, but that is where his association with sports ends. Giuliani did not play any sports in high school or college and his most recent sports-related incident involves being taken to task over his public support of the archrival Boston Red Sox in the 2007 World Series. Giuliani's flimsy explanation, that he is a fan of the American League and will always root for the contender from that League in the World Series, did little to appease angry New Yorkers. Perhaps that is why in a Quinnipiac University, poll conducted from Jan. 14 to 21, Giuliani remained in a 30 percent tie with McCain among likely Republican presidential party voters in the state of his mayoral city.