Inspiration at the Intersection of Fashion and Art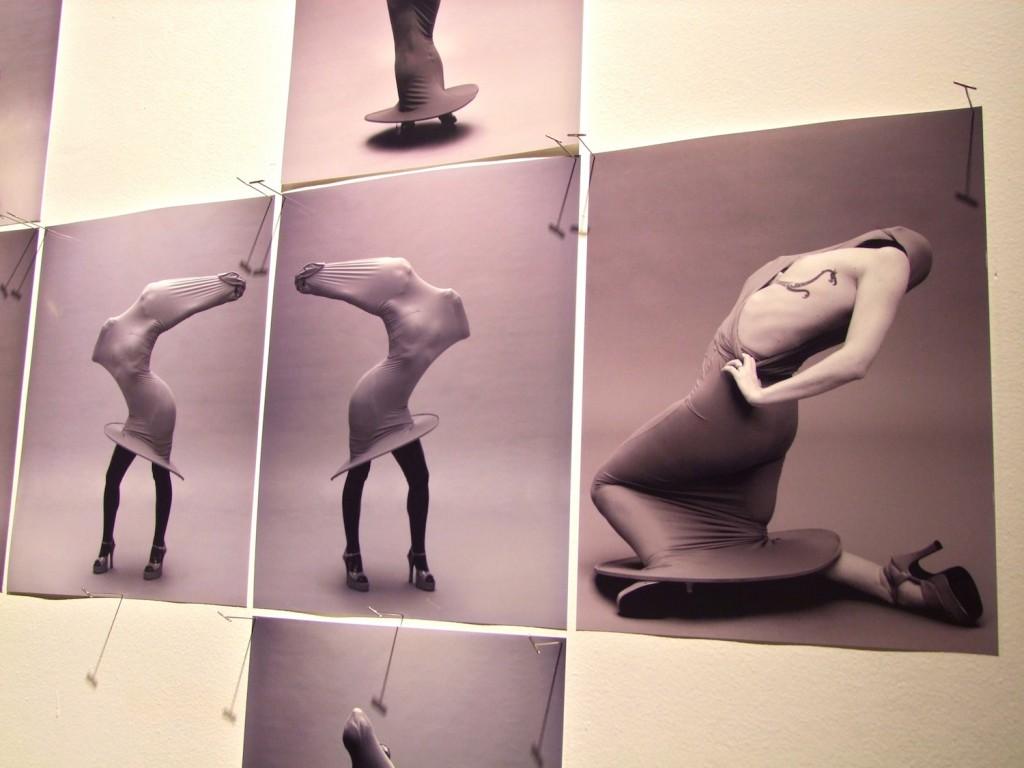 Soho, New York– It's Sept. 8, and under a dark sky full of clouds, several things run in the minds of New Yorkers: this first muggy rain of September is the sign that the summer is coming to an end, but most importantly, today is the second day of the long-awaited Fashion Week.
Taking place at the same time in Milan, London and Tokyo, Fashion Week brings together New Yorkers and fashion lovers from all around the world.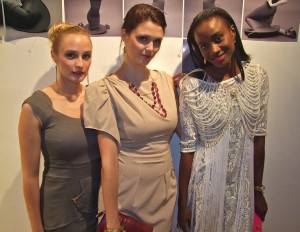 My three friends and I were full of excitement as we waited for a taxi in the rain. Our destination for the night's Fashion Week event was the "Seven Sins of Reason" at the No!r Hotel which, during Fashion Week, hosted works of emerging fashion artists, together with works of photographers and performances of musicians and poets. After a long cab ride, we finally reached our destination on Broadway between La Fayette and Bleecker Street but we didn't see anything that looked like the entrance of a hotel.
Convinced that we were in the right place by the brightly colored velvet outfits of the people standing outside the door, we entered what looked like a normal town house. At the top of the infinite stairs, we were suddenly exposed to a very unexpected and interesting scene. The place was enormous, extended horizontally and sectioned off by columns. Wide central stairs connected to an upper floor, where we heard music playing.
The walls were bright white and presented separate artists' expositions. The first one we saw was by Frederik Heyman, a contemporary Swedish artist. Don't get me wrong: I've always been an art lover, but not a fan of contemporary art. The painting we saw, (called "2. T.") was extremely contemporary. I clearly wasn't overcome with as much enthusiasm for the piece as my friend, who grabbed my arm and cried "Oh my Gosh! This is amazing!" as I started to walk off to the next exhibition.
I stayed back and listened to her long detailed explanation of how that painting spoke to her. We soon realized that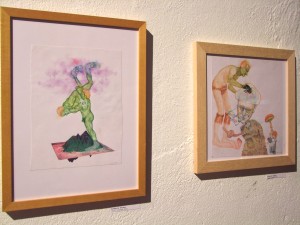 we were being observed by a young man who revealed himself to be the artist of the exposition next to Heyman's. His name was Pavol Roskovensky, and he came from Czechoslovakia.
"I found very interesting the enthusiasm of your friend," he told me later while we headed to his central piece of work: a white canvas on which several gold sewing needles were arranged in the shape of a triangle, each one with a different thread. At first I couldn't understand the message behind his work, so I asked him to explain it to me.
"With this show, with the theme of "Seven Sins of Reason" I physically took the entire canvas apart, thread by thread, from different paintings that were particularly significant to me," he explained. "For example, some of them expressed the theme of the universe, some of them the sacred figure of the feminine and others the masculine. I committed my sins taking those canvases apart."
I then asked Roskovensky why my friend's comment caught his ear, and what he meant by his "¬¬sins." I could tell from his proud smile that he had been waiting for me to ask him that question.
"What Heyman's painting gave to your friend it didn't give to you, and that is part of the beauty of art," he said. "It can mean everything for a person and nothing for another one… My art is my sin because it expresses what I can't say about myself. Fashion is an expression of one's self as well and that is why tonight, all of these special fashion pieces come together with art like mine."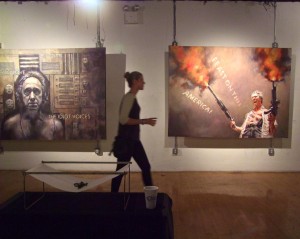 Some of the outfits I saw walking to the east part of the room could be definitely be identified as "fashion sins" by some people, but to their creators, they represent emotion, passion and accomplishment. After my conversation with Roskovensky, I realized how glad I was to have brought my friends with me that night. They made me open my eyes.
My expectations of a "fashion event of the Fashion Week" were completely stereotypical: runways, luxury and idealized perfection are not main elements of the Fashion Week as it might be thought. Fashion Week is about the freedom of expression of everyone's soul and imagination.
Soon, while I was taking photos of two models in eye-catching outfits, I met another imaginative soul . Her name was Annika Ruether and at age 24, she had just moved to the United States from Mannehim, a small town close to Munich, Germany, in order to realize her dream of being a designer in New York City.
"Elegance is the main element for me and my fashion," Ruether said. Pointing to a white lace dress she explained, "This piece is a mix between the '20s and the '70s: the pearls are the main element here, which combined with the laces, typical of the '70s, create kind of a controversy and perfect contrast." The second dress that she pointed to was actually being worn by her long-time best friend. "This one was a crucial piece for me," she said. "What I tried to do was showing my personal perception of her as a person through my art."
It was fantastic how all these artists recognized the freedom in the perception of art that people have. Through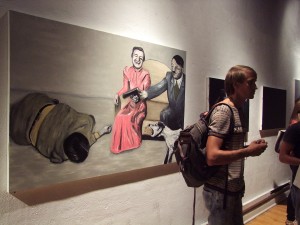 Ruether's sincere blue eyes, I saw the same passion and excitement that I found in the words of Roskovensky. It is their passion for art that made these young artists move from the comfort of their native country to an unfamiliar one. A reason why New York is special is this: everyone's dreams live in this city, a reason why it is populated by so many talented people.