Donate
Friends of The Observer,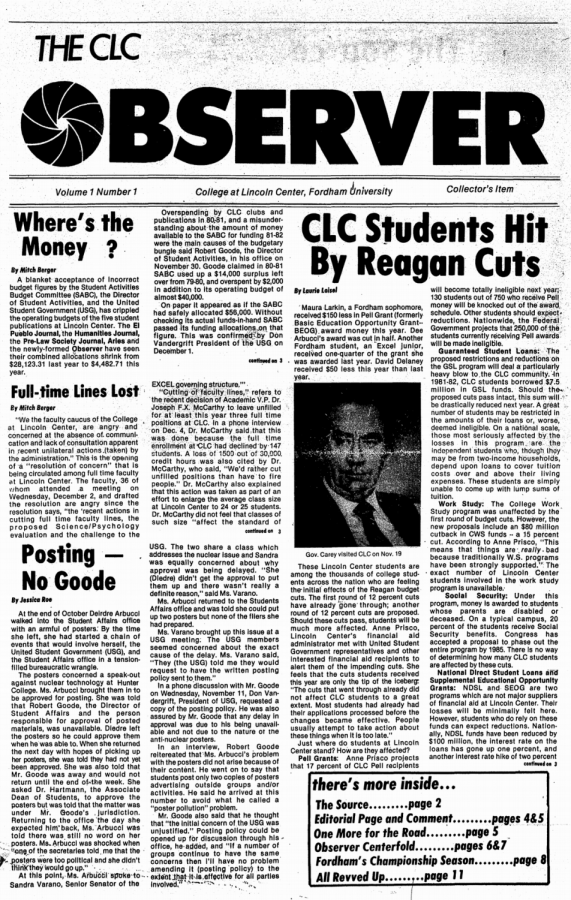 Almost 40 years into our role as the Student Voice of Fordham Lincoln Center, our mission is more alive and important than ever before. Our forays into multimedia storytelling, effective print design and unique social media content allow us to tell the stories of our city, our campus and our university in new and exciting ways.
As the landscape of print and digital journalism continues to change, The Observer still relies on the shallow pockets of advertisers and limited funding from Fordham University's Student Activities Budget Committee to cover the expenses of a modern student newspaper.
The front page of the first-ever issue of The Observer features coverage of SABC's commitment to keeping club allocations reasonably small. Some things, it seems, never change.
Despite the many generous contributions from Observer alumni, we are still quite a ways away from being able to afford all the resources necessary to help The Observer advance its digital-first initiatives and continue to provide robust, diverse content through all platforms. The Observer is a labor of love; our staff, over 50 strong, receives no financial or academic compensation for the long hours writing, producing, designing and editing necessary to create a final product of which we can all be proud.
Unfortunately, and to our disbelief, our commitment to the lofty tenets of hard work, ethical journalism and innovative storytelling alone do not keep the lights on.
The donation process is quite simple, entirely online and can be accessed by the link above. We greatly appreciate every investment in what has become a fundamental part of our college experience. If you're ever on campus, we encourage you to stop by our newsroom. You'll likely find an editor or two hard at work at any given time of the day, and they'd be happy to show you the good your donation is doing.
Thank you for your continued support,
The Observer Editorial Board