Rob Coglitore: The Facts Behind the Footwork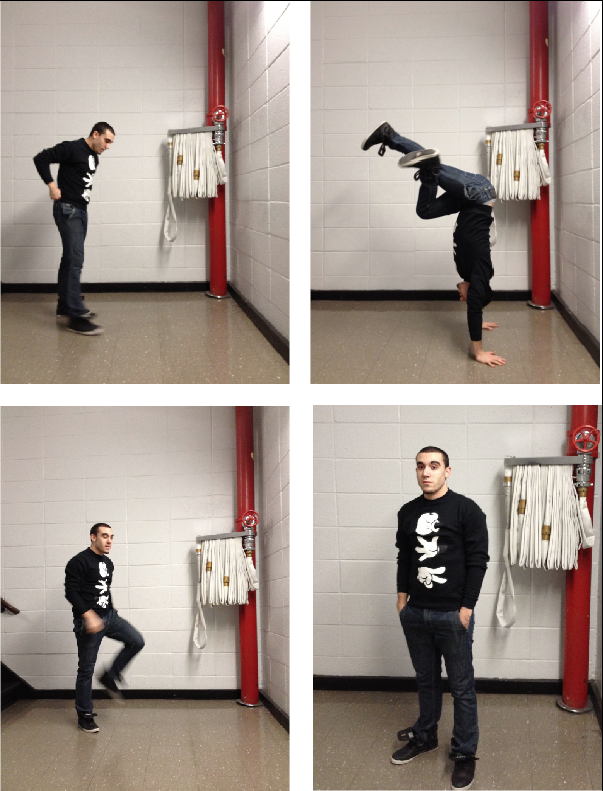 Some people say he was touring in Taiwan with Usher.  Others say he was in Sri Lanka with Nicki Minaj. The truth? He was dancing backup for the independent recording artist Zahra in her two latest 3-D music videos in South Korea.
And Robert Coglitore, Fordham College at Lincoln Center (FCLC) '12, isn't even a part of the Alvin Ailey BFA program.  "Well, I never trained really," Coglitore said, "Coming to the Fordham BFA program, you need to audition for that and have years and years of training in dance styles I have never even thought about doing.  So, I don't know, before I ever even got here, dancing was more of a recreational, fun thing to do and nothing I would have ever thought to be professional aspiration.  But then, after getting here, I thought maybe I should do it."
Coglitore, a sociology major, said that he began his dancing career as a baby, watching the VHS of Michael Jackson's Bucharest concert in 1992. "I wore it out.  Like, it broke because I watched it too many times," Coglitore said. "And I really started imitating him. I watched and learned, and it was progressive like that."
Ever since childhood, dance was more recreational than anything else, but Coglitore said that his love for dancing grew more and more.  "I started getting more and more interested in it as I performed in front of people.  You know, like bar mitzvahs, and confirmations, and sweet sixteens. I was always that guy in the middle dancing.  And people's reactions started getting more and more positive, you know, they thought I was good," Coglitore said.
Before coming to Fordham,  Coglitore said he had never taken a professional dance class. "My first class was a hip hop class at Ailey as a freshman," he said. Soon after, Coglitore joined Fordham Flava, the hip-hop dance company at Rose Hill, whose members are partially responsible for the playful rumors about his dancing career. Currently, he is the president of the club.
Coglitore's natural talent has taken him a long way; more specifically, it took him on a 14-hour plane ride to South Korea.  "I was dancing with a couple of friends who were out of college and they had dabbled professionally," Coglitore explained. "We sent in an audition video that said they needed backup dancers for this gig. We were supposed to open for T-Pain in South Korea. So we auditioned and ended up getting it."
What did the gig really entail? "We were there for about two weeks and it was awesome," Coglitore said. "We shot two 3-D music videos with an independent recording artist, her name is Zahra. It was really fun being on set with a huge camera and the 3-D effects." "We had one live performance that was an album release party for this company, On-Spot Korea, and T-Pain was DJing the afterparty," Coglitore recalled. "So in a sense, we opened for T-Pain."
Coglitore's experience in South Korea shaped his ambitions for the future.  "I remember sitting and thinking, 'This needs to be my life,'" Coglitore said.  "It was so amazing being paid to do that.  And free food.  And VIP clubs.  It was pretty awesome for something on such a low-scale."
With his sights on the future, Coglitore has a clear vision for his intended career.  "My biggest dream is to tour with Chris Brown or Usher or Janet Jackson or somebody who has inspired me so much.  But it is hard; there are just so many dancers," Coglitore admited. "But I believe in myself, and if I do take the time to train, that's what I really want to do when school ends—actually train and get my body right and do it because I have never done it before. It's all just been this natural talent that kind of like blossomed a little bit.  But nothing crazy like all these amazing dancers that are out there killing it.  But that is what I would love to do. And then, eventually I would also love to do artist development and choreograph for artists and maybe choreograph tours, you know? You never know."
Who knows?  One day he may even be dancing on tour with Usher in Taiwan or Nicki Minaj in Sri Lanka.