Model and Interns Partake in the Frenzy of Fall Fashion Week 2012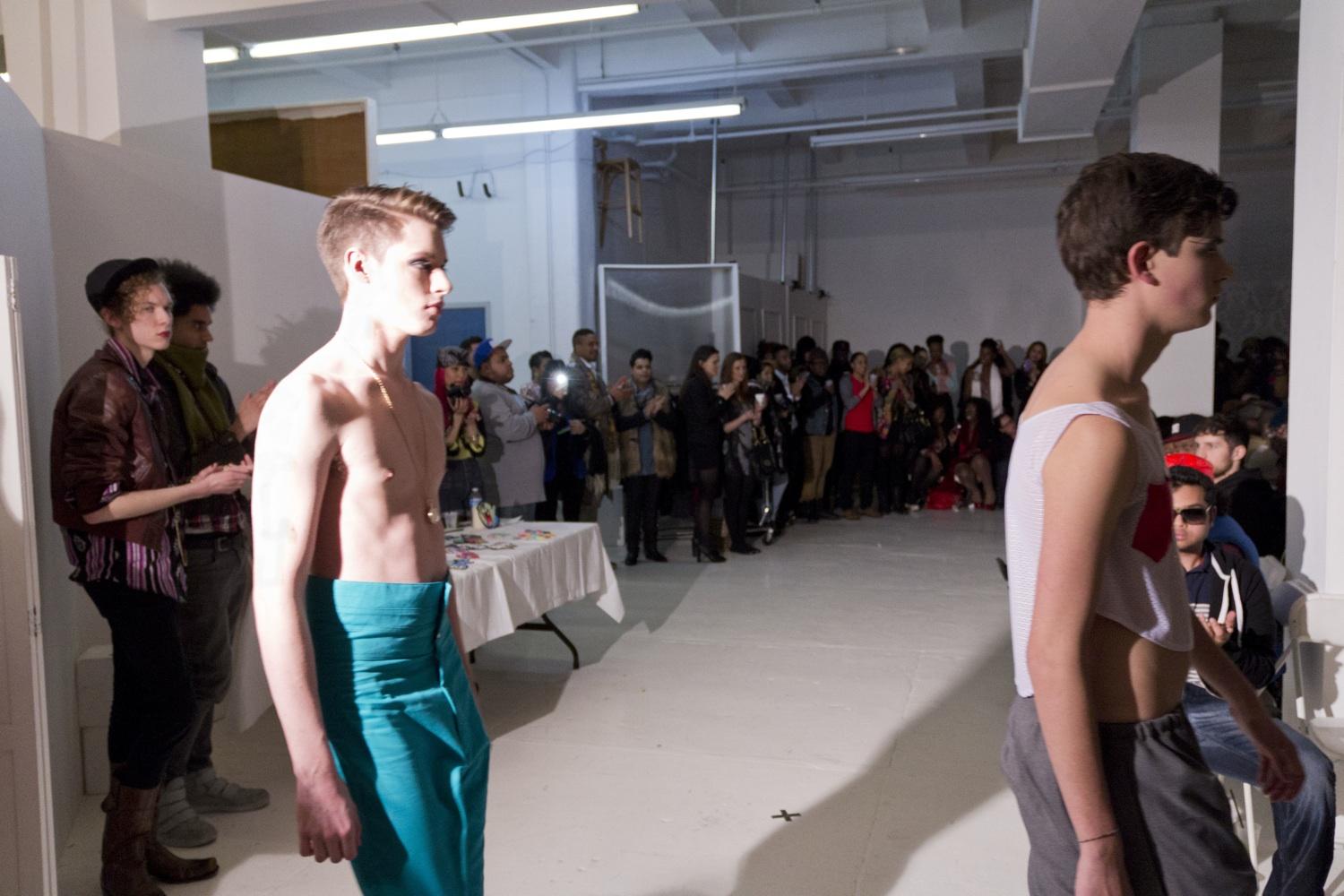 Another New York Fashion Week (NYFW) has come and gone and over 350 designers showed their fall collections throughout the city. New York Fall Fashion Week 2012 brought rich reds, tweed suits, high ponytails and military-inspired looks to Lincoln Center, along with many opportunities for young people to work both onstage and behind the scenes for some of the most renowned designers in the industry. The Observer spoke to two students at Fordham College at Lincoln Center (FCLC) who are fashion interns, as well as a model walking for Fashion Week about their experiences.
THE INTERNS
Two lucky fashion-focused students, Denise Rollandi, FCLC '13, an intern for designer Erin Fetherston,and Gigi Engle, FCLC '13, an intern for Oscar de la Renta, discussed the demanding and difficult—yet remarkably rewarding—process of putting together a NYFW show.
PRE-SHOW
Both Rollandi and Engle described the days leading up to NYFW Fall 2012 in one word: crazy.
"Tasks that you might think are just little things take a lot of time and energy," Rollandi explained. "I had to go to several factories and get extra yards of fabrics just to have on hand in case something ripped. I had to go pick up all of the accessories for the models. There are just always a thousand things to do."
For Engle and the team at Oscar de la Renta, things were especially hectic. "It was really busy because we dressed Nicki Minaj for her Grammy performance and the Grammys were right before Fashion Week," she said.
But as soon as the Grammys ended, it was all about the fashion show. It was up to the interns to make all of the backstage passes and to also pair every name on the 650-person guest list with an image of the guest, so that the person at the door could make sure they were letting in only those who were invited. "The few days before the fashion show I would get to the office at 9 a.m. and stay until 10 or 11 p.m.," Engle said.
SHOW DAY
Rollandi got to the Erin Fetherston showroom early on the morning of the show, and helped out wherever she was needed.
"Backstage was chaotic but once the show started things cooled down," she recalled. "It was cool to see Erin herself be interviewed. There were all these cameramen backstage. It felt like I was on a reality show."
Rollandi even got to wear one of the designer's dresses as she watched the Fall 2012 collection move down the runway. "The collection she showed, Erin by Erin Fetherston, is contemporary, young and just fun; clothes you could see yourself or your friends wearing," she said.
Engle also felt that the final result was well worth all of the hard work. After hours of putting together folders for guests and making sure all of the looks were organized, Engle got to sit in the front row at the Oscar de la Renta show. She saw Barbara Walters, Vogue Editor-in-Chief Anna Wintour and stylist Rachel Zoe, among other famous fashion icons who attended the show.
"I was exhausted from working, but it really came together in the end," Engle said. "It was kind of magical, like being in a dream. You don't really believe that you're there."
THE MODEL
Twenty-year-old Georgia native and dancer-turned-model Blake Clendenin walked his first two runway shows at NYFW Fall 2012: the first, for famed designer Richie Rich's brand called POPLUXE and the second for newer designer Marie Janae.
PRE-SHOW
Unlike the many weeks it takes to put together a runway show, the model selection process is quick and often not confirmed until the last minute.
"During Fashion Week, everything is cast about a week—or sometimes even a day—before the show," Clendenin said. "Some models travel to New York from around the country and from overseas for just a few days to take part in NYFW, and the designers want to have the biggest selection of the best models to choose from, so the castings can only take place in the days right before the show."
Most castings are crowded with models from different agencies throughout the city and around the world. "Each model goes in one at a time and shows the casting director and designer their portfolio and comp card. You walk for them and sometimes try on an outfit," Clendenin explained.
Aside from the waiting period, most castings for each model only take a few minutes, and the selection process is just as fast paced. "I went into the POPLUXE casting and got a call from my agent four hours later saying I had booked the show," Clendenin exclaimed. Two days later he headed over to Lincoln Center to walk in his first official NYFW runway show.
SHOW DAY
The models were called in for hair and makeup three hours before the show was scheduled to begin. Clendenin said it took about an hour for each model to get ready.
"First, we had to get regular makeup. Then, we had to go to a spray-tanning booth. And then we got our hair done. It was a long process but the designer was backstage directing everyone the whole time and there were a ton of people helping the models get ready," he said.
Clendenin described the show as "outlandish…in a good way."
"I wore an orange zebra jumpsuit with a trench coat over it, an African-inspired necklace and Converse sneakers. It was really different, but really fun."
Clendenin hopes to make a name for himself in the modeling world and sees many more catwalks in his future. "It felt really great to walk the runway for the first time. Definitely something I want to do again," he said.