Dubspot: Reviving the Electronic Music Scene One Beat at a Time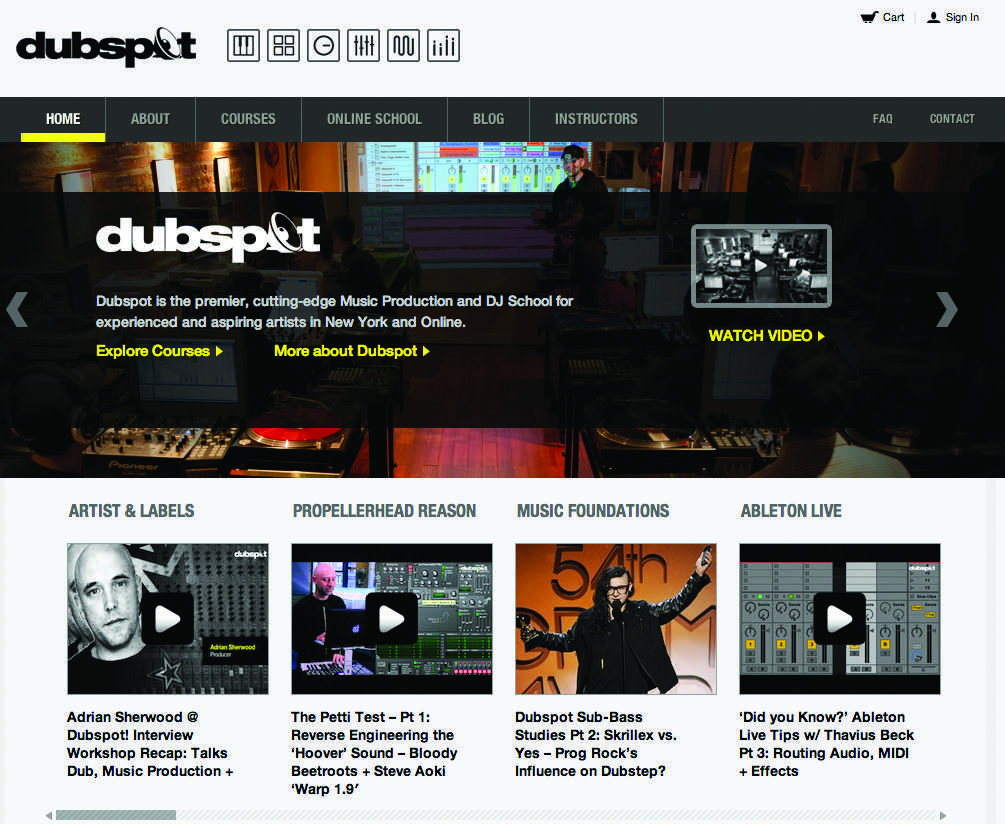 Located on 348 W. 14th St., the world-renowned electronic music institute, Dubspot, is a school for musicians and aspiring students, which teaches them how to produce and make electronic music.
In 2006, founder Dan Gioveconceived the idea after he attended a music conference hosted by the Thievery Corporation. Giove said the conference presented a wealth of information, but it lacked a focus on electronic music.
Giove explained, "They taught me so much in a short amount of time and it was then I realized that there is really no place or medium for people to learn how to produce electronic music."
In 2003, Giove and co-founder JP Solis bought a musical studio after his experience at the Thievery conference. In the studio they collaborated with other electronic artists on how to revive the faltering sub-culture of electronic music in New York City.
With an abundance of creativity and innovativeness, their collaboration spawned the first learning sessions of Dubspot. They decided to take that one session a beat further by opening it to the public,  thus causing a centralization in the electronic music industry. Now a center exists, where like-minded individuals can learn the production process of electronic music and help it flourish.
"[We] keep the classes small, between six to ten students, so that the instructors can give everyone personal attention. It is a very relaxed and inspiring atmosphere, Rasmus Kajerbo, a production intern at Dubspot said. "There are people here of all ages, from all backgrounds. We have ten year-old music prodigies and 40-year-old retired Wall Street workers. Music knows no bounds."
The teaching staff is one of the biggest appeals about Dubspot. Every instructor is a professional DJ or producer with years of diverse experience. They offer insight about creating music as well as tips about working in the industry.
"We are amazed by it but it's true that people travel from all over the world, from California to Denmark, to France to attend courses here," Solis said.
Jack Stykes, a student who traveled from Belgium to attend Dubspot, claimed he was first attracted to the school when he heard that one of his favorite DJs, DJ Shiftee, was teaching a few demos here.
DJ Shiftee wasn't the only one contributing; Steve Nalepa, who designed the online curriculum, teaches most parts of the course through streaming videos. Some assignments by the curriculum required a student to complete a 4 track LP, enter a remixed song into a remix contest and create a commercial. The newest feature of the online curriculum involves insider industry tips coupled with invaluable information and advice about self promotion, which is a huge factor in success now.
Another essential part of the Dubspot community is demo sessions. Demos are one of the biggest perks of Dubspot, because you don't even have to be a student to attend.
Their close relationship with many artists and music companies allows them to host a variety of demonstrations like a recent one with famous DJ, RJD2. Other demos instruct people on how to use new software.
Dan Giove said places like Dubspot are necessary to help aspiring artists because all of the new software and hardware available has really changed the industry.
"In the past, for DJs at least, it was all about what records you had. That's why Jamaican DJs used to bleach their records, so others couldn't see what they were spinning," Giove said. "It was why techno DJ's in the eighties would lie about where their tracks came from. Now everything is available to everyone. All the new production software and technology has shifted music to where artists really need to be adding their own unique production to everything they do."
Solis said, "Our main interest is sharing good music with the world and here we all work together to make that a reality. Dubspot is a great place to find your style and gain musical confidence."