Counseling Services Now to Facilitate Vagina Monologues Debrief
Counseling and Psychological Services will be present at the debrief following this year's Fordham College at Lincoln Center (FCLC) performance of the Vagina Monologues. This is the first time a department under Student Affairs has been allowed to be involved with the performance.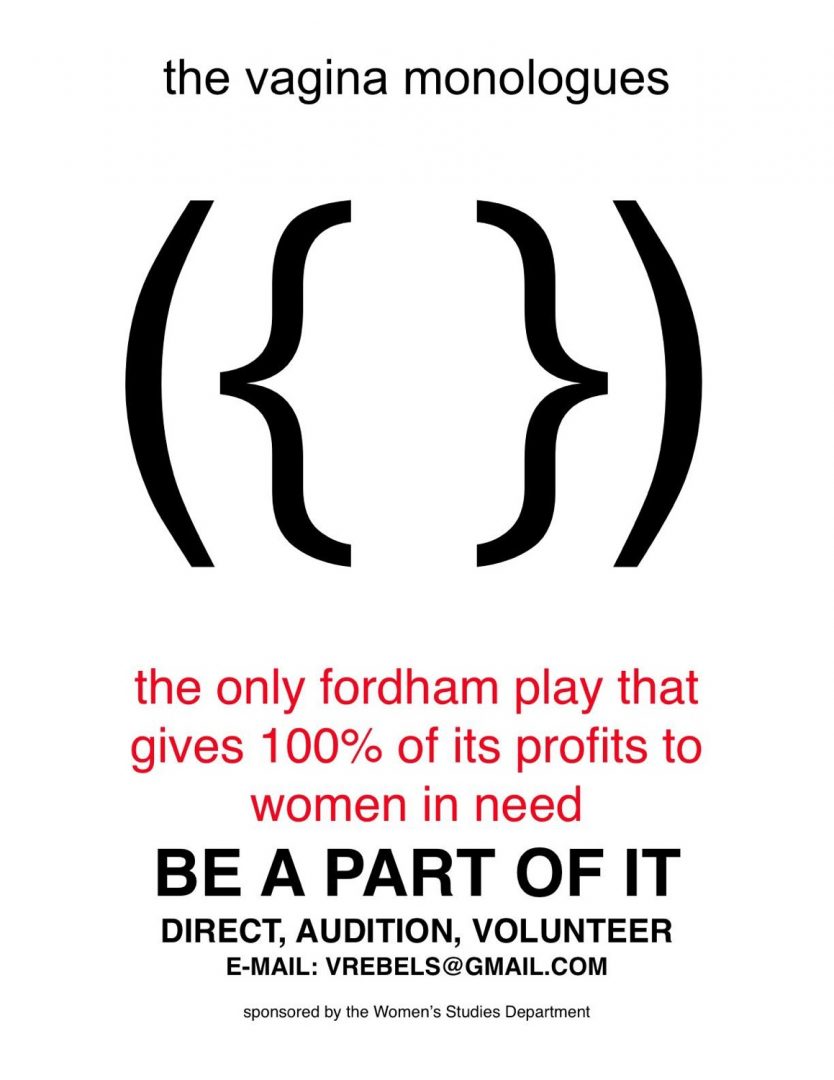 The decision was made on Feb. 1 at a meeting of the mental health committee of United Student Government (USG), ruling that Counseling Services staff could be present as long as they facilitate the debrief in a separate room and do not attend the actual performance.
USG and Isis, FCLC's feminist club, prompted the presence of the Counseling Center after the performance. They spoke with Dean of Students Keith Eldredge and Director of Counseling and Psychological Services Jeffrey Ng at the end of 2011 about the need for trained counselors after the performance. Requests like these were made from students involved with Vagina Monologues since 2010, when the debriefs began.
The Vagina Monologues, a play by Eve Ensler, is directed and performed by Fordham students and aims toward shedding light on women's issues, particularly domestic and sexual violence. As some within the university's administration disapprove of the Vagina Monologue's adult themes and sexual content, the Office of Student Leadership and Community Development (OSLCD) has been banned from having any connection to the show. Although members of Isis organize the production, they are not allowed to publicly affiliate the show with the club. As in past years, Fordham's Women's Studies department is supporting the Vagina Monologues.
According to Holly Hughes, FCLC '12 and USG senator, the production can take place through an academic department, but not through Student Affairs. "Any student affairs professional at Fordham is forbidden to attend the performance," Hughes said.
Hughes was director of the Vagina Monologues in 2010. She worked alongside Ryan O'Toole, FCLC '12 and president of USG, in the USG mental ad hoc committee as leaders behind the cause.
"We all got together and brainstormed five reasons why we thought it was essential that Counseling and Psychological Services attended the debriefing that follow the Vagina Monologues," Hughes said.
When she and O'Toole met with Eldredge and Ng in December, they voiced the importance of counselors.
O'Toole said a big concern for Counseling Services was that by being in the same space where the play was performed, it might seem like they were in support of the production—which, according to O'Toole, they are not.
In addition, Hughes said that during the meeting with Ng, Eldredge and O'Toole, they discussed having the debrief in a different room.
"That was a key component because it would allow Counseling and Psychological Services to support students without showing support for the Vagina Monologues, which student services does not support," Hughes said.
According to Rebecca Gehman, FCLC '12 and president of Isis, the past two debriefs were held in a separate space from the actual show—the Student Lounge. Gehman said that Isis specifically requested the separate room two years ago so that Counseling Services and Student Affairs could come.
"Basically we said there should be staff present after the performances," O'Toole said. "They said they would consider it over break."
Hughes said that she thinks the decision made on Feb. 1 to allow counseling to be available after the production is a big first step and that it shouldn't have taken so long to support students in this way.
"There is a section after [the performance] where they ask people to stand if they are survivors of sexual violence and or if they know a survivor of sexual violence and they're not going to stand for it anymore," Hughes said. "So I think that for people who have just publicly owned a truth about themselves, it is going to be a great resource."
O'Toole and Gehman said the presence of Counseling Services will show that the school is truly invested in its students and being available.
"We understand that there are concerns, but if they at least have counseling present at the debrief it shows that the university is supportive," O'Toole said.  "If anyone is in crisis or has an emotional reaction to the performance, we felt it was important that they could go somewhere where Fordham staff is present."
Gehman said that this creates an open space for conversation.
"Without Student Affairs and Counseling Services there, it [was] sending the message to students that the school doesn't care," Gehman said. "But now that Counseling Services will be there, it shows that Student Affairs is making an attempt to connect with the students."
This year there will be one performance of the Vagina Monologues in the 12th floor lounge of the Leon Lowenstein building on March 24. Currently, USG and Isis are working on logistics of how the debriefing will be facilitated.