Mike Wallace Challenges Students
"60 Minutes" Legend Visits Rose Hill
Published: November 15, 2007
FCRH—It has been said that the four most dreaded words in the English language are "Mike Wallace is here." To an audience of about 200 at Rose Hill, including the Innovators in Television class taught by Beth Knobel, this may have been a reality. On Nov. 6, Fordham students and faculty witnessed the legendary "60 Minutes" reporter transition from being the guest speaker, to questioning the students himself.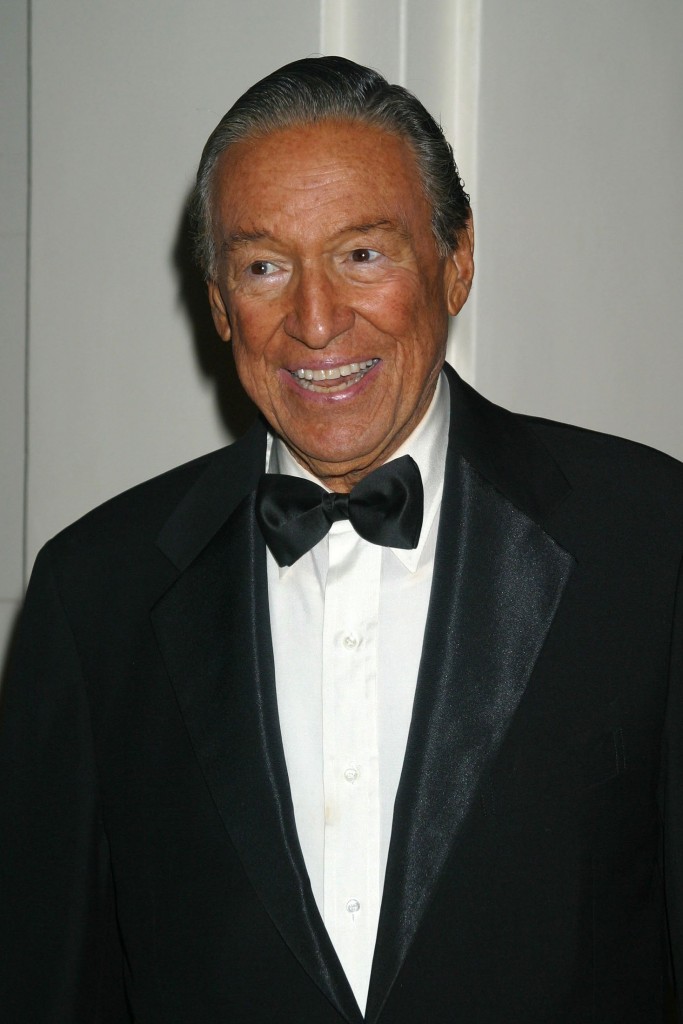 "It was quite extraordinary and deeply appropriate," said Paul Levinson, chair of the communication and media studies department at Fordham College at Rose Hill (FCRH), on his blog. "What is a reporter, an investigative journalist, after all, if not a teacher, and sometimes of the most profound things, to the public at large."
When Wallace began to turn the tide and ask students questions instead, he initially started asking about politics.
"How many of you are fans of George W. Bush?" he asked to a silent audience. "How did he get re-elected?"
Wallace continued asking students questions such as what news programs they watch, what they are looking for in a news program, how many students deplore or admire the Israeli government and whether there is enough coverage of religion on TV in the news.
The room fell quiet when Wallace walked up to students and asked what they wanted to do when they graduated. If a student responded, "I don't know," he said right back, "Well then, what are you thinking when you are sitting in a classroom?"
Levinson commented on the change in conversation. "Soon he was asking them about their views on mortality, the afterlife, whether they believe in a deity, a cosmic plan—something one might expect of an 89 year old, but not in a talk to students about his half-century on CBS," he said.
When Carl Comasco, FCRH '09, a student in Knobel's class, asked Wallace how he felt about those "four most dreaded words," he said that it worked to his advantage.
"It gave me the power to get people's attention," Wallace said. "It gave us a way to talk to people like they have never been talked to in public before."
As Wallace made his way up the aisle in the McGinley Ballroom, arriving a few minutes late due to traffic in the Bronx, his audience grew suddenly quiet as soon as he opened his mouth. Upon his arrival, the Rev. Joseph M. McShane, S.J., president of Fordham, quickly introduced himself to Wallace, who immediately said, "Call me Mike," and then introduced the guest to the room.
McShane explained Wallace's history, from beginning his career in broadcasting at the University of Michigan, to coming to the CBS network in the 1950s, and developing his "inquisitorial hardball style." It was his 38-year career as co-host and editor of the primetime news magazine television show, "60 Minutes," which made Wallace famous, though Wallace corrected McShane in saying that it was his producer, Ted Yates who came up with the groundbreaking show.
"You are the one who gave it life," McShane responded, to which Wallace nodded and said, "Oh, hell yes."
Pioneering a news magazine show, something that had never been done before, was "an adventure" for Wallace, who said he and Yates were "joined at the hip" at the time.
"We defined what TV journalism was," Wallace said. "We couldn't do anything wrong, because no one else had done it yet."
As for journalism today, Wallace said it is not the same as it once was. "When I joined CBS, it was the 'mother church,'" he said. "You knew that you were getting the truth. People paid attention in a totally different way."
"It used to be a race to the top, and today it's a race to the bottom."
At the start of "60 Minutes," Wallace noted that stories didn't just fall into his lap, nor were they rushed to the air to be the first to cover it, since the format of the program left weeks or months to work on a piece before it was aired.
"We had to persuade people if they had an idea, a book, a notion for a social movement…Then what we would do was give them hell on air. Someone who thought they were dead honest were put on trial on live TV," he said.
Though Knobel joked that Wallace had missed his calling and he should have been a professor instead, he asserted that his career was the right path.
"There's a yearning for the truth from the American public," he said. "And I can't think of a more fulfilling way to live your life, than a reporter's life."