New York Red Bulls Draft Fordham Star Goalie Ryan Meara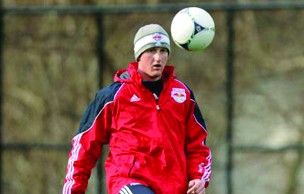 Despite great team success and accolades over the past 10 years, the Fordham soccer team hadn't had the crowning achievement of having a player drafted to the big times—Major League Soccer (MLS). That all changed on Jan. 12 when Rams goalie Ryan Meara was drafted with the 31st pick of the second round by the New York Red Bulls.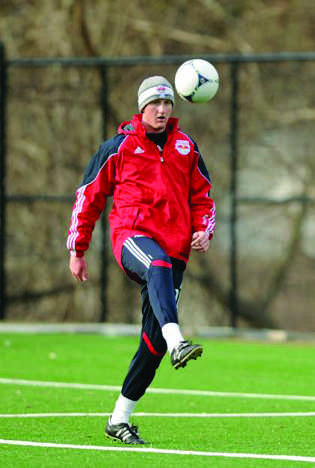 "There was a draft tracker thing following me on the computer and I knew there was a chance they might pick me," said Meara, who was at home with his family when he heard the news. "And then my agent called me a minute or two before it came up on the screen and said, 'Congratulations, you're a Red Bull.' We went crazy at my house."
Meara, the Rams tough goalkeeper who's been playing soccer since he was eight, had been on MLS scout radar this past season, and the national recognition the Rams received in the fall heightened his appeal to recruiters. The soccer team finished with a share of the Atlantic 10 regular season championship, with Meara earning the prestigious title of Defensive Player of the Year. Meara had an 11-6-1 record and finished as the school's all time leader in shutouts (31).
"It's always been a dream of mine to play professionally after college," Meara said. "Probably by my junior year I realized that I might have a chance."
The MLS pick is even more significant to Meara, who comes from Yonkers, N.Y., because he grew up a Red Bulls fan, even attending games when he was younger. Meara called being chosen by his hometown team "a dream come true."
Meara attended Fordham Preparatory School for high school where he played for their soccer team. In 2008, Meara started his college soccer career with Fordham. He chose Fordham because he knew it would be a place where he would have a good chance of playing right away and because he wanted to train with head soccer coach, Jim McElderry.
McElderry remembers when Meara started with the Rams at 17 years old. "He's matured a lot as a leader on the team," McElderry said. "When he started, we wanted to see him be a little more vocal as a goalie and be able to direct guys around, especially the guys who were older than him."
The goalie's solid command of the 18-yard box and deft ability to handle the soccer ball without giving up many rebounds distinguished this defensive player from his peers. For the past two seasons, Meara was also team captain.
"He really became a leader not only during games but also off the field," said McElderry, who praised Meara's dedication and consistency. "I relied on him to organize things—he got the group together. He was almost an extension of the coaching staff by time he was a senior."
This past season, the Rams proved they were a team that was tough to beat, winning against two top-25 teams, Xavier and Charlotte. Meara attributes some of the team's success to a higher standard of play, elevated expectations and better recruits.
As the Rams have disciplined themselves to excel on the college level, Meara will learn to do the same at a professional one. The Red Bulls season lasts around 10 months, in comparison the college one that lasts five. Meara will also, undoubtedly, be up against tougher competition.
"It's a big step up from college," Meara said. "Everything is faster and these guys are bigger and stronger. Some of them have been playing professionally for five, 10, 15 years.  It will be a big adjustment at first."
Currently, Meara is training with the NY Red Bulls in New Jersey as the rest of the team is being sorted out. In February, he'll train in Cancun, and then fly to Arizona. While he was set to graduate in May with a degree in Business Administration, Meara has had to put that on hold. He said he's working with the dean to try to finish his classes online.
"I don't think there's a better guy to represent Fordham as he goes into the professional ranks," McElderry said. "I couldn't be happier for him."