Recently Downsized, American Folk Art Museum Displays Outsider Art at Lincoln Center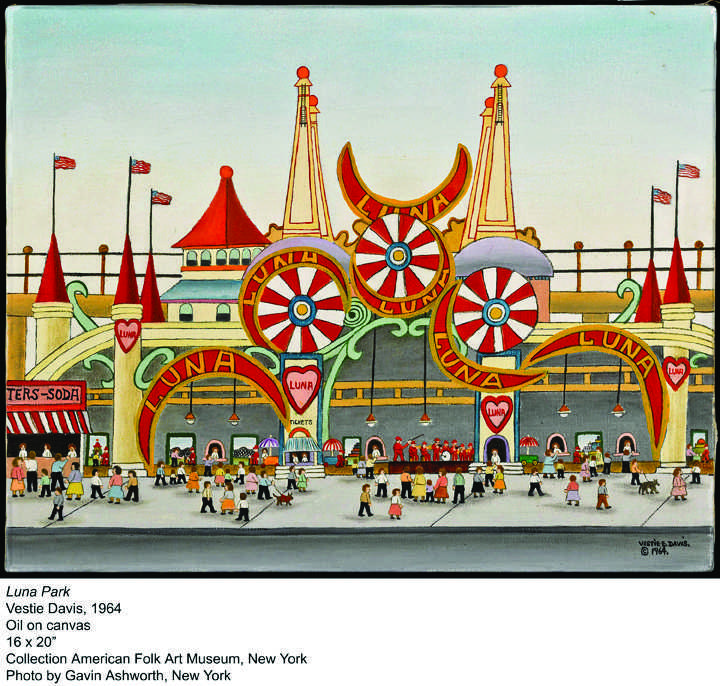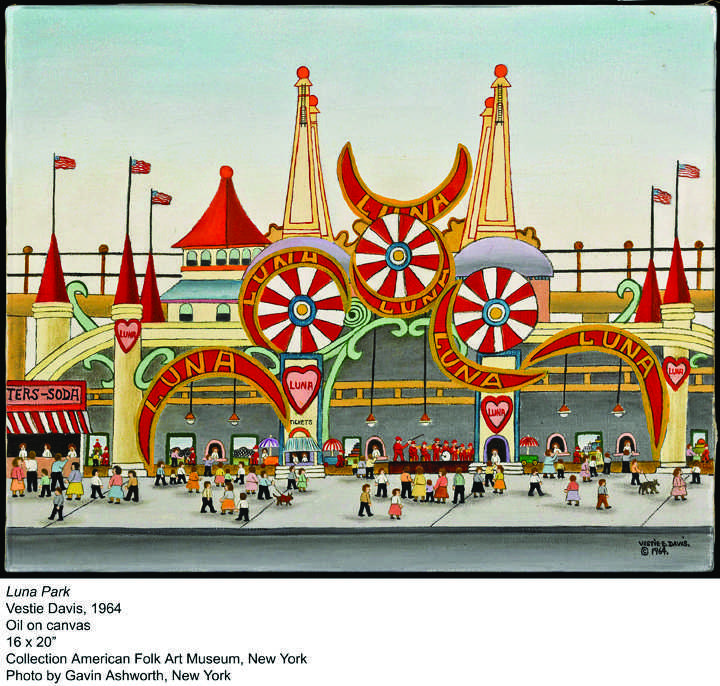 The past few years have been rough for the American Folk Art Museum. Financial struggles forced the museum to shut down its main branch, located next door to the Museum of Modern Art (MoMA) last year, and forced them to rethink their role as a cultural institution in New York City. Though the main branch of the building was sold to the MoMA last year, the American Folk Art Museum continues to display selections from its extensive collection at its Lincoln Center branch—located at the corner of 66th Street and Broadway. This has allowed some of the artwork to continue to be available to the public, while the museum searches for new avenues through which to expand and display its collection.
Though this process is far from over, the museum is far more optimistic than it has been in some time.  The museum is celebrating its 50th anniversary this year with a new exhibit, "Jubiliation/Rumination—Life: Real and Imagined," a fantastic sample of the museum's collection of folk art. Stacy Hollander, curator for the exhibition, sees the exhibit as a both a celebration of the survival of the museum and as a moment to reflect on its history. "The jubilation is [a celebration] because the museum has come through this period and survived, but also a rumination because it's a time to contemplate what we've just gone through and reflect on the museum's history," Hollander explained.
The exhibit features artwork from a range of time periods and media, yet everything on display shares the bond of having been created by a self-taught artist outside the realm of the traditional art world. You won't find any work by a household name artist here, but the lack of recognizable names allows the viewer to see each piece as equally relevant. Even the oldest artwork on display has a freshness that is not lost when juxtaposed with more recent works in the same space.
The gallery is filled with drawings, paintings, sculptures, quilts, photographs and miscellaneous objects. The range of styles, media and themes is as diverse as the artists who created these works. Each artist was an otherwise ordinary person who became driven to create for any of a number of reasons. For some, this motive was religious, others sought fame and recognition and many simply needed an outlet for artistic expression.
Eugene Von Breunchenhein, a former baker and florist, exemplifies this spirit of the everyman artist. On display are several portraits, both photographed and painted, of his wife Marie, a favorite subject. The images he captures are surreal, nostalgic and at times appear forced. While Marie poses semi-nude in exotic scenery and attire, her expression remains blank and emotionless. It is Von Breunchenhein's enthusiasm for his work, which can be intuited even though he remains behind the camera, that makes these portraits so magnetic. Von Breunchenhein was a latecomer to the art world, but he put his whole spirit into his diverse body of work. When he ended his former career and took up artistic pursuits, he placed a sign in his basement studio: "Create and be recognized."
Much of the work on display was never recognized in its time, as is the case with the curious bottle-cap sculptures of Clarence and Grace Woosley. The couple began creating large rabbit-like figures in the 1960s by joining together the caps of discarded soda bottles. It was not until their works went for auction that the work was widely discovered.
Other highlights of the exhibit include a series of Coney Island scenes, each painted by different artists, revealing different perceptions of the famous beachfront. In another section of the exhibit, an enormous model of a neo-classical skyscraper dominates the center floor. The model, titled "Encyclopedic Palace of the World," represents artist Marino Auriti's vision for a museum that would display all of humanities greatest accomplishments in a single building.
"I would like the visitor to come in and be drawn into the visual and emotional journey of the exhibit," Hollander said. "I want them to come away with a sense of the significance of what we do because there really is no other museum that does what we do."
The collection on display here is so diverse that any visitor is bound to find something that they feel an emotional connection to. There is a deeply personal aspect to all the work on display, whether it is a hand drawn self-portrait, a sculpture made from found objects or a painting. Once this personal connection is experienced, it is not easily forgotten.

View American Folk Art Museum in a larger map