Oscar Predictions: Will Win/Should Win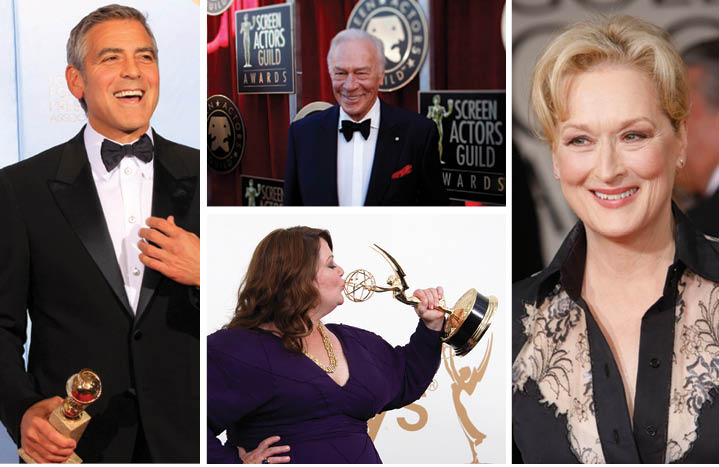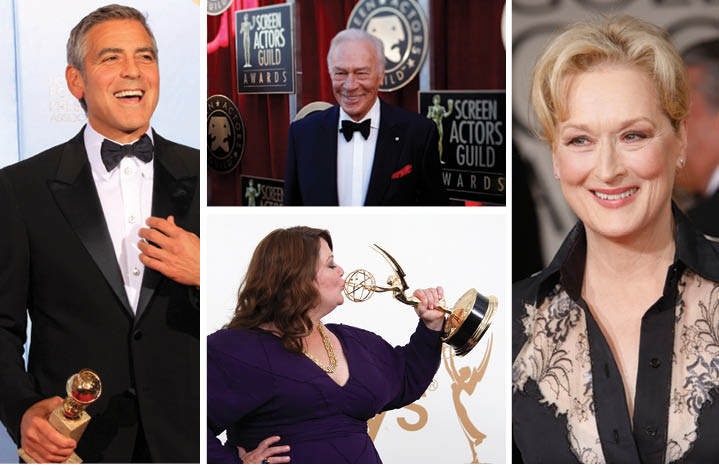 This year's Oscar nominations were full of snubs, including Shailene Woodley for Best Supporting Actress in "The Descendents," surprises like the Best Picture nomination for "The Tree of Life" and out of the blue nominations like Demian Bichirw for Best Actor in "A Better Life." I'll be giving my opinion of who will win the golden statue and who should win.
Best Picture
Will Win: The Artist
Should Win: The Artist
The black and white silent film may have deterred some audiences for fear of boredom, but it was more enjoyable than any film this year. "The Artist" was a delightful story of love lost and found and lost and found again for a silent film star losing his fame (Jean Dujardin) and a talented up-and-coming "talkie actress" (Berenice Bejo). It was a beautifully inventive, unique and mesmerizing homage to old Hollywood all without words or color, quite an accomplishment for modern Hollywood.
Best Director
Will Win: Michael Hazanavicius
Should Win: Michael Hazanavicius
Best Picture winner and Best Director winner go together like peanut butter and jelly; rarely is there one without the other. In the history of the the Academy Awards there has only been three directors who have not won Oscar while their films have, the most recent being "Driving Miss Daisy." I'm not saying that "The Artist" director Hazanavicius doesn't deserve the Oscar (he does). His style is fantastic and his lively, animated scenes will bring a smile to your face.
Best Actor
Will Win: George Clooney
Should Win: Michael Fassbender
Although Fassbender isn't even nominated, I thought his performance as a sex addict in "Shame" was the most dramatic, touching and provocative of the year. The Academy tends to be conservative in their nominations and the film's NC-17 rating and Fassbender's numerous full frontal, graphic sex scenes probably didn't win them over. So instead, Clooney, a lifelong bachelor, will probably win the Oscar for a very convincing and heartfelt performance as a dad struggling to raise his daughters after his wife goes into a coma.
Best Actress
Will Win: Meryl Streep
Should Win: Meryl Streep
This is Streep's 17th, I repeat, 17th Oscar nomination, more than any other actor ever, that in itself is enough reason to give her the award. Any film with Meryl as the leading lady is the Academy's wet dream and for good reason. If Streep's performance as British Prime Minister Margaret Thatcher can put the name of a, let's just say it, boring film like "The Iron Lady," on the Oscar ballot, there is nothing that woman cannot do.
Best Supporting Actor
Will Win: Christopher Plummer
Should Win: Christopher Plummer
Although this esteemed Hollywood icon may not be a household name to some, he is certainly worthy of not only the nomination, but the award. Some may know him from his recent performance as Henrik in "The Girl with the Dragon Tattoo" but he is nominated for his role as Ewan McGregor's dad Hal in "Beginners." Critics are hailing his heartbreaking performance as an elderly gay man with terminal cancer and his past Oscar snubs might give this 80 year old Hollywood veteran the push he needs.
Best Supporting Actress
Will Win: Octavia Spencer
Should Win: Melissa McCarthy
This could be a toss up between the two "Help" ladies, but Spencer, a longtime minor presence on the big screen, recently won for Best Supporting Actress at the Golden Globes, setting the tone for the Oscars, whereas her co-star wasn't even nominated. Her role as housemaid Minny Jackson embodies a sassy, strong, wise woman, which is pretty much Oscar gold. But no one can deny that McCarthy deserved it for her hilarious portrayal as Megan in "Bridesmaids," where her most notable scene involved shitting in an upscale store sink. It's too bad she probably won't win, I was really looking forward to some waterworks.