Delicious Do-it-Yourself Dinners
Shabu Shabu Spots in the City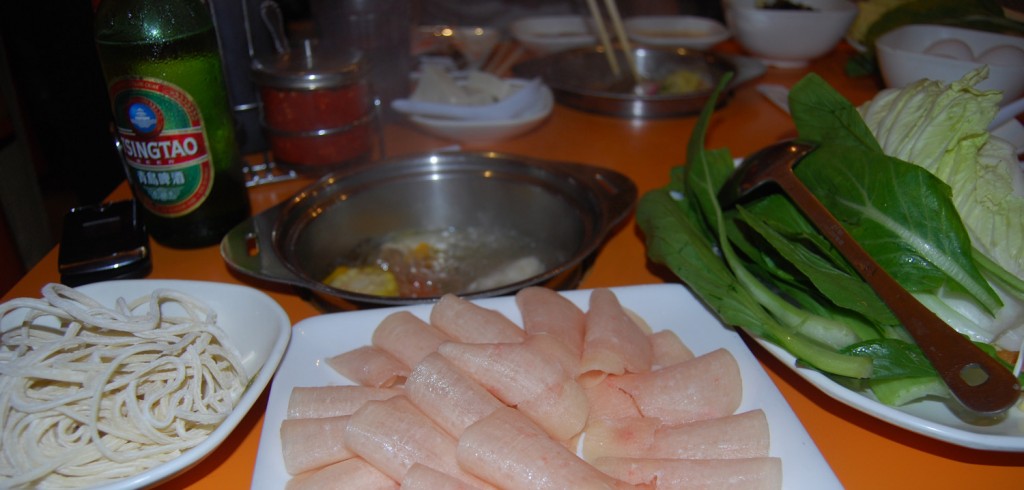 Published: November 8, 2007
It's Friday night—everyone is hyped up on going out, but your mind is fixated on your growling stomach and you know another cheeseburger from The Flame just won't suffice. If you're looking to fill up on something a bit classier and convince your gang that going out to eat can be more exhilarating than that kegger in the Bronx, shabu shabu may be the key.
According to Dictionary.com, shabu shabu is defined as "a Japanese dish of thinly sliced meat and vegetables boiled quickly in broth and served with various dipping sauces." While shabu shabu is a primarily Japanese specialty, a myriad of Chinese and Thai subsets flourish around the city. These Asian specialty restaurants allow guests to cook their own dishes on a large hot pot right in the center of the table, making it an ideal bonding activity. If your culinary skills are less than impressive, dipping sauces are served alongside cook-able items to mask the smoky taste of any pieces you might accidentally burn.
So if you're feeling adventurous, round up the troops and cook up your favorite steamy specialty. The hot pot is the perfect centerpiece to bond around and the best part is, you don't need to clean up any of the mess you've created during your attempts at cooking. But be forewarned, after your first experience with shabu shabu, you may find yourself opting for more hands-on dining experiences. Just resist yourself from asking the waiter at The Flame if you can slip back to the kitchen for just one minute to toast your grilled cheese sandwich to perfection. They probably won't appreciate your intrusion.
Here are our favorite picks for shabu shabu in Manhattan.
Shabu-Shabu 70
Location: 314 E. 70th St.
Hours: Lunch: Mon-Fri 12 p.m.-2:30 p.m.
Dinner: Mon-Sun 5 p.m.-10:30 p.m.
Phone: 212-861-5635
Shabu Prices: $20.50 per person/ 2 person minimum
Directions: M66 Bus from W. 65th Street and Broadway station to E. 68th Street and 2nd Avenue.
Those who favor fancier meats steer clear, chicken and beef are the only options here. A quiet spot frequented by regulars, this classy Japanese spot boasts fancy food presentation and attentive service for those who are indulging in shabu shabu for the first time. Hot pots are brought to the tables, rather than built in, and food portions are large, so be sure your friends are ravenous or ready to split a meal.
Shabu-Tatsu Downtown
Location: 216 E. 10th St.
Hours: Mon-Sun 5 p.m.-1 a.m.
Phone: 212-477-2972
Shabu Prices: $20-$30
Directions: A to 14th Street, then take L to 1st Avenue
An intimate group of friends would suit the cozy atmosphere perfectly at this authentic Japanese shabu shabu spot. If you're the impatient type, brace yourself: due to its miniscule proportions and popularity, there is almost always a wait. The food proves to be worth the delay, as this downtown digs is known for its delicious exotic appetizers such as the egg and eel and the chicken tofu gyoza. Don't fill up too fast on tasty beginnings though, or you won't get a stab at cooking yourself!
Quickly Shabu Shabu
Location: 237B Grand St.
Hours: Mon-Sun 10 a.m.-10 p.m.
Phone: 212-431-0998
Shabu Prices: Start from $12.95
Directions: B,D to Grand Street
This affordable Chinese restaurant offers their signature bubble tea with each shabu meal. If tapioca balls aren't your thing, they have 90 other flavorful drinks to offer. The setting is snug and modern, complete with mirrors and lanterns that create a lively environment perfect for a weekend outing or a first date. Vegetarians will appreciate their own hot pot as to avoid coming into contact with any meat. This stylish spot also allows you to mix your own sauces, making it nearly impossible not to create a flavor that will make your mouth water.
Lan
Location: 56 Third Ave. between 10th and 11th Streets
Hours: Mon–Thu, Sun 5:30–11:30 p.m.; Fri, Sat 5:30 p.m.–12 a.m.Phone: 212-254-1959
Shabu Prices: Start from $20
Directions: A to 14th Street, then take L to 3rd Avenue-14th Street
This dark wood, tranquil Chinese spot is the perfect place to wind down from the overwhelming stress of school, work and the real world. It's classy but casual, so leave those rowdy friends at home for a more mellow dining experience. Traditional methods of cooking and preparation will delight those who prefer an authentic taste.  After you shabu, treat yourself to the famed green tea tiramisu or sake crème brulee.
Swish
Location: 88 W. Third St. between Thompson and Sullivan Streets
Hours: Mon-Thurs 11:30 a.m.-11 p.m., Fri 11:30 a.m.-12 a.m., Sat. 12:30 p.m.-12 a.m., Sun 1 p.m.-11 p.m.
Phone: 212-777-8808
Shabu Prices: $14.99
Directions: A to W. Fourth Street- Washington Square
Cheese and chocolate shabu shabu are served alongside traditional meat offerings at this cozy spot tucked in the West Village. Make sure you're not opposed to socializing with NYU students, as many downtown students frequent this affordable eatery. Portions are plentiful, although you may be more interested in water if you mistakenly devour some of the popular spicy chili pepper dipping sauce. The staff is known to be sweet, so bring enough money to give a good tip!