Five New York City Christmas Experiences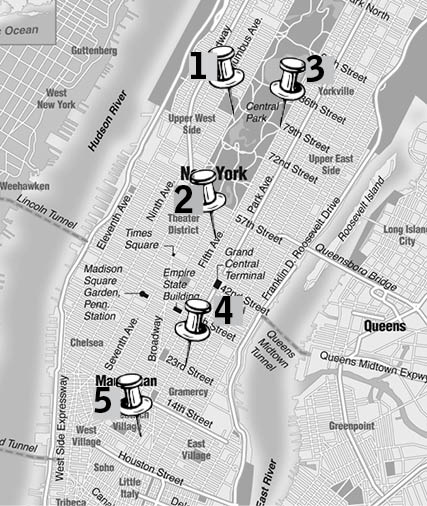 Red buckets for donations are out, accompanied by that festive man ringing the bell, department stores are blasting covers of Christmas songs by Lady Gaga and Santa seems to be everywhere. Christmas season has official begun, and while it can sometimes bring on unnecessary stress, step back, take a deep breath and enjoy it! Fordham College at Lincoln Center (FCLC) students shared their favorite Christmas experiences, from shopping, caroling, Christmas parties, markets, massive window displays and the like; here are the top five outings for you to experience.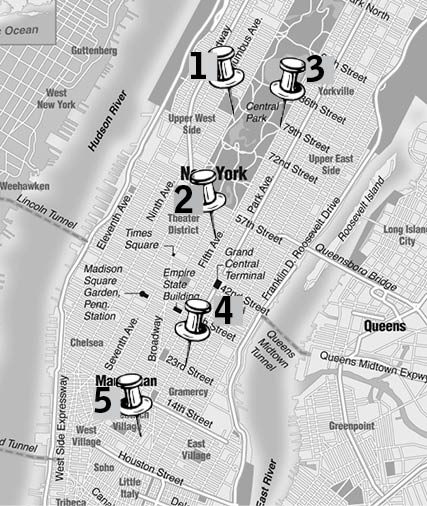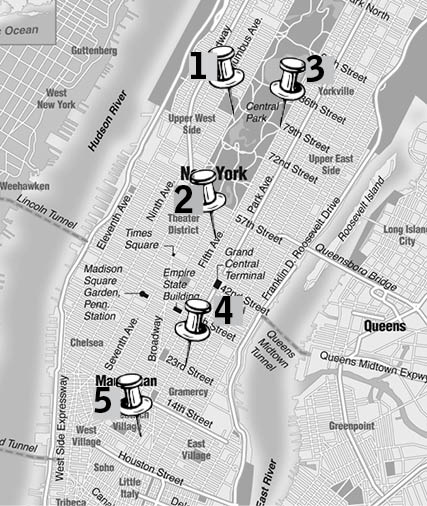 1.  Origami Holiday Tree
Location: Central Park West and 79th Street
Dates: Nov. 21—Jan. 2
Price: $14.50 student and $19 adult (suggested donation)
Paper folders get ready as the American Museum of Natural History (AMNH) teaches the art of origami in light of Christmas. AMNH erects a Christmas tree full of 500 plus origami ornaments that volunteers began folding as early as this past July, according to amnh.org. The tree highlights the museum's exhibit of The World's Largest Dinosaurs, and celebrates the rest of the museum with ornaments in honor of each exhibit. Workshops are also being held during the holidays to teach kids of all ages the art of origami.
2.  Window Displays
Location: 5th Ave. between 49th and 57th
Dates: Late November—Jan. 1
Price: Free
Replicas of snowflakes, Christmas trees so vivid you can smell them and vibrant lights adorn the window displays along Fifth Avenue. During the holiday season, retail stores go above and beyond their usual displays. Julia Hare, FCLC '13 said, "Saks windows are amazing; it's not really Christmas until I've seen them!"
This year's theme is a continuation of the storybook and whimsical tone with Holly, visiting the Land of the Bubblemakers. Each window illustrates a scene from the story and features some new clothing fashions.
The windows have been unveiled and ready for window shoppers, or just some admiration by the passer by.
Past themes have included the story of Twinkle and Noelle, featuring fashions from bands such as Valentino.
3.  Yalynka and Caroling
Location: Ukranian Institute 79th and 5th Ave./ Rockefeller Center
Dates: Dec. 10  (Yalynka)—Jan. 7th (Caroling)
Price: $30 students, $40 adults
"Every year since I was little, my family and I have gone caroling on Ukrainian Christmas," said Katya Hoshowsky, FCLC '13. According to Hoshowsky, The Ukrainian Engineer Society and the Ukrainian Association of North America throw an "enormous" Christmas party called NYC Yalynka at the Ukrainian Institute. The translation of Yalynka means Christmas tree. Hoshowsky takes part in NYC Yalynka along with caroling on Jan. 7   (Ukrainian Christmas) every year at Rockefeller Center. "The kids replicate a nativity scene, but next door there's an open bar and music!" said Hoshowsky.
So for those of you old enough to take a swig of Eggnog head to the Ukrainian Institute on Dec. 10 for NYC Yalynka, and for those of you who aren't, head to Rockefeller Center on Jan. 7 for some good ol' Ukrainian Christmas Carols—in Ukrainian of course.
4.  The Holiday Markets
Location: See below
Dates: See below
"I like to get gifts that aren't found in stores. I do a lot of my shopping at the holiday markets that spring up around this time," said Nicolette Harrington, FCLC '13. Bryant Park and Union Square host Christmas markets, open from Thanksgiving until Christmas Eve. Grand Central Station has their holiday fair starting Nov. 15 and ending Christmas Eve, and Columbus Circle has a holiday market opening on Dec. 1 and closing on Christmas Eve. All holiday markets sell a variety of items, including Christmas trees, egg nog, apple cider, hand-made wreaths and Christmas trinkets, all from local merchants. Prices range from nickels and dimes to thousands of dollars; you can easily shop for everyone on your Christmas list here, while supporting the local economy.
5.  Merchant's House Museum
Location: 29 E 4th St. and Lafayette
Price: $8 Adult, $5 Student
The Merchant's House Museum gives museum go-er's a different take on Christmas in the 19th century. The museum has kept the same décor of the merchant family that used to live there – the Tredwells, and lets the public explore what life was like for the Tredwells, says the Museum's website. On New Year's Eve from 3-6 p.m. the museum host an event called, New Year's Day Open House. The exhibit displays the different traditions that Americans had on New Year's Eve 200 years ago to ring in the New Year. Rob Krakower, FCLC '13 said, "I know it sounds lame, but it's interesting to see the differences between then and now, I've never been but I'm definitely going to try to go," about the Merchant's House Museum.