Poets Out Loud Brings Exotic Locales Closer to Lincoln Center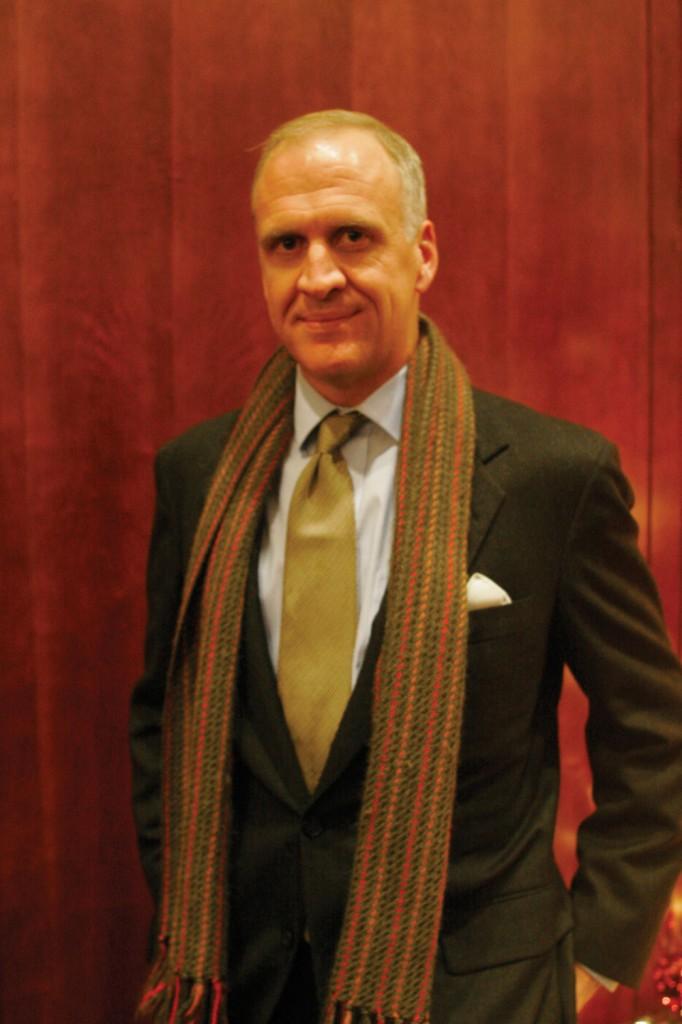 As Quan Barry read aloud one of her poems, she painted with her words a vivid and somber night scene in the South American city of Arequipa.  Her poem was inspired by a trip she had taken to southern Peru's "white city," located at the foot of a dormant volcano. The reading was part of the Poets Out Loud (POL) reading series, a monthly live poetry-reading event put on by the Fordham College at Lincoln Center (FCLC) English department.
The most recent POL reading, the event at which Barry presented her work, was held this past Wednesday, Nov. 30, on the 12th floor of the Leon Lowenstein building. The other featured poet of the evening was Keith O'Shaughnessy, whose poems have recently enjoyed a rapid rise in popularity. Much of the work read by both performers described scenes of foreign lands, filled with engaging wordplay and double meanings. Their words brought the audience to locales such as Thailand, Cambodia, Mexico and the Old West.
Barry, who was the first reader of the evening, was born in Saigon to a Vietnamese mother and an African-American father. She gained her M.F.A. from the University of Michigan and is a current faculty member at the University of Wisconsin-Madison. When introducing Barry, Heather Dubrow, professor of English and one of POL's organizers, described her as a master of the "art and craft of juxtaposition."
Barry's poetry selections brimmed with picturesque imagery and jarring expressions. Often equally curious were the topics her poems covered. As an example, one poem, "The Canon," was written during a period in which she had become fascinated by syphilis. The poem concerned a smattering of historical figures thought to have contracted the infection; figures such as Nietzsche and Gauguin.  Another poem titled "Synopsis" was just that: a poetic synopsis of the Clint Eastwood film "High Plains Drifter." The most interesting of all came with her comparison of teleportation in "Star Trek" to the Olympic long jump. Strange enough, it made a lot of sense.
Reading second, Keith O'Shaughnessy, a Rutgers graduate and teacher at Camden County College, stepped up to the podium. O'Shaughnessy's first book of poetry, "Incommunicado," was released earlier this year and has gained a significant amount of attention, winning the Grolier Discovery Award. His poetry presented scenes of bullfights, festivals and the calm spaces in between. It is what Dubrow, in her introduction, described as a "quasi-Mexican dreamscape."
O'Shaughnessy's poems, while meaningful on their own, are also intended as part of a larger narrative. The poems of "Incommunicado" draw comparisons to movements in a musical symphony, each having a unique character that also plays a part in the greater structure. Certain poems set the scene, while others introduce characters in the narrative or told stories.
The poems also featured a great deal of wit in their wordplay, drawing attention to the double meaning of words or the rhythmic character of certain phrases. One poem about the moon, used words such as "lunacy," "wax," "wane" and "tide" among other words, while simultaneously holding a different meaning.
In the reception following the event, audience members were given the opportunity to speak with the poets, purchase their books and have them signed. There was also a series of drawings in which several audience members won books prizes.
The Poets Out Loud reading series will continue next semester beginning on Monday, Feb. 6. Readings are held at 7 p.m. on the 12th floor of Lowenstein. A full schedule of POL events and more information about POL can be found on the Fordham website.