Get into the Christmas Spirit and Check Out These NYC Dessert Shops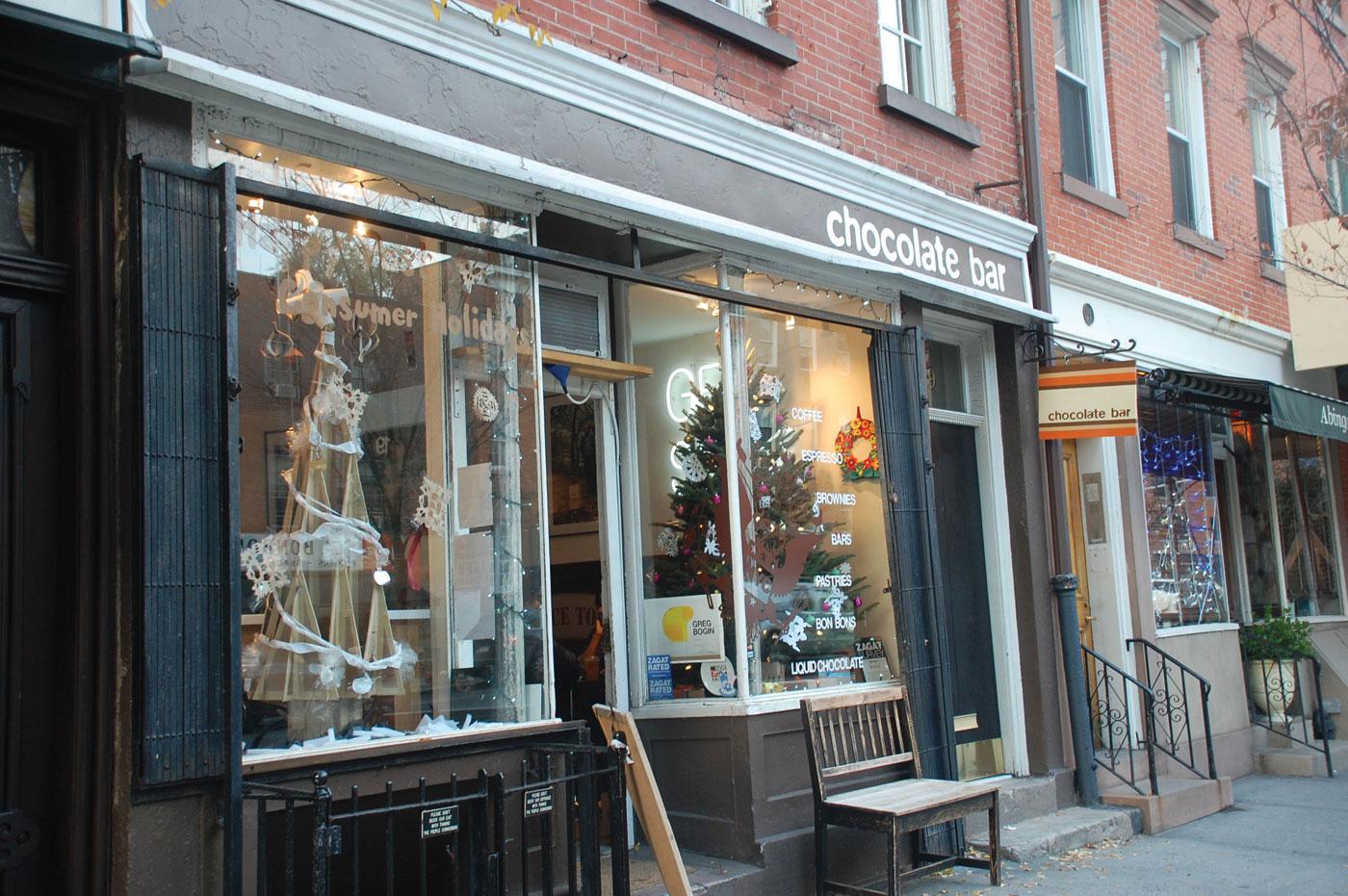 It's almost here! With the annual lighting of the Christmas tree in Rockefeller Center to the decked out decorations at Columbus Circle, Christmas 2011 is just around the corner. Many Fordham College at Lincoln Center (FCLC) students like me are looking forward to the much needed break at the end of the year. With pressing final papers and stressful finals standing between us and our holiday freedom, I thought it'd be a great idea to share some dessert and chocolate places around New York City to help you relax and get ready for the holiday season.
Chocolate Bar
Location: 19 Eighth Ave, New York, NY 10014
Nestled in the West Village and just a 15 minute subway trip from FCLC, Chocolate Bar gives sweet lovers a quaint and swanky location to indulge in the glory that is chocolate. It offers all sorts of treats such as chocolate-covered Oreos and pretzel sticks. It's the perfect place to study for a final, as it's never really that crowded and has a decent amount of comfy chairs and tables. Their richly flavored hot chocolate and perfectly spiced chocolate brownies are a must-have if you're thinking about visiting. Despite being on the pricy side, Chocolate Bar offers a variety of chocolate items that are sure to impress any chocolate enthusiast.

View 19 8th Ave in a larger map
Milk and Cookies
Location: 19 Commerce St. # 2  New York, NY 10014-5735
Hidden and out of view from the general public, Milk and Cookies (M&C) is the perfect example of a diamond in the rough.  Located in the backstreets of the West Village near the famous Cherry Lane Theatre, M&C is the ideal place for people looking to escape the chaos of New York City. Rarely crowded, M&C tends to attract people from around the immediate neighborhood. Regular customers are normally seen having quick friendly chats with staff. Aside from its peaceful environment, M&C bakes fresh cookies everyday for its customers. Ranging in all favors from chocolate chip to snickerdoodle, these fine cookies should be accompanied by M&C's refreshing organic milk. Although rarely known outside the surrounding neighborhood M&C should be one of the places you visit if you want some good quality milk and cookies.

View 19 Commerce St in a larger map
Victory Garden
Location: 31 Carmine St.,  New York, NY 10014
Looking for a healthy dessert place in the city? Look no further than Victory Garden! Stocked with numerous dessert products using the base product of goat milk, Victory Garden believes in the power of Anatolian dondurma (a rich goat milk ice cream made with the root of a wild orchid). Known for its goat milk ice cream, Victory Garden is the ideal place for frozen yogurt fans. Offering a variety of yogurt flavors such as Jasmine yogurt and Queen of Persia yogurt, I opted instead to sample the original goat milk ice cream. I was amazed by how smooth and creamy the ice cream was, and planned to come back to try other flavors on the menu.  Situated a few blocks away from Washington Square Park, Victory Garden maintains a very clean and organized business with friendly staff members. Although not offering enough seating and being a little bit on the pricy side, Victory Garden is your above-average froyo shop. In a city filled with a ton of frozen yogurt shops, Victory Garden stands out for its unique and complex flavors.

View 31 Carmine St in a larger map
The Little Cupcake Bakeshop
Location: 30 Prince Street, New York, NY 10012
If you're tired of the typical cupcake places like Crumbs and Magnolia, you should venture down to Nolita and try The Little Cupcake. Housed underneath an old fashioned brownstone, Little Cupcake currently offers cupcake addicts a beautiful Christmas decorated interior. Featuring a gigantic Christmas tree surrounded by numerous festive holiday lights, Little Cupcake also has outside seating for enjoying a beautiful NYC day. An ideal place to take a bunch of friends or study group, Little Cupcake has a wide assortment of cupcakes such as southern red velvet and German chocolate. I recommend trying the devil's food cupcakes; they were moist and hasd just the right amount of sweetness. On top of being in one of the hippest areas in NYC, Little Cupcake is perfect for a college student, at about three dollars a cupcake.

View 30 Prince St in a larger map