New York Takes to the Pavement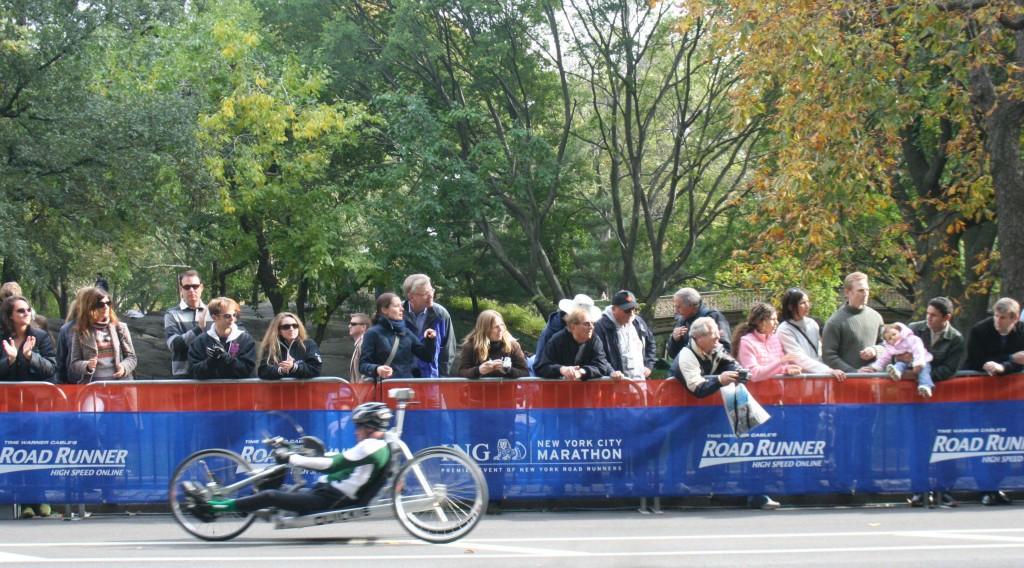 Published: November 8, 2007
The 2007 ING New York City Marathon, held on Nov. 4, featured a record-setting 39,085 entrants running 26.2 miles through all five boroughs. Martin Lel of Kenya finished first with a time of 2:09:04, while Paula Radcliffe of England claimed the women's title, finishing in 2:23:09.
More than a race, the marathon has evolved into one of the spectacles that draws people from around the world to New York City. This year's marathon weekend was especially important to runners and running fans from around the world, as the U.S. Olympic Trials for the Men's Marathon at the 2008 Beijing Olympics took place in Central Park on Nov. 3.
The race boasted the country's premier male marathon runners competing to qualify to be one of the three representatives on the U.S. Olympic team.  First place finisher Ryan Hall will be joined by  runners-up Dathan Ritzenhein and Brian Sell on the Men's Marathon team at the 2008 Olympics .
The Olympic Trials were also struck by tragedy, however, when 28-year-old, five-time USA champion Ryan Shay collapsed within the first 5.5 miles of the marathon. Shay, who was considered a favorite to earn a spot on the 2008 Olympic Men's Marathon team, was taken to Lenox Hill Hospital, where he was pronounced dead.
Despite the regrettable circumstances surrounding the previous day's event, Fordham College at Lincoln Center (FCLC) students were eager to take advantage of the school's proximity to the race. Many cheered on the marathon's participants as they raced through Columbus Circle and eventually finished in Central Park.
Katherine Hennessy, FCLC '08, said she loves the sense of community that viewing the marathon creates.
"Anybody can be a spectator," Hennessy said. "There aren't any rules to understand, and people just come out to support one another. It's the kind of event that somehow makes the city feel smaller, maybe not distance-wise, but in terms of community."
Hennessy ran in the marathon as a representative for charity, an accomplishment her schoolmate, Hiram Arnaud, FCLC '10, holds in high regard.
"The New York City Marathon requires a great deal of dedication," Arnaud said. "I enjoy running and have the greatest respect for all the runners who enter the race. I hope to one day run in the race and complete it," Arnaud said.
For Shane Skowron, FCLC '10, the marathon also holds a special meaning, though he was not a participant.
"I'm not running the NYC marathon, but I'm running the Cape Cod Marathon," Skowron said.
Marathon running is enjoying immense popularity and has grown exponentially since its inception in 1970, when it featured only 127 runners. As with comparable prestigious sporting events, this year's marathon attracted the likes of world-class athletes, celebrities, like Katie Holmes and Lance Armstronmg, and amateur runners looking for a great experience.