Click and Tell: Hot Dogs and Beer Set the Stage for Some Funny Business
I have a date on Sunday with young comedian I met on a dating website.  I shoot him a text to see what time he's free, and he responds, "The Giants game should end around four, but to be safe let's make it after six" That triggers a round of bullets to my ego. I hardly come to expect chivalry these days (R.I.P.), but it would be great if my date could pretend he cares about impressing me. And since when is it socially acceptable to admit that you plan your real life around DVR-able events on TV? Had I texted him, "Sorry, there's a new 'Project Runway' on at eight, can we reschedule?" I don't think I'd have a shot at another date.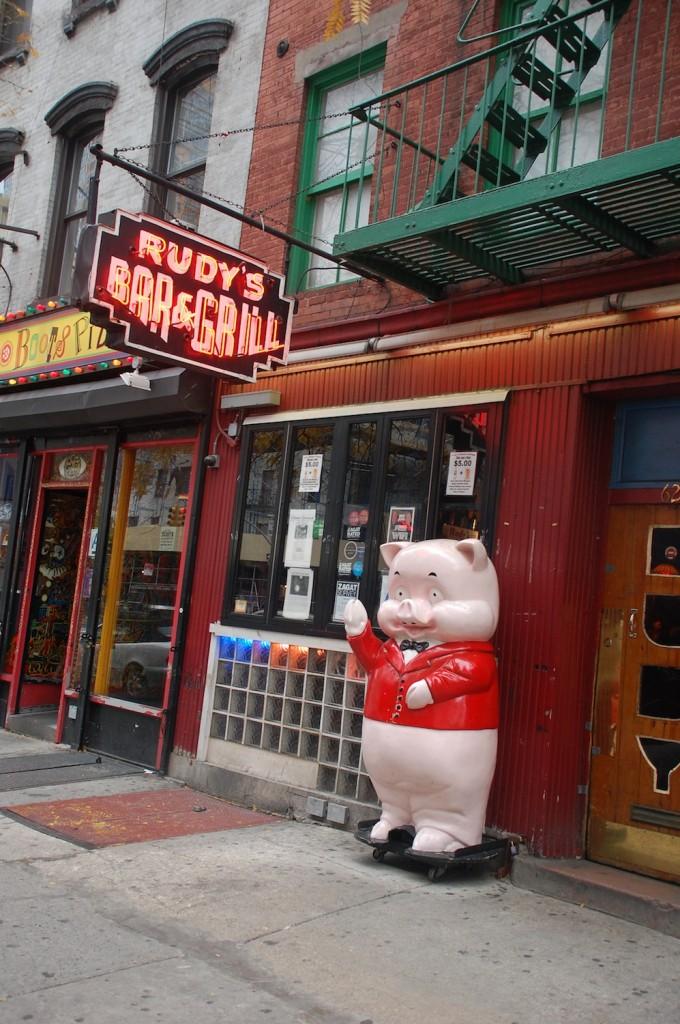 Comedian posts some of his jokes on the dating site, most of them are crude anecdotes about sleeping with fat girls. I look him up on YouTube before our date and his comedy routine oozes with resentment toward his father and insecurity about his appearance (think a chubby Elijah Wood with deliciously blue eyes). Watching it from my laptop gives me a serious case of secondhand embarrassment. I anticipate an awful date and bank on hearing at least one rape joke over drinks.
I meet him at Rudy's, because my fridge is empty and they give you a free hot dog with every drink. I get there early to scope out a seat, which is usually an issue when there's free food involved. A few inebriated locals make me feel at home while I wait for the Comedian. He's running late, but I can't be too upset; after all, he did agree to travel all the way up from Brooklyn to accommodate my hankering for a late night snack. I chat with my new friend John, a roughly 300 pound gentleman from either Maui or Hoboken. He can't quite keep his story straight. He gives me some tips on my date and tells me to leave if he doesn't bring flowers. John is a bit removed from the modern dating scene.
Comedian finally walks in and immediately offers to refill my drink. Conversation comes naturally and he keeps his R-rated material in his back pocket. John closely monitors our interaction. Comedian just got back from a cross-country comedy tour, and I probe him about his act. I never got over my stage fright from forgetting my lines in the first grade Christmas recital, and I've since acquired a huge fascination with performers. At this point in the date, he's way too calm and polite. I find myself egging him on to expose his scumbag stage persona. He stops himself multiple times from slipping sexual innuendos into our casual conversation, backtracking with, "No, I shouldn't say that." I pressure him anyway, and discover a creative collection of anal sex jokes. I ask him about his worst received stand-up material, and he tells me, "I promised myself I wouldn't say any rape jokes on the first date."
Towards the end of the night, he gets serious and says, "You know I need to tell you something about me that has been kind of a deal breaker in the past." Whoa, getting serious on the first date… he must have herpes. All I can think about is that he's trying to tell me he has herpes and I scramble to formulate a proper reaction. Before I settle on a poorly conceived, "I'm sorry to hear that," he pulls out an embarrassing '90s era flip phone with that tiny little screen and sets it on the table. The online dating gods are high-fiving each other as I excitedly pull out my widely-mocked flip phone circa 2001. He explains that his phone has a limit on the number of contacts he can store, so to save my number he'd have to delete someone else. This obsolete cellphone technology adds a new level of romance to our date that is just not achievable with the iPhone generation.
He encourages me to go through his phone to pick the unlucky number, and I spot an unusual and familiar name. The online dating gods are having a little chuckle as I realize that my date is friends with another guy I met through the dating website.  I was actually really into this other guy, but he had blown me off just the previous week. I keep this to myself and innocently propose him as a deletion candidate. Comedian describes this guy as a "good friend," and I scroll down further in my secret shame. I eventually key in my phone number on those big backlit buttons to replace someone named Ashley. We leave the bar and he grabs my hand on the way out. I remind myself to check the NFL game schedule when I get home so I can propose a second date.
Sorry, there are no polls available at the moment.