Poets Out Loud Moves to Lincoln Center for 20th Anniversary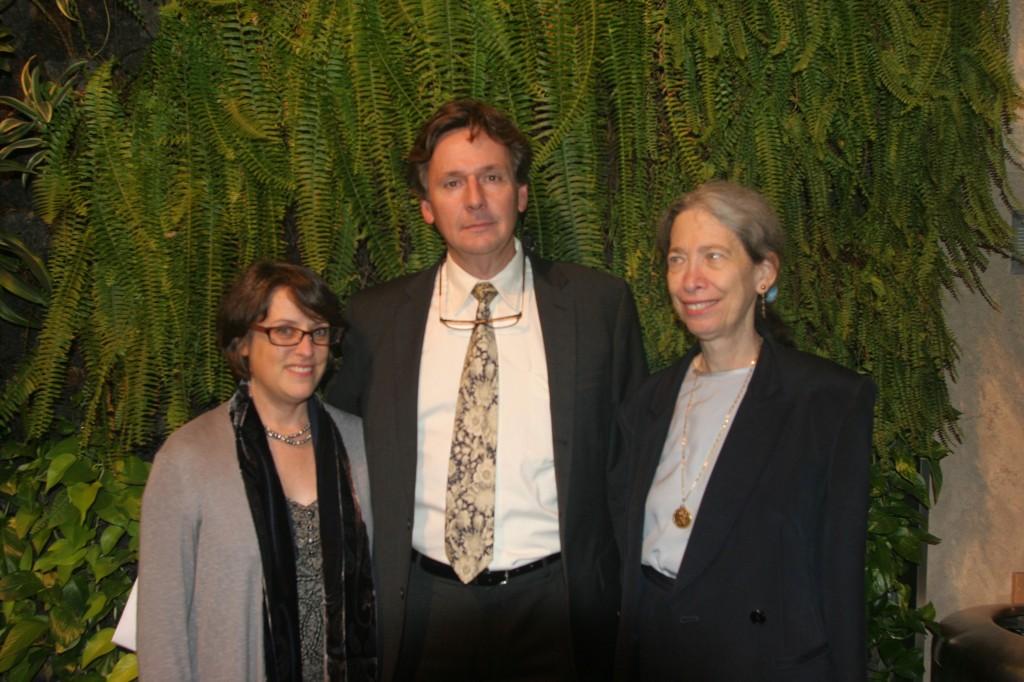 The Poets Out Loud (POL) Reading Series held its special 20th anniversary poetry reading on Thursday, Oct. 27 at the David Rubinstein Atrium of Lincoln Center. J.D. McClatchy, one of the poets featured at the event remarked that POL has now lasted "more than four times longer than the average American marriage," an impressive accomplishment.
The event marked the first time a POL event was held at a Lincoln Center for the Performing Arts venue. Frank Boyle, associate chair of the Fordham College at Lincoln Center (FCLC) English department and one of POL's founders, saw the occasion as a step forward for the reading series. "We have always seen ourselves as Lincoln Center's place for poetry," Boyle said.
The evening consisted of several live poetry readings as well as a musical performance of "That Lonesome Whistle," a three-part song cycle created by FCLC English professor Lawrence Kramer. Julie Sheehan, whose book "Thaw" won the 2001 POL prize, began the evening by reading a selection of poems from the book as well as her most recent book, "Bar Book: Poems and Otherwise."
Following Sheehan, Lawrence Kramer introduced his musical cycle. The three poems were written with the explicit intent to be accompanied by music. Following Kramer's readings of the poems, they were performed in operatic fashion by Clarissa Lyons accompanied on piano by Julia Den Boer. The music brought new and varied emotion to the words, at times somber and melodic, other times filling with a frantic energy.
McClatchy, another accomplished poet who was selected to judge the first POL prize, read a combination of his own work and the works of others. McClatchy's poetry carried an Eastern affectation, incorporating a Japanese poem "A View of the Sea," which beautifully likened a moment in a failed relationship to a Japanese parable.
The performances drew 306 attendees to the event; however it was as much a celebration of the success of the POL Reading Series as it was a showcase of talent. Boyle, who came up with the idea while eating at the Olympic Flame diner 20 years ago described Poets Out Loud as a "back of the napkin epic." At the time, FCLC had no poet-in-residence nor was there any emphasis on poetry. Poets Out Loud began in 1992 when poet Kenneth Koch was brought in to give a reading at FCLC's Pope Auditorium, and it grew over the years into a tangible influence in both the Fordham and Lincoln Center performing arts communities.
In 1998, Elisabeth Frost, then a new professor in the English department, took over the program, giving it a new vitality. A year later, she introduced the POL Prize, which gave new and old poets a chance to submit their work for publication through the Fordham University Press. The Rev. Robert Grimes, S.J., dean of students at FCLC was also instrumental in promoting and encouraging the program into what it is today. Heather Dubrow, professor of English at Fordham, now directs the POL Reading Series.
Poets Out Loud continues to have a tangible impact on the Fordham and Lincoln Center communities. Dubrow, commenting on how POL provides an opportunity to bring poetry to students and audiences in new ways, remarked, "Poetry is deeply rooted in sound and is meant to be heard… [Poets Out Loud] allows the poetry to leap up from the page."
Poets Out Loud holds six events annually in the 12th floor lounge of Lowenstein. The next event will be at 7 p.m. on Nov. 30 and will feature readings from poets Quan Barry and Keith O'Shaughnessy.