Word of Mouth: Turn Over a New Leaf and Check Out Peacewood Café
Living in a college dorm or away from our parents for the first time normally brings about the worst in eating habits. From late night pizza binging to cheap Chinese food takeout, we eat a lot of unhealthy food while at school. I know when I first came to Fordham College at Lincoln Center (FCLC) my diet consisted of an unhealthy combination of burritos (courtesy of Burrito Box) and cart food. Nowadays I normally cook at home, but every now and again I find myself venturing outside for a nice juicy burger.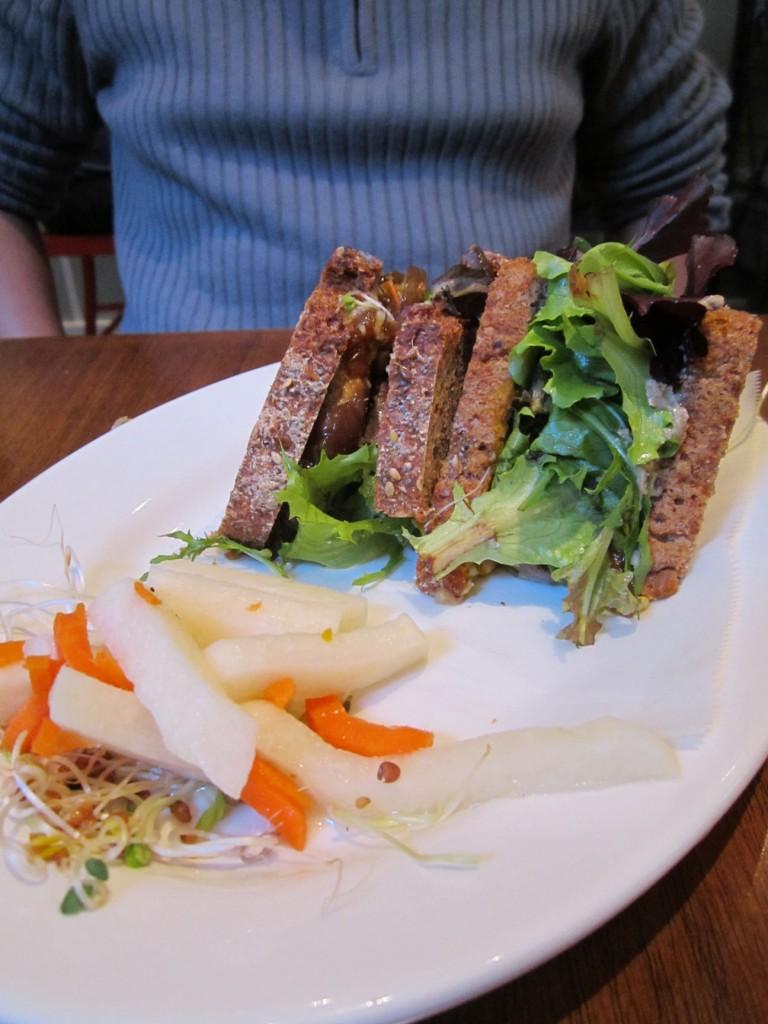 Looking to deviate from my usual unhealthy meals, I decided to scope out Peacewood Café located on the Upper West Side. A 20 minute journey from the steps of FCLC, Peacewood Café offers customers a 100 percent vegan menu selection. Known in the area for its healthy food, Peacewood is also famous for promoting vegan lifestyle to those wanting to make a change in their eating habits.
Very few restaurants in NYC perpetuate a unique lifestyle like Peacewood Café. Just by entering the café I felt like I stumbled upon a secret New York City oasis. Peacewood Café was immensely decorated with paintings, plants and little household trinkets. This created a warm and friendly environment where people can just relax and talk.
At Peacewood Café I was met with a number of dishes that I would have never pictured myself trying. Being an avid meat-eater, I suddenly had to choose between vegan selections such as a tempeh avocado sandwich or a fried seitan medallion panini. These kinds of foods were foreign to my meat-orientated taste buds, but eventually I decided to go for a roasted Japanese pumpkin sandwich.  My friend Sara who was with me chose a tahini sprouts sandwich. We both decided to order some soy nuggets since we were feeling a little extra hungry.
Sara was ecstatic with the selections at Peacewood Café. Being a vegetarian, Sara loved the fact that she could be in a place where she could sample everything that was on the menu. Like a kid in a candy shop, she instantly fell in love with Peacewood. I, on the other hand, was little bit more reserved but curious to see how my first 100 percent vegan meal would turn out.
Seemingly, the service was fast for a seemly laid-back joint. 15 minutes after placing our order, the soy nuggets arrived. Accompanied by "vegan" mayonnaise, the soy nuggets had an interesting flavor to them.  Obviously not tasting like my usual "chicken nuggets," they were bland and tasteless at first.  However, when combined with the mayonnaise sauce, the nuggets came to life with an unexpected salty kick to them.
Our sandwiches arrived next. Seasoned with a little sea salt, ground black pepper and extra virgin olive oil, my roasted pumpkin sandwich, to my surprise, tasted amazing. Topped with caramelized onions, ground walnuts, vegan goat cheese and seasonal greens, it had a very distinctive taste. Initially giving off a bitter taste followed by a faint sweet one, my sandwich contained a treasure trove of flavors. I never knew what to expect with each bite. Perfectly roasted, so it was not too chewy yet not too dry, the pumpkin left an unforgettable taste in my mouth. The addition of the vegan goat cheese and seasonal greens was a perfect complement for the pumpkin base.
Sara's tahini sprouts sandwich was also very interesting and had a very unique healthy mix. Filled with mixed sprouts, creamy avocado, cucumber, onions and shredded carrots, her order resembled more of salad than an actual sandwich. A good sandwich overall, it had a refreshing leafy taste, but was a bit dry. One thing that bothered me about it was the abundance of sprouts in the sandwich. I felt overwhelmed with the flavor of sprouts and couldn't taste anything beyond it. The sandwich was definitely healthy, but it wasn't my kind of vegan dish. I'd still choose the roasted pumpkin for a balance of flavors.
Definitely a big change from my normal diet, Peacewood Café opened my eyes to the vegan culture and showed me that food without meat can be still exciting and delicious. So, if you're looking for a place to begin a healthy diet, Peacewood Café is the right place for you. An ideal setting for a casual date or a small gathering, Peacewood offers a very welcoming environment for its patrons. Thanks to Peacewood, the next time I want a sandwich I might choose roasted pumpkin one over a B.L.T.4
IF YOU GO:
Peacewood Cafe
3.5/4 Stars
$$ out of $$$$$
Where: 460 Amsterdam Avenue, New York, NY
Darryl's Recommendation: Pumpkin Sandwich and Soy Nuggets