McKinnis Runs for Cure in ING New York City Marathon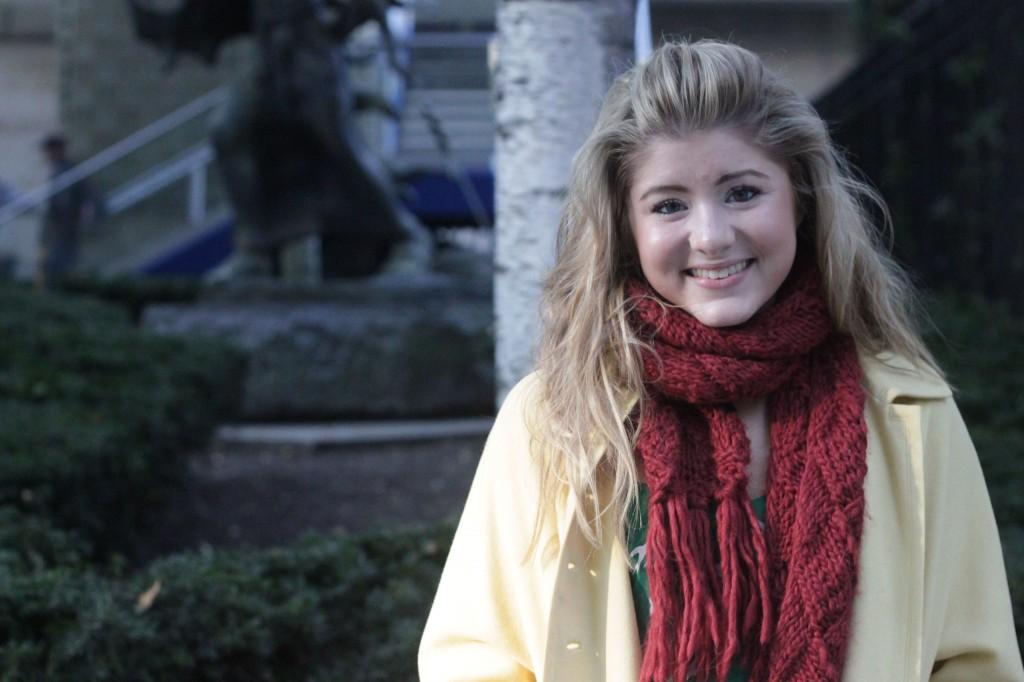 Established in 1970, The ING New York City Marathon has become one of the premier distance races in the world. Every first Sunday in November, roughly 315 million people tune in worldwide to watch this ultimate endurance test, but this year Julia McKinnis, Fordham College at Lincoln Center (FCLC) '14, is not watching it, she's running.
Running and completing a marathon has been on McKinnis' bucket list for quite some time. However, she's not running this marathon just to fulfill a personal goal, but to honor a friend. Two years ago, McKinnis had a friend who died of Leukemia and it inspired her to run for the Leukemia and Lymphoma Society (LLS), an organization dedicated to find a cure to leukemia, lymphoma and Hodgkin's disease.
The ING New York City Marathon spans all five boroughs, beginning on the Verrazano-Narrows Bridge. The race continues through Brooklyn and Queens until the beginning of mile 16, when the runners cross the Queensboro Bridge into Manhattan. From there, the entrants travel four miles up First avenue to the Bronx before returning to Manhattan to run the last five miles down Fifth Avenue to the finish line in Central Park.
However, getting to run in the marathon is in some ways harder than running the marathon itself. "Every year, about 90,000 amateur runners apply and only half of them get in," McKinnis said. "I thought it was a long shot, but I got lucky."
McKinnis applied to run in the marathon last September and began training for it even before she knew if she was going to participate. But when she found she made it into the race the following April, she kicked her training into high gear, devising  a schedule that had her running 12-16 miles twice a week and 8-11 miles four times a week, while allowing Sunday as her day of rest.  She continued this strict running regimen until early October when she revised her schedule for less physical strain as the marathon drew closer. "I began to taper off in October to allow my muscles to heal, but you don't want to get sluggish either, so it's a tricky thing to balance," McKinnis said.
Because of this rigorous training, in which she also finished two practice marathons, McKinnis is confident she can finish the real marathon when Nov. 6 comes around. Being physically ready for a marathon is important, but she notes that being emotionally ready and being able to believe in herself are just as important. "I know why I'm doing this; to assist anyone I can who is suffering from Leukemia," Mckinnis said, "They are my motivation. If they can overcome this disease, I can run a marathon."
As next Sunday draws closer, McKinnis is beginning her final preparations for the run, including deciding what she's going to eat the night before to give her the most energy for the race. Typically before a marathon, runners load up on carbohydrates because they are a natural source of energy. However, this is hard for McKinnis because she is gluten intolerant and a vegetarian, so the options are limited to foods such as gluten-free pasta, baked potatoes and protein bars.
Regardless, McKinnis can already see the finish line. After almost seven months of training, she is excited and ready to go. On top of that, she already knows how she's going to react when she crosses the finish line in Central Park. "I'm probably going to cry when I finish," McKinns said. "I've been through a lot with this marathon. Through the heat of Texas to the cold of New York, running has been there for me and I feel like all of my emotions are going to hit me at once. After that, I'll probably get a huge sundae, take an ice bath and buy a wheelchair."
This Sunday McKinnis will be at the starting line ready to accomplish this feat for herself and for those with Leukemia. The marathon will undoubtedly attract millions of spectators in the city as well as worldwide when the race begins. Coverage of the marathon begins Nov. 6 at 9 a.m. on NBC 4.