Students React to Mobilization to End War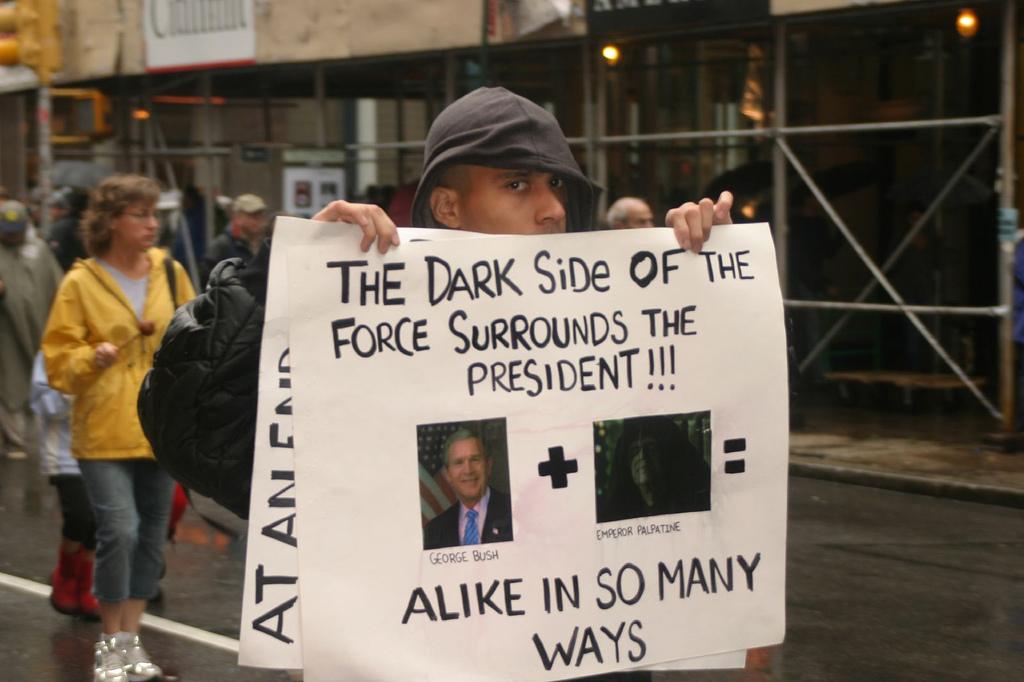 Published: November 8, 2007
FCLC—Despite the sporadic rain showers on Oct. 27, 45,000 people arrived on Broadway, south of 23rd Street, to join the march to end the war in Iraq. The demonstration was part of a national mobilization that took place in 11 cities across the country on the same day. Fordham College at Lincoln Center (FCLC) students had mixed feelings about the protest.
"It was inspiring to see that even in the miserable rain people were rallying together to bring our troops home," said Tatiana Urriaga, FCLC '08, who attended the protest. "It demonstrates the effects that this war has globally and even after four years, we continue to hope. We are not ready to give up."
The events in New York began with a rally at noon, followed by a march at 1 p.m. At 2:45 p.m., those who have died were honored with two minutes of silence. Participants were asked to bring names of people who have died in the war to hold up during the silence. The march ended with a peace and justice fair at Foley Square where information was provided on various issues relating to the current situation between Iraq and the United States.
The demonstration was initiated by the coalition United for Peace and Justice (UFPJ). According to Leslie Cagan, national coordinator of UFPJ, the mobilization was a success. In an email sent to demonstrators, she said, "Saturday's events were powerful expressions of our movement's commitment to end the war and occupation in Iraq."
Some students were supportive of the demonstration, despite agreeing with the war. "Personally, I still support the war," said Vincent Azzinaro, FCLC '08. "I'm glad that I live in a country where we are allowed to publicly demonstrate, and I feel our armed forces are the defenders of such liberties. I hope the protesters have that concern for our troops overseas and decry any vehement statements of hate against our soldiers."
However, not every pro-war student felt the same way about the demonstration. "I think the mobilization effort for tomorrow's anti-war demonstrations, and anti-Iraq war demonstrations in general, shows a disturbing lack of understanding of the War on Terror in particular and the Iraq war in general," Robert Isabella, FCLC '09, said. "The key point that the current anti-war movement seems to be either forgetting or willfully ignoring is that these two wars were launched in response to a heinous attack on civilians on American soil on 9/11."
Tom DeLuca, associate chair of political science at FCLC, did not feel that the demonstration was very significant within the Fordham community. "I don't recall the organizing for that demonstration having much presence at Fordham, and outside of the Fordham students who may have attended, I doubt it had much influence on students here," he said. "That doesn't mean that there is not opposition to the war at Fordham. It just means the demonstration did little to galvanize the opposition that already exists."
For Jeremy Hood, FCLC '08, the protest provided hope for those against the war. "It was very eye- opening to see how many people actually care about getting out of Iraq," he said.  "Often we seem like a minority, but the march really showed the population concerned with the issue."