Fires Hit Home for FCLC Students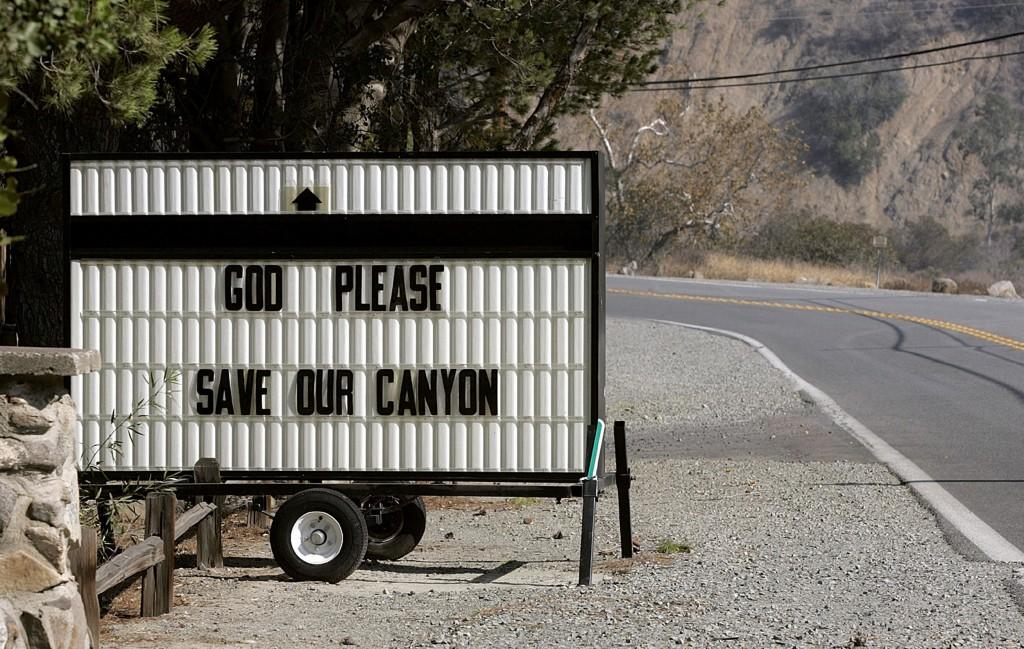 Published: November 8, 2007
FCLC—"The other day, my mom told me how the sky was becoming smoky and that the sun was blood-red," Kate Melvin, FCLC '09, said. Images of raging fires and stories of mass evacuations flooded the media following Oct. 20, the day the Southern California wildfires began. But for some Fordham students, the news hit much closer to home.
Melvin is from San Fernando Valley, Ca. located in northwest Los Angeles, where the fires have not spread. "But it is scary nonetheless," she said. "You hear about Katrina, the tsunami, etc. and sympathize with those affected but there's a bit of disconnect when you are not affected yourself."
Sophie Mears, FCLC '10, whose home is about an hour south of Los Angeles, said she was terrified. "No one had told me what was going on, and while fires in California are not uncommon, my whole family lives there," she said. "It's scary to be 3,000 miles away from your family when something like that happens. All of a sudden the only thing on TV were updates on the fires, and I felt like I couldn't escape it."
The fires burned through more than 516,000 acres, killing seven people, injuring approximately 90, and forcing hundreds of thousands to evacuate their homes, according to the New York Times. Most of the fires were reported to have begun naturally due to dry heat and the force of the seasonal Santa Ana winds. One fire, however, was reported to have been started by a young boy playing with matches. A few others are still suspected to have been caused by arson.
"I was shocked to watch the news and see the fires were everywhere from San Diego to Santa Barbara, which is almost the whole southern half of the state," said Alex King, FCLC '09, who is from San Diego. King said her home was not evacuated but that she has friends and family members who did have to evacuate.
Chelsea Marshall, FCLC '10, said her old pre-school had burned down. "The pictures of it burning online were surreal," she said. Marshall said she has friends and family in the Malibu area but that no one was hurt.
"I was really nervous when I saw the news because my grandmother lives only a few blocks from the worst section of the Malibu fire," said Emily Bridges, FCLC '08, who is from Calabasas, a city in San Fernando Valley. She said her grandmother was not home at the time but that she was worried for her house. "She and my grandfather built it in the 1950s and we've all spent a lot of time there, so it would have been very sad for our family to lose a home with so many memories."
Bridges said she was also sad to learn that the local church that she had gone to several times and would pass while driving to her grandmother's house had burned down. Bridges said her home was not evacuated, "but my mom had the car packed just in case."
For King, the fires were reminiscent of the 2003 wildfires, when she was a junior in high school. "I remember going to the grocery store and it was the first time I had left the house in a day or two, and the sky was this weird red/grey," she said. "No one was outside. Ash covered the cars like snow. It was like Armageddon, but in real life."
Mears also recalled a past fire. "Once we had to evacuate when I was young…the whole sky was filled with smoke and it rained ash."
Mears said she has a few family friends who were evacuated but that no one was hurt or had damage to their homes. She continued by saying that her family there does not seem too concerned. "People in California have always needed to be prepared for fires, and they sometimes get out of control, but I have every confidence that they'll get it under control," she said. "In the meantime, my thoughts are with those who have suffered due to the fires."
Just days after the start of the fires, Governor Arnold Schwarzenegger declared a state of emergency in several affected counties. President Bush declared an emergency in the state of California and ordered federal aid to help response efforts.
"I think FEMA and the rest of the government learned their lesson with Katrina, and won't take a disaster like this lightly again," Melvin said. "Also, seeing firefighters on TV or in the paper working on three hours of sleep or less, napping on sidewalks and just putting themselves right in the thick of the danger is incredible.
"Everyone wants to move to California—the weather is beautiful, the scenery is gorgeous and there is a lot of room to build," Melvin added. "But many of those areas are incredibly dry and prone to fire. Yet no one seems to care until fire actually strikes and this 'paradise' turns into Hell."